6 former 'Cats make ESPN's Top 100-26 NBA player rankings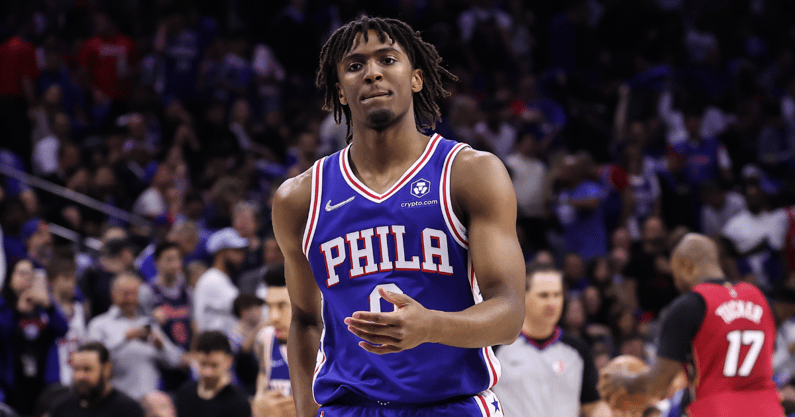 With the NBA preseason set to tipoff in just 10 days, that means it's time to generate some controversy. That's exactly what the folks over at ESPN did on Tuesday morning when they dropped their rankings of the top 100-26 players in the league heading into the 2022-23 season. As you might have guessed, plenty of former Kentucky Wildcats made the cut.
By my count, six one-time 'Cats were among the 75 players ranked, led by Philadelphia 76ers third-year guard Tyrese Maxey at No. 44 overall. Maxey was unranked at the beginning of the 2021-22 season but had a breakout year in Philly alongside MVP candidate Joel Embiid.
ESPN gathered a panel that consisted of "over 200 reporters, editors, producers and analysts" to help rank the players. Here's where the former Wildcats landed.
No. 71 | Julius Randle, New York Knicks (previously No. 41)
No. 61 | Tyler Herro, Miami Heat (previously NR)
No. 54 | De'Aaron Fox, Sacramento Kings (previously No. 34)
No. 50 | Jamal Murray, Denver Nuggets (previously NR)
No. 48 | Shai Gilgeous-Alexander, Oklahoma City Thunder (previously No. 36)
No. 44 | Tyrese Maxey, Philadelphia 76ers (previously NR)
Personally, I don't have any issues with these rankings for the Kentucky players. I do believe a ton of stock is being put into Maxey's second season and the possibility he makes another leap, but it's a train I can get on board. I also find it interesting that Murray, who missed all of last season with a torn ACL, is ranked a few spots higher than Fox. That being said, Fox's 2021-22 run was not as impressive as his stretch in 2020-21.
If I'm going to complain about anything with Nos. 100-26, it's going to be the placement of Kings rookie Keegan Murray, who was the fourth overall pick, at No. 95 despite him having never played an NBA game. I'm mostly against ranking rookies in these lists for that sole reason. Unless you're the No. 1 pick who is expected to handle the bulk of responsibilities — like Paolo Banchero, who came in ranked No. 82, is — declaring them a top 100 player in the entire league feels like a stretch.
You're just going to have a hard time convincing me that Murray is already a better player than the likes of productive veterans such as Seth Curry, Kevin Love, and Bogdan Bogdanovic, all of which were ranked lower than Murray. But I digress…
ESPN plans to release Nos. 25-11 on Wednesday, Nos. 10-6 on Thursday, and then the top five on Friday. My guess is there will be a few more former Kentucky hoopers who crack the top 25.