6 Kentucky MBB/WBB commits named McDonald's All-American nominees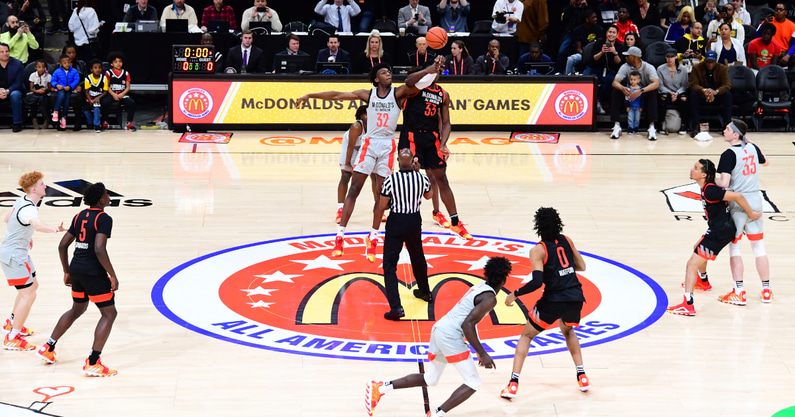 After a two-year hiatus due to COVID-19 protocols, the McDonald's All-American Game is back in 2022 for the 45th edition of the annual high school event. On both the boy's side and girl's side, Kentucky Basketball will be well-represented.
All three class of 2022 UK Men's Basketball commits were named nominees for the All-American Game: Chris Livingston, Cason Wallace, and Skyy Clark. For UK Women's Basketball, three of the program's four class of 2022 commits made the cut: Tionna Herron, Amiya Jenkins, and Saniah Tyler.
John Calipari's trio of 2022 commits are all considered five-star prospects by the On3 Consensus. Wallace is ranked No. 5 overall, Livingston No. 6, and Clark No. 14. This class originally included No. 1 overall prospect Shaedon Sharpe, but he was since reclassified and is already practicing on Kentucky's campus. Regardless, Cal still holds the No. 2 ranked class in the country.
As for Kyra Elzy, her recruiting class as the Kentucky WBB head coach should do wonders in filling some gaps. Herron is the tall post player fans have been craving for this team, Jenkins is an athletic 5-foot-10 guard, and Tyler replicates a lot of what current rookie Jada Walker already does. All three commits are considered four-star recruits by ESPN.
With Rhyne Howard heading toward the WNBA Draft after this season, Elzy will need to reload quickly. The head coach will also bring in crafty point guard Cassidy Rowe, who is arguably the best passer from the Commonwealth.
From the state of Kentucky, four Bluegrass girls were named McDonald's All-American nominees, one of them being Jenkins out of Anderson County. Sacred Heart Academy boasts two nominees in Josie Gilvin and Alex Wolff while Jaya McClure of the Christian Academy of Louisville also made the list. No boy's players from Kentucky were named nominees.
The 2022 McDonald's All-American Game will take place in Chicago in March. The final roster of all 48 players is expected to be announced later this month.