8 leftovers from a wild weekend in Cleveland
Like most of the BBN, I'm running on a lot of adrenaline and very little sleep, but as is the case in times like this, I can't stop thinking about last night's win. Here are some leftover thoughts that have been running through my head since Aaron's three with 3:15 left...
I keep coming back to that picture of Tyler Ulis
I have about a million pictures on my phone from the postgame celebrations last night, but this one of Tyler may be my favorite. While Aaron Harrison, Karl Towns, and Andrew had the most obvious heroics last night, Ulis' three with 5:56 left was huge. Ulis' time in the spotlight will come next year, but his leadership is essential to this squad right now. In the locker room, Ulis was blunt with his criticism of Kentucky's performance, telling reporters he was not satisfied. "I don't like this win at all, honestly. I'm happy we won, but I feel like we have a lot of work to do," Ulis said. "I don't like how we won, I don't like how we played as a team. We just have to get together and motivate ourselves and try to play better." With the net around his neck and his phone blowing up, Ulis wanted to make sure his message was clear: not done, and not satisfied. Speaking of Tyler...
...Did anyone notice that Tyler told Aaron to shoot it?
Hey, Drew, did you know Andrew told Aaron to shoot it too?
The scene in the Renaissance Hotel lobby was something
Drew and I wrapped up our postgame duties around 1:30 a.m., and because my flight back to Nashville left at 6:15 a.m. and there was no way I was getting any sleep anyways, my husband and I joined the party in the media hotel lobby. Plenty of UK fans stuck around after the postgame show to revel in the stunning win, and it was a great scene that became more bizarre as the
night
morning went on. At one point, the entire hotel bar erupted in CATS chants and somehow, we found the only Wisconsin fan in Cleveland, who entertained us by singing the fight song and letting us try on her pageant crown. Add in an appearance from Saul Goodman's Ohio doppelganger, an Uptown Funk singalong and a bottle of Jefferson's Ocean and you had a recipe for one of my favorite nights as a Kentucky fan. I can't wait to recreate it in Indy.
Want to see all of the postgame action from the floor in Cleveland?
I had the GoPro running during all of the postgame celebrations, and EJ Floreal's takeover was awesome enough, but if you want to see an unedited version of what happened before that, enjoy. There's a lot of fun, random behind-the-scenes stuff, including what may be Andrew Harrison praying around the :23 mark. It's not as clean or pretty as KyWildcatsTV's masterpieces, but I thought I'd share it with you all anyways.
I love everything about this picture
John Calipari, Andrew Harrison, and Willie Cauley-Stein talked to the CBS crew during halftime of the Louisville/Michigan State game, and even though they didn't say anything new or newsworthy, this screencap is enough to make me happy. From Cal's smug smile to Andrew's indifference and Willie's total #TeamNF hair, it's clear the Cats have some swag. And no, I don't know where you can buy Andrew's jacket.  
Marcus Lee says Cal has a "scared money don't make no money" dance
Remember when Calipari said "scared money don't make no money" after the Cats beat Georgia in Athens? Of course you do. That Young Jeezy lyric has been everywhere since then, and last night, Marcus Lee said that Cal says it all the time. "He says it like once a week. That's his go-to," Lee said. "He gets mad and he does a little dance with it." Wait, what? Cal does a little dance with it? "Yeah, it's like a scary little dance." Sadly, Lee wouldn't demonstrate it for me. "No! I'm not getting in trouble for that."
Two great couch pictures NOT from State Street
Apparently there were a few couch fires last night on State Street, but I was sent two different sorts of couch pictures that I like a lot more. First, a couch fire cake from Whole Foods: [caption id="" align="alignnone" width="599"]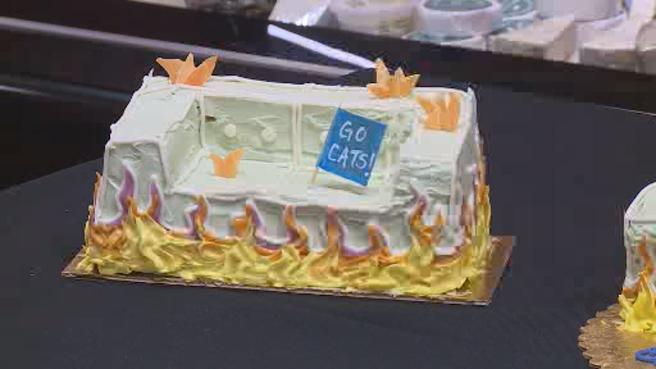 @TonyCecil[/caption] And the second a miniature couch that 
@

IsaacMingoWX
 set on fire in Alabama:
[caption id="" align="alignnone" width="600"]
@IsaacMingoWX
[/caption] Love it. Here's a video of the mini couch fire:
Burning a tiny couch in Alabama. #BBN @MrsTylerKSR @dchillysauce @fakegimel pic.twitter.com/6vWcTIYInb – ☁Isaac Mingo WX☁ (@IsaacMingoWX) March 29, 2015
It's finally here
I'll be honest: I breathed a huge sigh of relief when Michigan State finally took down Louisville. Next week will be stressful enough, the last thing we need is the Louisville rivalry on top of it all. It's going to be a long week of waiting, but take solace in the fact that the moment we've been waiting for is now a reality. No more knocking on wood when we talk about Indy or living in fear of jinxing UK's fourth Final Four in five years. The most important basketball is still to play, and ready or not, the final chapter is finally here.