8 Notes from a fun night in Bowling Green with Karl, Trey, and Dakari Over the past few weeks, the Cats going to the pros have been circling the state to meet fans and sign autographs. When Drew Franklin kept sending me pictures from Karl Towns's signing in Pikeville last Saturday, I was green with envy and prayed for a Bowling Green appearance. Lo and behold, a few days later, BBN Legends announced that Karl, Trey Lyles, and Dakari Johnson were coming to Bowling Green to meet fans and throw out the first pitch at a BG Hot Rods game. That's an hour from my house! I cleared my plans for Thursday night and got ready for a road trip to Bowling Green. Here are my notes from a great night at the ballpark.
The Bowling Green Ballpark is really nice
I haven't been to a lot of ballparks, but I was pleasantly surprised by how nice Bowling Green's is. There was a decent crowd for "Thirsty Thursday," with a huge line for Karl, Trey, and Dakari's autograph signing. After paying $7 for a ticket, I walked in and surveyed the scene. After talking to one of the organizers, I found out the guys were upstairs in the Corvette Club for a VIP signing. They were nice enough to take me up to there, and I must admit, it was really nice, if bars in minor league baseball stadiums are your thing. There were only about twenty fans in the room when I went up, and I could tell the guys appreciated having their own space to hang out in before the festivities.
Karl had a brand new Knicks hat on
The Knicks have the second best chance at winning the draft lottery and given his choice of headwear, I don't think there's any doubt that Karl, a New York area native, hopes they have the #1 pick. I hope so too--can you imagine a better person to rebuild an historic franchise around than Karl?
This video is reason #4,205,299 I'll miss these guys
https://youtu.be/SbXSMutxx60 The guys got to warm up a bit before taking the mound and watching them do that was more entertaining than the first pitches themselves. What goofballs.
If you thought Karl would have the best pitch, you were wrong.
Given his baseball background, I figured Karl would have the best first pitch of the three players, but I was wrong. Dakari was the only player to get the ball over the plate, while Karl and Trey's bounced: https://youtu.be/z3NdjDohr60 As he tweeted later, Dakari's got a 

 arm. https://twitter.com/SafariDakari44/status/591396086654337024
If you thought that first pitch came frighteningly close to my head, you were right
Okay, it wasn't that close, but when Karl's ball bounced off the plate and flew towards me, I have no shame in saying I ducked. I didn't realize how awkward it looked until I saw KSTV's video of it: https://youtu.be/r7JuzPL5H5k?t=13s
Karl was so happy to be back on a baseball diamond
Outside of the movie "Major League," I know very little about baseball. Karl Towns does. Karl played baseball growing up and was thrilled to be back on a diamond. While Karl was excited to throw the first pitch, he said he really wanted to hit the ball and gave me a five-minute education on the different bats he's used. Karl told me all about the BBCOR regulations that discontinued the use of bats that would put another 40 feet on the ball and how he prefers a wooden bat ("I love the pine tar," he said wistfully). Thanks to him, I now know more about baseball bats than I ever could have imagined. Karl told me that his goal was to get his pitch to the plate in one try--to Willie Cauley-Stein's three--and technically, he did that; however, Karl the perfectionist wasn't satisfied, and before going up to sign autographs, threw a couple in the bullpen:
Special thanks to @KATis32 , @SafariDakari44 & @TreyMambaLyles for coming to Bowling Green Ballpark tonight! pic.twitter.com/cf4UUeuSr0 – BG Hot Rods (@BGHotRods) April 24, 2015
Now
that's
a strike.
Watching the players interact with fans was awesome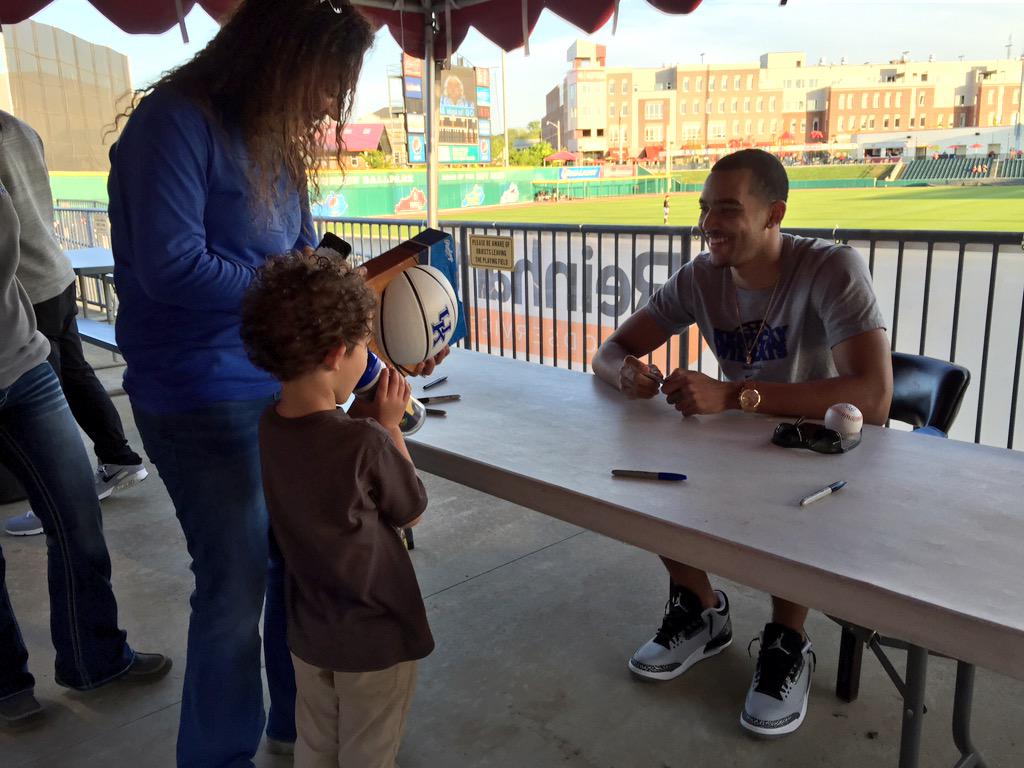 I've seen these guys in a number of settings now--on the court, in the locker room, with the media, in the Bahamas--but it was refreshing to see them just interact with fans for a few hours. Each player was gracious and polite, smiling and signing but not hurrying anyone along. The line was LONG, but kudos to the BBN Legends staff for keeping things rolling. Of course, the best was seeing the players with the kids, and watching all three interact with the young boy pictured above was awesome. If you haven't yet, I really recommend coming out to the signings (
here's an updated list
). If anything...
I got some closure
I've been honest with you guys about how depressed I've been about the loss. I hate that the last image I had of this team was a sad one, but going to see Karl, Trey, and Dakari last night allowed me to have a proper goodbye. Instead of remembering the players' sad faces after the game, I'll remember the happy ones I saw in Bowling Green, players and fans alike. Instead of looking back at the loss, I can look forward to these kids' futures, which are so incredibly bright. The bond between player and fan is notoriously strong at Kentucky, but sometimes, it feels like the guys are in a crystal fishbowl, held at arm's length from the fan base. At events like last night's, that barrier is down and fans and players can finally get the up-close interaction that makes this program so special. Instead of tweeting the players or calling into radio shows, we can thank them in person for an amazing season and see the impact it has--because it does have an impact. In this day and age, we so rarely do things in person, which makes it that much more raw and powerful when we do. A team like this deserves a proper goodbye, and only with a proper goodbye can you achieve closure.