8 things KSR saw at the First Kentucky Football Sunday Showcase Camp Camp season has begun at Kroger Field. Dozens of talented high school football players descended upon UK's campus to participate in the first of two Sunday Showcase Camps. KSR was in the building for the event. Before diving into the nitty gritty later in the week, here's a little bit of what we saw and what we learned during the three-hour event.
1. A Couple Rising QBs
Recruiting is a relationship business. Those relationships start incredibly early for talented quarterbacks. One player who just completed his first year of high school spent quite a bit of time working with Liam Coen.
John White
put the ball on his pass-catchers, delivering each pass with extra mustard. He does not currently have any offers, but he's caught the eye of schools like Ole Miss, Clemson, Florida State and, of course, Kentucky.
Kasen Weisman
is a year older than White, but has just about as much experience. An injury during the pandemic limited him too just four starts as a sophomore. He still showed an ability to perform well in the pocket. https://twitter.com/RoushKSR/status/1401669208681951232?s=20 During the one-on-one portion of drills, Coen was in the QBs ears. "Hit it!" was said quite often as receivers exited their breaks. Sometimes the passers delivered, receiving immediate affirmation from the coach. Weisman was an exception. He did not let the ball fly on a double-move at Coen's command. Unlike others who waited to long, Weisman's patience paid off, dropping the ball right into his receiver's hands in the back of the end zone. Coen's celebration proved it was clearly the most impressive play of the camp. Keep a close eye on Weisman throughout his recruitment.
2. A Blue Chip Defensive Lineman
If you're handicapping players based on recruiting rankings,
Stantavious Smith
was the biggest name on campus this Sunday. The 2023 defensive lineman has an impressive offer sheet that includes Ohio State, LSU, Florida, Florida State, Notre Dame, Georgia and many more. His recruiting class is not yet ranked, but he will surely be a 4-star prospect. Even though he's not necessarily displaying perfect technique in the one-on-one drill, you can still easily see why Anwar Stewart and Jon Sumrall are pursuing this South Georgia talent. https://twitter.com/RoushKSR/status/1401668017671610371?s=20
3. Gavin Chadwell is a HAUS
The KSR audience was introduced to the Knox Central star at the 13th Regional Tournament. It's one thing to hear about the rising sophomore and see pictures of the kid on the hardwood, but until you see his tree-trunk legs in action you cannot truly grasp the scope of this enormous human being. The 6-foot-5 235-pound athlete has an offer from UK. He spent the day working out with Vince Marrow's tight ends. Will he still be a tight end four years from now? That's hard to say, but I can say with 100% certainty that Chadwell has what it takes to play big-time college football.
4. Two Other Notable Names
One of the best athletes at the camp was
Jordan Anthony
. A 5-foot-11 wide receiver from Tylertown, MS, his 40-yard dash blew away the competition, finishing in the 4.4 range. The class of '22 athlete does not currently have a UK offer, but Ole Miss, Tennessee and Southern Miss are included in his 11-school offer sheet. Brad White and Jon Sumrall spent extra time speaking with
 Ethan Crisp 
after the camp concluded. The linebacker from Mount Juliet, TN holds offers from Kentucky, Virginia, Virginia Tech, Vanderbilt and Ole Miss. https://twitter.com/EthanCrisp12/status/1401680550939799555?s=20
5. A Nasty Injury
Summer football camps do not include pads. Even if it is just light drill-work, football is a dangerous sport. The world's best athletes can be sidelined at any given moment. That moment happened right in front of Adam Luckett and I when a pass sailed out of bounds and we heard a young-man's Achilles' pop like a bamboo stick. Prayers up to the young man who now has a long road to recovery after the brutal injury.
6. Big Dog in a Big Golf Cart  
Vince Marrow does not spent all of his time riding around the UK football facility, but he does enjoy holding court from behind the wheel. Sometimes he shows recruits the ropes. Many other times he's just giving current players an ear full, in this case, Josh Ali.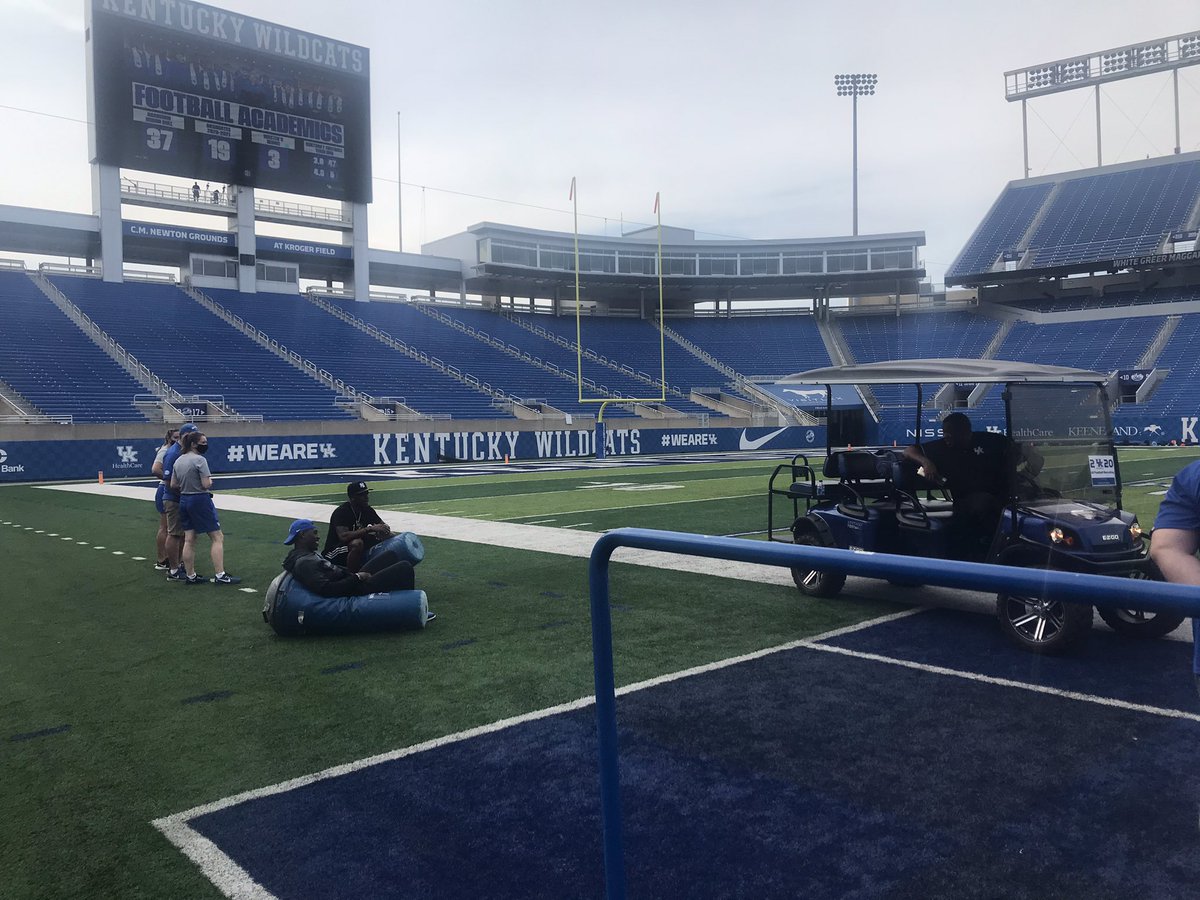 7. Collins has Juice 
Upon arriving to Kroger Field, I did not see new defensive backs coach Chris Collins.
"I bet he's still moving back and forth from Atlanta,"
I told myself. Minutes later, I did not see Collins, I heard his loud voice echoing across the turf. A hands-on coach, he brings more than enough energy to the football field. I was impressed by the level of individual instruction he provided throughout the camp's entirety and am excited to see him take it up another notch with his players once preseason camp begins in late July.
8. Unrecognizable Faces 
It's been more than a year since the media has spent any extended time together in person with the Kentucky Football program. While we have been able to communicate via Zoom, it's not the same as in-person interaction. We've also only been limited to a few players. Outside of some of the stars -- Josh Ali, DeAndre Square and J.J. Weaver (who was walking around well on his surgically-repaired ACL) -- I found myself asking the question,
"Who is that?"
far too often. That includes coaches, like former NFL DC and current quality control coach Greg Manusky. The program has changed dramatically over the last 18 months. Some old faces are still around, just in a different capacity, like (a much skinnier) C.J. Conrad and Courtney Love. One thing remains the same. With Mark Stoops running the show, the Wildcats are in good hands.