9 Candidates For Billy Donovan's Old Job
It's been six days since Billy Donovan left Gainesville for Oklahoma City and University of Florida athletic director Jeremy Foley hasn't spoken to a single candidate. He is in no rush to replace Donovan, it seems. Yesterday Foley said, "The key would be to have something in place I would think sometime in June." With that timetable in mind, I think there are still plenty of options for Foley and Florida, though he can't wait too much longer to begin the process. The Shaka Smarts and Gregg Marshalls are no longer available, but a home run hire is still out there if Foley gets to work on this search soon. The hire can wait till June; the search cannot. So in order to assist Foley with the undoubtedly tough task of replacing Donovan, a two-time NCAA champion, I would like to suggest nine candidates I believe Foley should consider. Will they pick up where Billy D left off? I don't know. But they're all deserving of a look, for various reasons.
*****
Archie Miller, Dayton
Maybe the most popular name in the list of potential Donovan successors, Archie Miller is believed to be the leading target for the Florida head coaching job. The younger brother of Arizona's Sean Miller, Archie Miller has been very successful at Dayton, where he's the led the Flyers to an Elite Eight and a Sweet 16 in only four seasons. AlligatorArmy.com called Miller, "far and away the best candidate for the job." At only 36 years old, he is one of the hottest young coaches in the game.
Richard Pitino, Minnesota
One of three former/current Florida assistants on this list, Richard Pitino is a solid option because he's not so different than the Billy Donovan that Florida hired in 1996. Like Donovan, Pitino coached under Rick Pitino, his father, and he has only two seasons of head coaching experience under his belt. Though two years older than Donovan when he took over at Florida, Pitino is still very young at 32 years old. Pitino was an assistant under Donovan on the Gators' sideline from 2009 to 2011. He was outstanding in those two seasons, if you're grading him on leaking Eric Bledsoe's transcripts to media. By that criteria, Richard Pitino was the Coach of the Year. Because he did that. Dick.
Chris Mack, Xavier
Xavier's Chris Mack is probably due for a bigger job and Florida could very well be that job, without having to break the bank to get him. Mack has been to the Sweet 16 in three of his six seasons at a school that has been a hotbed for college coaches. Before Mack, Xavier was coached by Sean Miller, Thad Matta, Skip Prosser and Pete Gillen, all of whom went on to have success at other programs. It could be time he becomes the fifth to move on for new success.
Anthony Grant, Florida
Very rarely is it a good idea to hire a coach who was just fired by a school in the same conference, but very rarely does a coach wear a suit so well. And Anthony Grant wears a suit well. Grant, who was fired by Alabama this past season, is back in Florida as an assistant coach for next season. He had hoped to coach under Donovan once again, as he did for 12 seasons at Marshall and at Florida, but with Donovan gone, he may be an option to step in and fill his mentor's shoes. He was a hot name before underachieving at Alabama.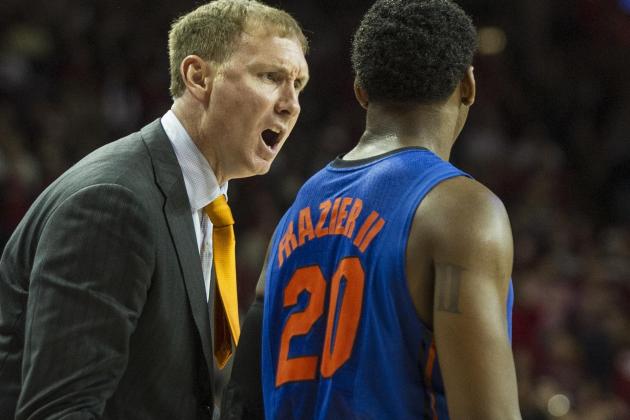 Jon Pelphrey, Florida
Like Grant, John Pelphrey has spent time a considerable amount of time on Florida's bench under Donovan. He's been in Gainesville since 2011, plus another stint from 1996 to 2002, so he knows as well as anyone what it's like to run that program and just how large of shoes he will have to fill. If Foley chooses to stick with Donovan's tree, Pelphrey is likely the first pick.
Will Muschamp, Auburn
Because let's be honest, we didn't get enough Angry Will Muschamp in his short run as Florida's football coach. Furthermore, if Florida wants to contend with Kentucky in the SEC East, it will help to have a guy who has proven his team can put points on the board after the clock hits zero. That's what it takes to beat Kentucky, right Wisconsin? Muschamp's Gators did it last fall on the gridiron and then the Badgers took the same page out of his playbook late in the Final Four game.
Eddie Munster, The Munsters
At first glance, it'll be like Billy Donovan never left. I can't speak for his coaching philosophy, however.
No One, Get Rid Of The Program
I mean, would anyone in Gainesville really care? It seems the basketball program has been one big inconvenience at Florida, where it's all football and great weather and the invention of Gatorade. The athletic department could save a ton of money by shutting the doors on the basketball program, money that can be used once they need a new head football coach in two years. It's not the worst idea.
Tom Crean, Indiana
Sure, Crean has been absolute garbage at Indiana, but this is the play. The SEC 
needs 
Tom Crean because Kentucky fans need more of him in our lives. The IU series is over and we don't watch Big Ten games, so we only see him when his face goes viral on Twitter or he loses to Northwestern -- which is kind of often, actually. Make the hire, Florida. Get Crean closer to BBN. And with that...
KSR's Pick: Tom Crean