A Blast From the Past: Tomlin on David Hobbs Texting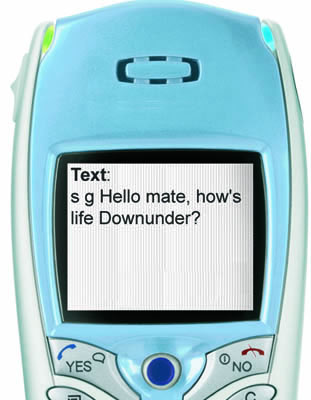 Occasionally we like to dip in the archives and relive some Kentucky Sports Radio moments of the past. After Jai Lucas told us that he regularly texted back and forth with Coach David Hobbs, Chris Tomlin wrote this post on what those conversations had to be like. Good stuff.....
The other evening, during an exclusive Kentucky Sports Radio
Bacchanalian wine-tasting event and silent auction
(a regal to-do which hosted no less than 40 international heads of state and no less than four members of the original cast of the television program
Benson
), the topic came up of University of Kentucky Assistant Coach
David Hobbs
and his remarkable contributions to the school's men's basketball program. After a few minutes of polite chit-chat on the subject, the debate turned extraordinarily heated and security was asked to intervene. The very next morning, at an emergency strategy meeting in KSR's re-inforced steel underground bunker, it was concluded that action be taken to clear the name of our beloved Coach Hobbs in the eyes of those who would denigrate his efforts. Through a series of elaborate costumes, many involving spirit-gum and outlandish sideburns, a few consisting of ridiculously large foam cowboy hats, and one cleverly fashioned by three staffers on one another's shoulders wearing an overly large trenchcoat, our moles retrieved exclusive content which we, as is our duty, will share with you today. During our many audio-archived interviews with Kentucky's
youngest and strongest
would-be recruits, one thing remains consistent: each has a particular affinity for Coach Hobbs and mentions frequent phone chats wherein Hobbs has an uncanny knack for endearing himself to the young to-be-Wildcats. Truly the 58 year-old coaching veteran and Smith confidant has better things to do on a Wednesday night than have lengthy phone conversations with 16-18 year-olds, but Hobbs diligently puts his nose to the grindstone and nurtures these relationships. How so, you may ask? By keeping himself abreast of the culture of today's youth, creating himself into a
chameleon
by which he can find common ground with tomorrow's superstars, and knowing
precisely how to woo a recruit
to the promised land of the University of Kentucky. Here, then, are some excerpts from Hobbs' very confidential conversations taken from the coach's personal notes through the years. The names have been concealed, but the facts remain. And if anyone asks, you never saw us…
RECRUIT DOSSIER:
6'11", power forward, Butte, Montana.
INTERESTS INCLUDE:
Movies, sports
EXCERPT:
Phone conversation, August 2001
Hobbs:
Hey ___, what's going on?
Recruit:
Not much, just doing some homework.
Hobbs:
Yeah, I hear ya. Algebra is
soooo
hard! I just got back from seeing
American Pie 2
.
Recruit:
Is it good?
Hobbs:
Dude, it is great. There's this one part where this guy uses super-glue and…well, I can't describe it. You'll just have to see it. But it's
hilarious.
Recruit:
Sounds good. I'll have to check that out.
Hobbs:
Sure. You know it's playing in Lexington. We could go see it after you commit. Or maybe
Swordfish
. ------------------------------
RECRUIT DOSSIER:
6'2, guard, Mt. Holyoke, Massachussetts
INTERESTS INCLUDE:
Rap, R&B Music
EXCERPT:
Phone conversation, May 2004
Hobbs:
What up, ___?
Recruit:
Just chillin'.
Hobbs:
Oh, I'm just listening to a special mix of
Lean Back
. I got a home slice who went to school with Fat Joe. It's totally on the DL. I mean, I'm not even supposed to
have
this yet. But we're cool, right?
Recruit:
Yeah, we're cool. Can I hear some of it?
Hobbs:
Sure, yo. (holds phone up to speaker for several minutes)
Recruit:
Man, that's sweet.
Hobbs:
I know. That sh*t's tight. You know, I hear Fat Joe really likes the University of Kentucky Wildcats. Maybe if you commit, you could meet him someday.
Recruit:
That's what
I'm
talkin' about.
Hobbs:
I know, right?
Lean Back! Lean Back!
Recruit:
Lean Back! Lean Back!
Hobbs:
Holla if you're down with UKY!
Recruit:
(hollas) -----------------------------
RECRUIT DOSSIER:
6'5, guard, Phoenix, Arizona
INTERESTS INCLUDE:
Chronicles of Narnia
, Magic: The Gathering, World of Warcraft
EXCERPT:
Yahoo IM conversation, June 2002
CoachHobbit:
What's up?
Recruit:
Surfin', u?
CoachHobbit:
Me 2. Thought any more about UK?
Recruit:
Yeah, a little.
CoachHobbit:
Well, I'll tell you. This team right now, it's like we've got a level 5 Wizard, a level 4 Mage, two level 3 thieves and a ring of inpenetrability. We could really use a dwarf with unlimited potions. Like you.
Recruit:
really?
CoachHobbit:
o yea, we're all getting together at CompUSA laterz to check out the new MYST. You should come.
Recruit:
ok kool
CoachHobbit:
Also, while you're there you can commit to UK. I'll bring the paperwork. TTYL! ;)~
-------------------------------
RECRUIT DOSSIER:
7'0" center, Harringsworth Juvenile Correctional Facility, Cedar Rapids IA
INTERESTS INCLUDE:
None listed.
EXCERPT:
Phone conversation, February 2005
Hobbs:
What's the word?
Recruit:
Nothin'.
Hobbs:
Right on. I'm just out burnin' one behind the shed. Hope my old lady doesn't find out.
Recruit:
Yeah, that would be bad.
Hobbs:
I know, she's all "do this" and "do that." I mean, why is everyone all like
school is cool
. You and I both know
school is for fools.
Recruit:
I'm with you.
Hobbs:
You wanna go down to the street races next week? Then maybe we can go egg old man Winters' house. It'll be so boss.
Recruit:
Yeah, that sounds good.
Hobbs:
Then we can swing by the basketball office over here on campus, break in, steal some commitment papers and write our names all over them! It'll be rad.
Recruit:
That sounds okay.
Hobbs:
Alright. Check you later. I think I'm totally busted. Gotta run. -------------------------------
RECRUIT DOSSIER:
6'0, guard, lives with parents aboard North Atlantic Research Vessel 667, Bering Strait
INTERESTS INCLUDE:
Maritime law, astronomy, marine life.
EXCERPT:
Telegraph conversation, November 2003.
Hobbs:
-–--–----–---–
Recruit:
--– -–-- ---––-- ---––- --
Hobbs:
--–- --– --- --––---––-- --
Recruit:
-- --–-- --