A case for Kentucky's Ugonna Onyenso to stay and go...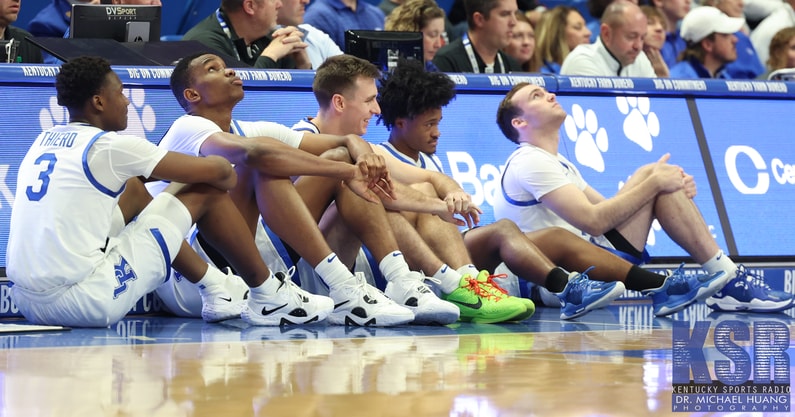 Wait, a stay-or-go decision for a player who already made it clear his intention was to return to Kentucky for a sophomore campaign?
Yeah, we'll get to that. Sucks, right? But it's a conversation we've got to have.
Ugonna Onyenso played 18 total minutes in SEC play, 11 coming in one game (at Alabama). Zero playing time in the SEC or NCAA Tournaments. Early opportunities (20 minutes vs. Howard, 19 vs. Duquesne, 22 vs. South Carolina State and 18 vs. North Florida), but spot minutes the rest of the way. Clearly the last guy off the bench.
But his short spurts were brilliant, going for six points, four rebounds and four blocks in his debut vs. Howard, followed by nine points, 10 rebounds and three blocks vs. Duquesne. Six points, four rebounds and three blocks vs. South Carolina State, then seven points, 10 rebounds and three blocks vs. North Florida. Maybe his biggest performance against real competition came against Michigan in London, going for four points, two rebounds and two blocks in seven minutes.
John Calipari stressed patience with the 7-footer out of Owerri, Nigeria. "He's a good scorer, shooter, shot-blocker, you know?" the Kentucky head coach said in March. "He's just young, really young."
Down the road, though, his expectations are high. Very high.
"At the end of the day, my guess is he'll be the best big guy, if not one of the best big guys in the country next year," he said.
Will that be at Kentucky? Let's look at both sides of Onyenso's decision as the offseason begins.
Return
"I think we've got a good group of young people," Calipari said Monday. "I believe we'll have guys coming back that need to come back and we will benefit by having them. And we'll go from there."
Among those in that category? You guessed it, Onyenso, who the Kentucky head coach says could be in a twin-tower lineup with freshman center Aaron Bradshaw because "they're both skilled" and complement each other enough to "play them together."
"I absolutely think (Onyenso's) going to end up being special. I do," he said.
The 7-footer said himself that he was planning to return for his sophomore season, replacing the anticipated departures of Oscar Tshiebwe and Jacob Toppin. "I need to let myself know that that's a position I need to fill in and the things they didn't achieve, I'm working on achieving it for them. Doing it for them, I'm just gonna work."
Onyenso is an elite rim protector, but incredibly raw offensively. Footwork, post moves, jump shooting, all of it has to improve, and Kentucky is undoubtedly a great spot to make that happen. On paper, it's the easiest decision on the roster. About as cut-and-dry as it gets.
Transfer
But, it's complicated. Outside influences played a significant part in Onyenso coming to the United States, where he attended high school and played grassroots basketball, the camps he attended and the quotes he gave along the way. His college recruitment? A reclassification? Outside influences, fortunately working in Kentucky's favor at the time.
No matter Onyenso's personal intentions or what he said after an emotional postseason loss, how confident Calipari is that he'll be a star next season in Lexington, it's not that simple. If there's a better fit out there, those same outside influences will examine them thoroughly. And they are.
That's not to say it's a guarantee he leaves (or that it'd be a good decision), but it's a non-zero chance and a conversation worth having, unfortunately.
KSR Intel
Closer to a toss-up than likely to return, to be frank. Schools would be highly interested, specifically those in the Big East. Kentucky will push for him to return and believes it can get him back for year two, but it's just not the simple decision it should be. The Wildcats really aren't in a position to lose both of Onyenso and Daimion Collins (who has an unbelievably difficult decision to make in his own right) — getting at least one of the two back will be crucial.