A first draft of stay/go decisions for Kentucky basketball...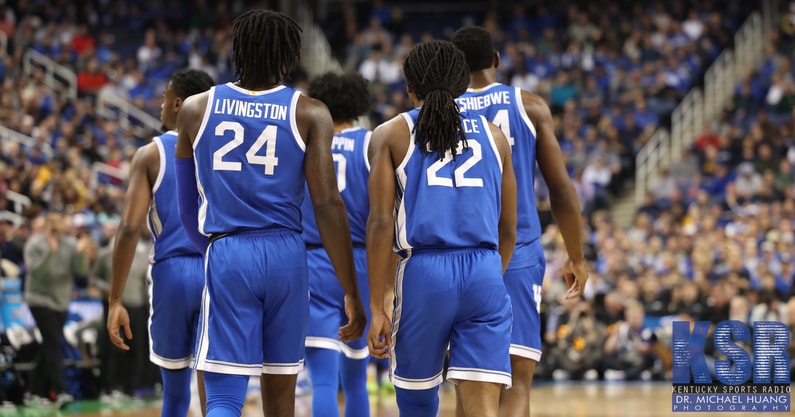 Kentucky basketball's offseason has officially begun, with players now turning their attention to what's next in their respective journeys. Some will decide to enter the NBA Draft and others will return to Lexington, with the transfer portal and stepping away from basketball entirely being potential options for a select few, as well.
Actual conversations begin next week, with John Calipari saying he would meet with each player individually then to get a feel for what's next. That's where the real fun (or misery) will start, especially with a roster featuring so many potential moving parts.
But it's never too early for a first draft of where things stand and what to expect when the news starts rolling out in the coming weeks. How were things trending for each player behind the scenes as the season came to a close? Any early indications of where some are leaning or what they'll be looking for during the process? KSR has the answers.
Gone
It'd be a shock if any of Oscar Tshiebwe, Jacob Toppin, Cason Wallace or Sahvir Wheeler returned, with the first three expected to turn pro and the fourth expected to hit the transfer portal. NIL could technically change things for both Tshiebwe and Toppin, but highly, highly unlikely — both are almost certain to decide it's time for a fresh start at the next level. Wallace is a projected lottery pick and will ultimately go, whether he tests the waters first or goes all-in from the start. The end destination will be the same.
As for Wheeler, there will be plenty of interest from him in the portal, barring a decision to explore his professional options. Look for Kansas State, Texas A&M, Georgia and Baylor to be among potential schools to reach out — the Big 12 makes sense fit- and location-wise.
Up in the air
This is where things get tricky. Chris Livingston will weigh his pro and transfer options while also considering a return, easily the toughest decision on the roster. He'll prioritize role and path to the NBA above all else, with the Klutch factor being a very real one to keep in mind. LeBron's agency has significant pull. He would welcome a return to Kentucky, but it'd absolutely take some convincing elsewhere. If not back to Lexington, it's fair to believe Kansas, Memphis and Georgetown would be early suitors. Or he could bet on himself as a pro — he'd likely get some help in the draft, potentially as a second-round flier.
Antonio Reeves has the next-biggest decision, deciding to go pro or return to Kentucky. Money will be the biggest factor one way or the other. He made six figures this season in Lexington with NIL, and with an expanded role and greater name recognition from the start, he'd certainly make more than he would in the G-League. If a team presents him with a two-way opportunity (or a legitimate shot to make a roster), the expectation is he will strike while the iron is hot and go pro. His career clock is ticking at 22 years old, something else to keep in mind. Reeves' family will place significant trust in John Calipari's voice in this process.
CJ Fredrick is a toss-up, relying solely on his body to tell him what's next. He will either hang it up or return to Kentucky. A significant aspect of his decision: he's never gotten a full offseason of training under Calipari, focusing his efforts on recovery his first two years in Lexington. Year one was the foot/ankle issue, year two was the hamstring. His rib is almost completely healed, and from there, he'd be able to focus entirely on conditioning and development, carving out his role in the rotation and building chemistry. He's been through a ton and he's getting married, starting his new life, so calling it a career wouldn't be a surprise. But don't discount his passion for the game, either.
Daimion Collins is in a unique and challenging spot. If he decides to hit the transfer portal, it will be for obvious reasons beyond basketball. Going home to be with family would be a unanimously supported decision, certainly one he'll consider. His dad wanted him to see the process out in Lexington and follow through on his commitment to the program, though, no matter how long it took. That could play a part, as well. Some long, difficult conversations to be had regarding his future — talks no kid should have to have and a situation no kid should be in.
Likely back
Going into the offseason, early indications are that Ugonna Onyenso, Lance Ware and Adou Thiero will return to Lexington for the 2023-24 season — barring any unexpected portal additions or returns.
Of the three, Onyenso is closest to the previous category in terms of minutes and anticipated opportunity. Personally leaning toward a return — he's openly talking about his goals for next season in Lexington — but a non-zero chance he hits the portal for various external reasons. Kentucky wants him back and will push to do what it takes to make that happen, but a conversation worth having nonetheless.
Suppose it's fair to ask what happens if, say, Reeves and Fredrick return to play with DJ Wagner and Rob Dillingham? And Livingston returns to play with Justin Edwards? It'd be tough to envision Thiero being totally content with being the ninth or tenth man again in Lexington, but that's just an educated guess. Calipari continues to rave about his potential and the impact he'll make at this level sooner rather than later. And like Onyenso, he'll fight to bring him back. But it's hard to ignore the logjam if some coin-flip decisions opt to return to Kentucky.
Good problem to have.