A Look at Kentucky Football Funding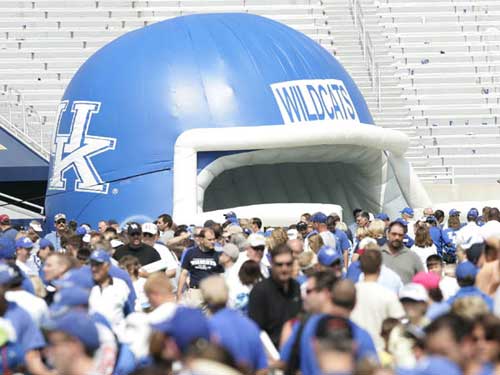 Turn on any talk radio show (for instance, KSR) in Kentucky talking UK football and chances are that at some point you will hear someone say, "the University has to INVEST in football!" The refrain is familiar but the message seems to have a new sense of urgency in this year of potential change around the program.
The issue of UK football funding is a complicated one
that involves many entities ranging from the UK Athletics Program, to the University President to the Board of Trustees to the Kentucky Legislature. We have attempted to unpack some of those issues on this site and on the radio over the past year and to be fair, it is complicated.
What Kentucky needs more than anything is a dramatic facilities upgrade at Commonwealth Stadium
Depending on who you ask, the cost of such a change could be upwards of $100 million dollars. For the last couple of years, requests for bonding capabilities to allow such a project have died in the state legislature, usually in the Kentucky Senate. This Spring, Senate President David Williams came on KSR and said that if the University were to give a detailed proposal for bonding authority that included such a figure for a football upgrade, he could forsee approving it. Now the ball is in UK's court to come up with such a request and for the University President to approve it. But as we wait for that moment, what is being done with the revenue that is being generated now? Les Johns of the Kentucky Kernel deals with that question today in
this article in the student newspaper.
Johns researches some numbers and finds that, not surprisingly, UK football drives the revenue of the Athletics program as a whole:
UK FOOTBALL
: Revenue: $27.6 million Expenses: $9.5 million Profit: $18.1 million That is a tremendous profit for a program that last season did not even make a Bowl game. UK basketball, the most successful program in America, doesn't even generate such a profit:
UK BASKETBALL
: Revenue: $20.8 million Expenses: $12.6 million Profit: $8.2 million Every other sport besides these two lose money at Kentucky. And it is thus clear that Kentucky's Athletics program as a whole requires significant revenue generated by football. But how much of that money generated is invested back in the program? Johns goes on to look at the increase in money generated by UK football over the last 4 years:
UK FOOTBALL REVENUE
: 2008-2009: $20 million 2012-2013: $29.6 million Due primarily to new SEC football television contracts, Kentucky has been able to add $9.6 million in revenue per year. However in that time, the budgeted expenses for the program only grew by $1.05 million. That means that
UK football has only kept 10.9% of the new revenue it has generated in the last four years.
Compare that to basketball, where Kentucky now generates $18.1 million in revenue as opposed to $14.3 million four years ago. Of that $3.8 million in additional funds, UK basketball has kept $2.97 million, or 77% of the overall money...a much more dramatic help than what football has received. The entirety of the
Johns article
is worth reading, as it showcases a great deal about the situation that UK football is currently in at this time (and it is the first of four parts). One comes away from this first look at the numbers with this conclusion. Systematic, major adjustments in UK football investment require a significant change by many people in UK and Ky State Legislative positions. But in the short term, it would probably help the UK football program if some of the the revenue it has added to the University athletics program as a whole over the last few years, were to be expended back on itself.