A Look Back At KSR At The Conventions
This year's presidential election officially has its candidates from the two major political parties and Kentucky Sports Radio was there to witness both nominations at the Republican and Democratic national conventions. We spent four days in Cleveland with the Grand Old Party and another four days with the Dems in Philadelphia as part of a mid-summer adventure outside of sports during the slowest weeks of the sports news cycle. Of course, some of our loyal followers complained--
"Stick-ta-sports!"
--but for the most part, everyone seemed to understand our intentions were not to divide our audience politically, but to report on the pageantry, absurdity and debauchery at both conventions through fair and balanced discussions on the KSR radio show. We believe we accomplished that and kept the majority of listeners entertained over the course of our two weeks on the road and in suits. Now that I'm back at our Lexington office and (somewhat) caught up on sleep, it is time to close the book on our summer dip into politics. Allow me, someone who doesn't give two shits about anything political, to tell you all about what it was like stepping out of my element and onto the ground floor of the 2016 presidential election.  
---
---
GOP Convention | Cleveland July 18-21
---
"Why The Republican Convention Could Get Dangerous," a 
Vice 
article, was one of my many reads while riding shotgun in Ryan Lemond's car during the five-hour drive to Cleveland the Sunday evening before the RNC's opening day. I had hoped to brush up on my knowledge of conventions, presidential elections and the Republican party, but seemingly everything on the internet that week was about the potential danger ahead, not the event itself. One pre-RNC report said media members planned to wear body armor while working the convention; another predicted it would be the most dangerous of all-time, coming on the heels of tragedy and tension all over the country. That was not the case, thankfully. In fact, from what I saw, the streets were mostly peaceful, considering the hype, and the threat of violence was nowhere to be found. It was quite the opposite of what was predicted as Cleveland was pretty much a ghost town, with the locals staying inside, downtown businesses closed for the week, and a very underwhelming turnout of protesters. Streets were lined with police officers, who were all overly friendly to everyone out-and-about, and the protesters stayed in their lane in the designated protesting area. Sure, there were a couple bad apples in the bunch, but I don't think the city of Cleveland could've asked for a better four days, given the circumstances. Kudos to everyone involved. As for the action inside the arena and during our own personal experiences, well, I learned a whole lot and had a lot more fun than I ever imagined. Let me tell you about some of it...  
"A sports show? Why are you here? I don't understand."
We couldn't get anyone to grasp why a sports show was at the Republican convention. To be fair, it doesn't make sense at all, but we thought at least 
someone 
would understand. We did not meet that someone. Everyone we encountered, from our fellow talk show hosts on radio row to the delegates we met on the convention floor, responded the same: "You cover sports? Why are you here?"
We were there to make great radio, something the conservative shows stationed around us were unable to do. You couldn't pay me to listen to any of those people -- outside of Ray Richardson, ladies and gentlemen. We love his show.
Scottie Nell Hughes named us the Frat Boys of Radio Row.
I couldn't tell if Scottie, a Trump surrogate, liked us or hated us. I think she hated us.
Ryan, your thoughts on the Republican handbook?
Here's a little taste of what was happening on SnapChat.
If Roll Call Bombing is a sport, I am its Michael Jordan.
Roll Call Bombing might've been my favorite thing we did at either convention. In case you missed it, we used our go-anywhere floor passes to stand as close as we could to each state during the roll call process, when they announced their presidential nominee. It was born when Ryan and I stood behind Governor Bevin...
Honored to represent the Bluegrass here at the @GOPconvention. 👌🏻 pic.twitter.com/Yq9UJhiOSI

— Drew Franklin (@DrewFranklinKSR) July 20, 2016
... then took off from there, highlighted by an appearance in the 
L.A. Times 
with our new friends from Washington...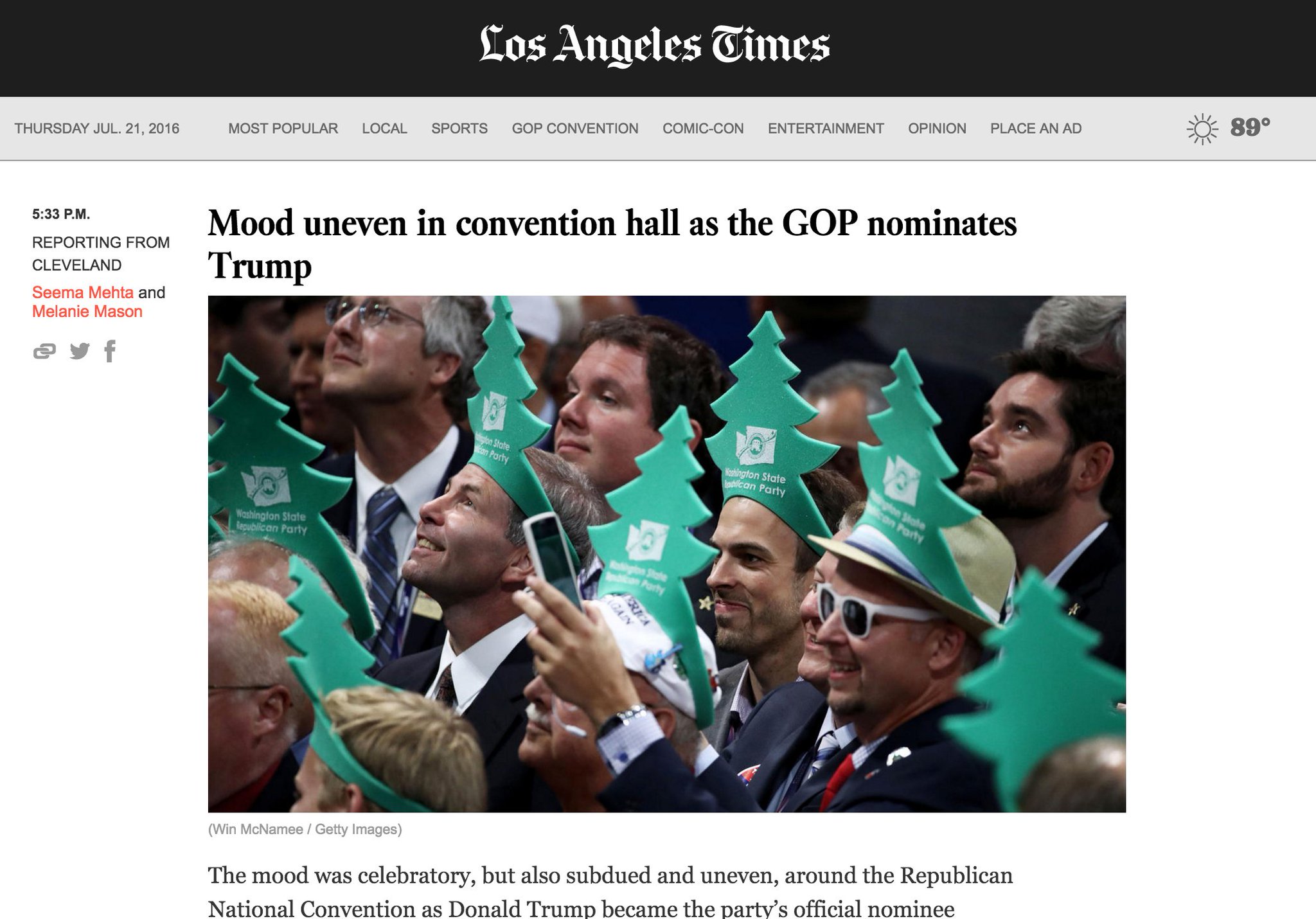 Aloha nui loa and mahalo to my Hawaiian delegation, too.
The party was with the Texans.
Make America Stoney Again.
We met a little-known Presidential candidate while walking the streets of Cleveland outside the arena. He wants to build a wall around billionaires; he plans to introduce the Twenty-Dollar Economy; and he named me his Vice President.
  Stoney-Franklin 2016!  
---
---
Democratic National Convention | Philadelphia July 25-28
---
The Democratic National Convention was everything the RNC was not. It had star power. There were celebrities everywhere. It had the POTUS, the FLOTUS and Katy Perry. We saw more stars in 30 minutes at the DNC than in the entire four days in Cleveland, and it wasn't even close. There was much more diversity across the delegations, too. Philadelphia's Wells Fargo Center was a completely different scene than the one in Cleveland, with completely different talking points and themes throughout the convention, as expected. But where Philly was the place for the stars, it failed to match the GOP convention's organization and order. To put it simply, the DNC, at least behind the scenes, was one big cluster-you-know-what. It was a logistical nightmare...  
Uber and traffic planners really dropped the ball.
Getting out of the arena and back to civilization was damn near impossible. If you stayed through the final speaker, you weren't leaving the premises for at least an hour, if lucky. Uber had one pick-up/drop-off location with hundreds of people standing in one tent, trying to hail a car through the app. Those lucky enough to catch a ride then waited through one-lane traffic to get out. Meanwhile, plenty of concrete and road sat empty and closed off in the South Philadelphia Sports Complex, home of the Wells Fargo Center, Lincoln Financial Field, Citizens Bank Park, and Xfinity Live!. With all of that event space and the surrounding parking lots, you'd think the city would know how to handle getting people in and out, even with security concerns. The RNC's location in downtown Cleveland made it MUCH EASIER to get around, leaving much more time for extracurricular activities.
We did not party. (Sad face.)
The DNC was to be the week we really got after it outside of the convention. The city was full of parties and we have better connections with Democrats, so we planned to go on very little sleep all week long. But the aforementioned logistical nightmare ruined any fun we could've had because we never got free until after midnight with an 8:30 am car ride back to the arena each morning. It also didn't help that some of the parties were across the state line in New Jersey. Maybe I'll catch ya next time, Snoop Dogg.
BOYZ II MEN!!!!!!!
Boyz II Men rehearsal at #DemsInPhilly pic.twitter.com/ftIBNrJABI

— Drew Franklin (@DrewFranklinKSR) July 25, 2016
Bernie Sanders supporters are the worst human beings in America.
Okay, not 
all 
Bernie supporters, but the ones we saw in Philly. Never in my life have I seen a crazier group of people. They were rude, obnoxious and then turned on each other before the week was over. In my brief time sitting next to them on Monday and Tuesday night, I saw three near-fist fights among the same people and plenty of verbal altercations as well. Not to mention our own little run-in with the group, when they shouted at us as we simply walked up the stairs past their section and into the main concourse. I will give them credit for one thing, though. They orchestrated a fart-in in protest of the Hillary nomination. They ate beans for two days and tried to disrupt Hillary's speech with flatulence. Well played.
Bernie would not answer my Outback or Cracker Barrel question.
Gotta think he goes with Crack Barrel, right? Old people love Cracker Barrel.
First runner-up! #FeelTheBern pic.twitter.com/AmI5X5kOw0

— Drew Franklin (@DrewFranklinKSR) July 26, 2016
It was really cool being in the same building as the president.
Save your Obama comments for someone else; I thought it was cool seeing a president in person. Being in the same building as any president, Republican or Democrat, would be cool and it was fascinating to see how everything changed once he entered the building. Secret service took over for regular arena security and entry into the bowl was completely shut down, while Air Force planes circled over Wells Fargo outside.
Roll Call Bombing returned.
I enjoyed standing with delegations from Alabama, New Hampshire, Nevada, South Carolina, Washington and American Samoa, among others.
I also came dangerously close to tweeting "Time for the Roll Call Bombing!" which could've been severely misinterpreted.  
---
Overall, both conventions were a blast for this nonpartisan and they opened my eyes to the whole process and more about the current candidates. I'll spare you that conversation -- you have Facebook for those discussions -- but thanks again to all who enjoyed and tolerated KSR At The Conventions. That being said, Stoney-Franklin is the only choice this November! Get out there and vote for us!