Things aren't so pleasant here in Durham, as you might know.  Me, I'm sick.
Then, there's Duke, which isn't so happy with its basketball team.  I'd assume you're happy about that because of, well, you know.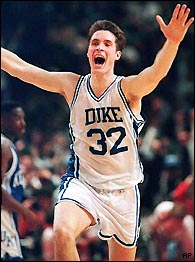 Yeah, that.  Not even the comeback in '98 in St. Pete will make up for that, will it?  Didn't think so.
Anyway, Duke got bounced in the tournament's first weekend for the second straight year, which doesn't happen that much.  The question has been raised recently as to whether Duke has slipped as a program.
The answer–duh!  Yeah, Duke has slipped.
Check out the last four years of Duke basketball.
2005:  Sweet 16
2006:  Sweet 16
2007:  First round
2008:  Second round
Now, let's compare that to yourrrrr Kentucky Wildcats in the same time period.
2005:  Elite 8 (and a couple bounces from the Final Four)
2006:  Second round
2007:  Second round
2008:  First round
Correct me if I'm wrong, but you guys thought UK had slipped, correct?  The key to slippage, in both cases–all those tournament losses were predictable.  Neither team got shocked when they got sent home.  You could see it in the bracket, and it wasn't like these losses all came to spectacular team.  Sheesh, Duke lost to VCU last year.  VCU!
The reason I make the comparison to Kentucky is because, for years, Kentucky fans pointed to signs the program was losing traction while the nation pointed to the team's high win totals and great regular season performances to say the program was just fine.  Truth was that it wasn't just fine.  It was a good program, and even a great one.  But it Kentucky was no longer an elite program, a fact that many of you were painfully aware of.
So given the situational similarities, why are people even asking like this is a mystery?  Yeah, Duke's down, and any question a fan or hater has is legitimate.
Bet the Dukies wish this guy was wearing a different hat in that picture?  See, doesn't that picture make up for the other one?