A Pretty, Pretty, Pretty Accurate Representation of the East Region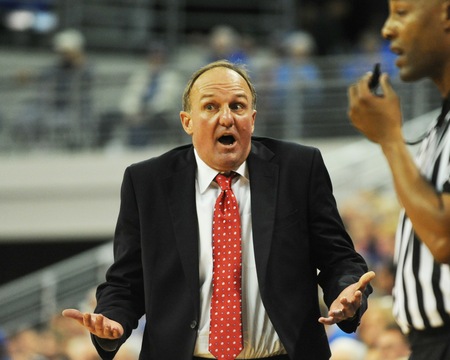 (
Getty Image
) Yay! The tournament starts Thursday! Or Tuesday or something. But really Thursday! Here's your East Region. I see no point in picking beyond the Sweet 16 because these will all be wrong anyway. We'll regroup next week.
(1) Ohio State v. (16) Ohio State's fluffer
My pick is Ohio State.
(8) George Mason v. (9) Villanova
Based on name recognition alone, Villanova looks like the easy pick here. BUT WAIT. George Mason is an eight for a reason, right?! Seriously, I'm asking, because I have no idea. 'Nova kind of blows now, too, but they have the potential to beat George freaking Mason, don't they? They play in the Big East, for chrissakes! With all its ruggedness and...ruggedness. So, yeah, Villanova will certainly be more rugged. But not in the paint, because they don't really have a big man. My pick is George Mason.
(5) West Virginia v. (12) Clemson (probably)/UAB
My feeling is that Clemson will beat UAB because I'm pretty sure I know the last name of two Clemson players. That works for everyone, right? As far as what will happen in the second round (nee first round), I'm guessing West Virginia will rebound well. I have seen the Mountaineers play a few times this year, and I can't think of anything else they do well. Defense, I guess? I feel like their style of play is so aesthetically repulsive that it makes their opponent play just as awfully as they do. I'm surprised they even ended up with a five, but I guess that's good news for us. My pick is Clemson!
(4) Kentucky v. (13) Princeton
Princeton is a bunch of nerds. My pick is Kentucky.
(6) Xavier v. (11) Marquette
How the hell did Marquette even make the tournament? Oh, I forgot, they went 9-9 in their conference and only lost 14 games. Their best non-conference win came over Bucknell -- can't argue with that! They really took Wisconsin-Milwaukee to the woodshed at their place, too, blasting them by three. So, yeah, Xavier! They beat Georgia and probably other teams! My pick is Xavier.
(3) Syracuse v. (14) Indiana State
Larry Bird played for Indiana State, you know. My pick is Syracuse.
(7) Washington v. (10) Georgia
SEC homerism aside, Georgia has one of the most athletic teams in the tournament. So, too, does Washington! The Bulldogs, however, have the edge in the post with Trey Thompkins while the Huskies just have that British guy with the hyphenated name. This one should be exciting, with the back-court prowess of Isaiah Thomas Jr., Terrence Ross, Justin Holiday, C.J. Wilcox, Travis Leslie, Gerald Robinson, and Dustin Ware. My pick is Georgia.
(2) North Carolina v. (15) Long Island
Do not put it past the Tar Heels to get a scare in this one. They're getting a little fat and happy off their success in the ACC, and one off game from Harrison Barnes will doom them. But, still, c'mon. My pick is North Carolina. --- Those picks are probably all right, so let's move to the third round. But really the second round. But we have to call it the third round because of the stupid play-in games that don't make any sense. And while we're on the topic, how are you going to make conference champions play in the play-in games? That's not fair.
(1) Ohio State v. (8) George Mason
It is not completely insane -- given Northern Iowa -- to pick George Mason over the Buckeyes. It is a little bit insane, though. George Mason has some guys who can score, maybe, I mean, I would guess they do...let's stop wasting time here. My pick is Ohio State.
(4) Kentucky v. (12) Clemson
Those two guys on Clemson probably won't be too effective against UK, and I have no reason other than blind faith to think that. Still, I don't see this team flaming out early, especially to the likes of an ACC also-ran. My pick is Kentucky.
(6) Xavier v. (3) Syracuse
The pundits that don't have Ohio State coming out of the East have Syracuse, and I have no idea why. Everyone talks about the zone. Seems pretty easy to figure out. Ask Louisville. Again, I know little about Xavier (and, shut up, you don't know anything about them either), but they seem like the type of team that could give the Orange some trouble. I'm totally guessing. My reasons don't even make sense. My pick is Xavier.
(10) Georgia v. (2) North Carolina
Despite the fact this game is being played in Charlotte, I think the Bulldogs have a real shot. Again, I have not been really impressed with UNC, and Georgia can match up with them. Thompkins is every bit as good as Tyler Zeller, and he's much less bony. Same goes for Jeremy Price and John Henson. Assuming the Tar Heels won't get either of those guys in foul trouble, there's no reason why Mark Fox can't work a little magic and get into the Sweet 16. My pick is Georgia.