A Wild First Night of College Football's Friday Morning Wakeup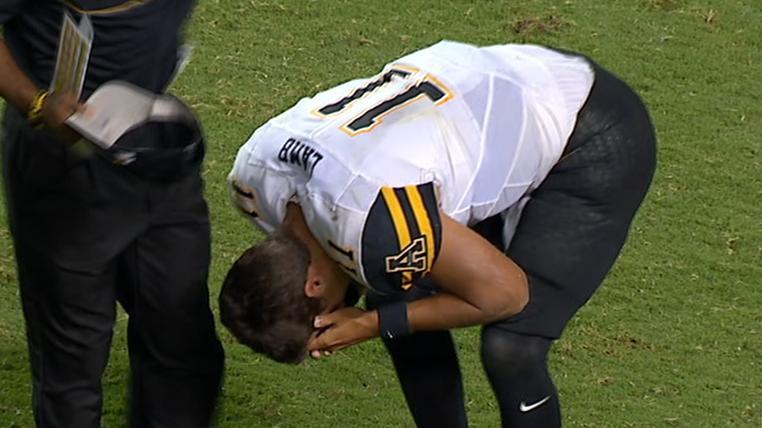 For about 97% of last night's Tennessee/Appalachian State game, it looked like the Mountaineers were going to pull off the upset. Appalachian State came into Neyland Stadium and showed the world they weren't intimidated by all the hype surrounding the #9 Vols, scoring on their second drive less than five minutes in. As the game ticked on, more people tuned in as
App State not only held on to the lead, but looked like the much more dominant team
. Even after Tennessee tied it up in the fourth, the Mountaineers had a chance to win, despite their kicker missing an extra point and a field goal. Unfortunately, Cinderella's slipper fell off the foot and shattered when App State totally mismanaged the last few minutes of the game, letting the clock run out as they scrambled to get into field goal position, despite the fact they still had a timeout to use. Tennessee escaped in overtime, 20-13, a disappointing end to a thrilling start to the college football season. In other scores, South Carolina won an ugly grudge match at Vanderbilt in a game that makes me feel better about Kentucky's chances against both; Louisville looked terrifyingly good in a 70-14 win over Charlotte; and Western Kentucky beat Rice 46-14 despite tripping in the tunnel on the way to the field:
Well... pic.twitter.com/F38oMEaq63

– Dominique Yates (@RealDYates) September 2, 2016
Meanwhile, we're only 34.5 hours away from football time in the Bluegrass, so let's get to it, shall we?
Brace yourselves for pregame coverage
Mark Stoops and staff are closing up shop until kickoff, so there won't be a media availability today, but don't worry; we'll have plenty of material to get you ready for tomorrow's game, including KyWildcatsTV's hype video, which will drop at some point today. Here's a sneak peek: https://www.youtube.com/watch?v=t6t67nXpRU0 If that didn't get you in the mood for tomorrow's season opener vs. Southern Miss, this beautiful picture of the sunset over Commonwealth Stadium last night will: [caption id="attachment_206008" align="alignnone" width="2048"]
@KyWildcatsTV
[/caption] If you haven't made it your wallpaper yet, well, you can't call yourself a Kentuckian. Just kidding. Kind of.
The KSR staff season predictions will be released at noon
After much arm-twisting, I got the entire KSR staff to send in their predictions for the season. Check in at noon to see how we all think the season will go. Spoiler: no one's picking us to beat Alabama.
So, Lamar Jackson looked really good last night
Louisville's quarterback set a school record with 8 touchdowns and 405 offensive yards...BY HALFTIME. Sure, Charlotte is Charlotte, a team Kentucky beat 58-10 last season, but still, the Cards looked mighty impressive. Long way to go until November 26, but man, Jackson is good. And yes, I'll admit this made me laugh: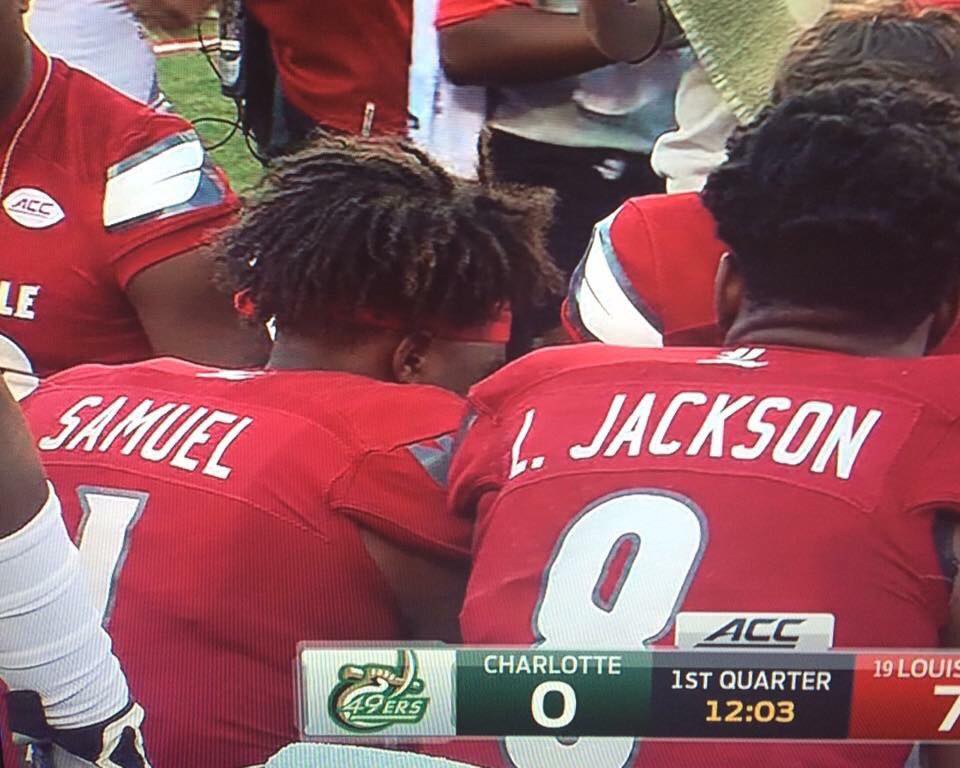 Danville vs. Boyle is tonight
Tonight is a big night for high school football across the state, but if you ask me, no game is bigger than the Danville vs. Boyle County Titletown showdown. Led by senior QB Zach Dampier, Danville is legit this season, and this may be the Admirals' best chance to knock off Boyle after losing seven of the last eight matchups. Go Ads! I'll be there in spirit. Other notable games:
Trinity (2-0) vs. Lafayette (2-0)
St.Xavier (1-0) vs. Bowling Green (2-0)
Scott County (2-0) vs. Highlands (1-1)
Paintsville (2-0) vs. Pikeville (2-0)
Click here
to read Eli Mitchell's KSR Preps Preview from last night.
The trailer for "Mascots" looks awesome
https://youtu.be/swTWozTxQ-E Christopher Guest's latest "mockumentary" comes out on Netflix on October 13. I've been a huge fan of Guest's for years. I'll never forget the first time my brother-in-law (then my sister's boyfriend) showed me "This is Spinal Tap"; that started a love affair with Guest's films, notably "Best in Show" and "Waiting for Guffman." "A Mighty Wind" is good too, but "Mascots" looks flat out awesome. I can't think of a better way to spend the night before Big Blue Madness than watching it with the fam in Kentucky.
Tonight's college football schedule
Didn't get enough last night? Here's tonight's slate:
7:00 PM: Furman at #12 Michigan State, Big Ten Network
7:30 PM: Northwestern State at #23 Baylor
9:00 PM: Kansas State at #8 Stanford, FS1
Got any Charleston recs?
My husband and I are taking off for Charleston bright and early tomorrow morning, and since there's no better travel guide than the KSR comment section, we'd appreciate your recs on what to see, eat, and drink while we're there. We'll be in Charleston proper for a few days before moving out to Folly Beach. We're taking our dog, Gatsby (the star of my SnapChat), so if you know of any dog-friendly places, please let us know. I've never been to the Lowcountry before, and I can't wait. Because I just can't help myself, I'll be live blogging the Southern Miss game with you guys from our rental in downtown Charleston tomorrow night; however, Drew and Nick will be manning the ship next week, and I know they'll do a great job.
KSR in an hour
Get some work done now so you can pretend to work from ten to noon.