Aaron Bradshaw heads to Kentucky with title expectations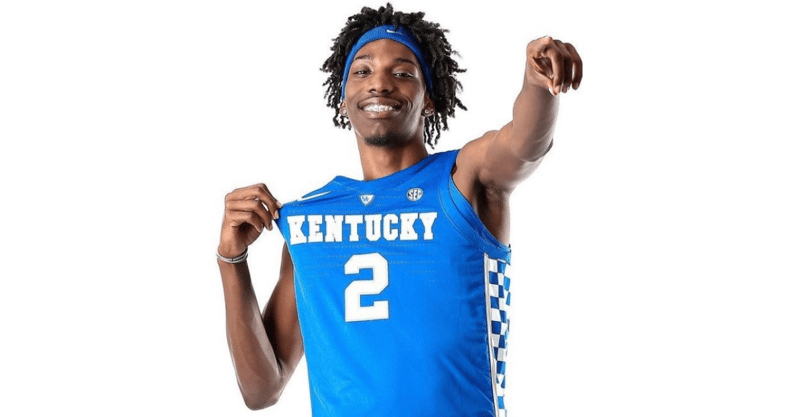 Five-star center Aaron Bradshaw had his heart set on Kentucky. He knew Lexington was where his dreams of winning a national championship and making it to the NBA would come true. But how would he tell the basketball world he was coming?
UK assistant coach Chin Coleman had an idea. The top-five prospect in the class of 2023 was already planning to take an official visit to Lexington for the program's annual Big Blue Madness event in October. Why not announce the commitment just minutes before showing up, a surprise leading up to the unofficial tip-off to the season?
Bradshaw was in. Less than an hour before festivities began, the 7-foot center went public, joining Kentucky's top-ranked class that included Justin Edwards, Rob Dillingham and Reed Sheppard.
"I've got to thank my guy Chin because it was a great idea," Bradshaw told KSR this weekend at the Hoophall Classic in Springfield, Mass. "Me and him were talking and he said, 'It'd be better if you committed before you came down here so you can feel all the love.' And yeah, I felt all of the love. BBN, I don't want to even say I think, I know we've got the best fans in the world. It was just a great moment."
The timing was perfect. Bradshaw was the last of the long list of pledges and recruits to arrive inside Rupp Arena, the rest already gathered inside prior to the event. The five-star center announced his commitment and checked in shortly after. When the newest Wildcat walked into the room, the other commits and high-profile targets — namely DJ Wagner at the time — attacked Bradshaw to shower him with love following the big news.
It was the ultimate 'welcome home' celebration.
"I'm not gonna lie, that was lit," Bradshaw told KSR. "It's so funny because all my guys, they're all my friends. When they came up to me and said, 'You did it! You did it!' I was just like, man, I did do it. It was just such a great feeling."
Three months after his commitment, the five-star center still struggles to put that moment into words. He'll be the first to admit he never thought he'd get to this point, signed on to play for John Calipari at Kentucky. It's a dream come true, a new reality that has him overflowing with joy.
"It was a surreal moment because I really felt like — that was my first chapter," he told KSR. "I understand there's elementary ball, middle school, high school ball, but that was my first chapter. At the end of the day, I didn't think I was going to go there. I really didn't think I'd get to be there. As soon as I committed, it was just like… I can't even put it into words. I just felt so appreciative and so much happiness."
So what was it about Kentucky that put the blue blood program over the top? It was a deep trust between him and Coach Cal, a mutual understanding of what each side needed from the other. Bradshaw has faith in Calipari to help him reach his personal goals while Calipari has faith in Bradshaw to help him reach his team goals.
A perfect match.
"When me and Coach Cal sat down and he said he got me and I got him," Bradshaw said of when he knew Kentucky was the choice. "That's what really made me lock in with them. … They showed me the most love and I knew that was just the best place to be."
What does that vision look like for Bradshaw in Lexington?
"They just want me to play my game, play inside and out," he told KSR. "That's what type of player I am, I'm an inside-out player. I can hit the three, face up, dunk. Just need to keep getting better, that's really it. I need to keep developing and being the player I am, being a dog. That's really it."
Bradshaw, ranked No. 1 overall in the latest 2023 On3 player rankings, is one of four top-10 and five top-40 prospects in Kentucky's top-ranked class. What does he think about his future teammates? And how are they going to mesh together in Lexington?
It all starts with his high school and grassroots teammate, DJ Wagner, who committed and signed with UK just a few short weeks following Bradshaw's commitment. That's the easy one, two players who see each other as brothers with a long history of on- and off-court time spent together.
"He's great, can't complain," Bradshaw told KSR. "He can shoot, dribble. Really nice guy, really funny dude. He's just an all-around great person. Really grateful, really humble, really appreciative, and I really enjoy that with him. … That's my brother. Wherever he goes, I go."
What about Wagner's backcourtmate, Rob Dillingham? Expectations are high there, as well.
"Rob, they were saying he's like Jamal Crawford. He's really Jamal Crawford 2.0," Bradshaw added. "And he's a facilitator, so he's going to get in there, make a couple passes, finish. Handles are crazy. I don't know how he does it, but s***, he does it."
The same can be said about Justin Edwards, who brings versatility to Kentucky's deep class.
"I've got to think about that one. He's a really interesting person, I'll just say that [laughs]," he said. "J.E. is another facilitator, he's 6-6 or 6-7, dribbling the ball and making plays for his teammates. He's a shooter too, just an all-around great player."
And then there's Reed Sheppard, who Bradshaw believes is unmatched as a shooter among his peers.
"Reed is probably the best shooter in the class of 2023, hands down. Not probably, he is, I'm going to be honest with you," he told KSR. "Really good person — and that's the thing about all of us. We're all good people, like to talk and communicate. All like to have fun with each other, basically."
Together, he expects the class to reach greatness. Short and sweet, he knows what that group is coming in to do.
"Win a national championship, we all get drafted and — yeah that's it."