Aaron Bradshaw hearing from Orlando Antigua; wants to visit Kentucky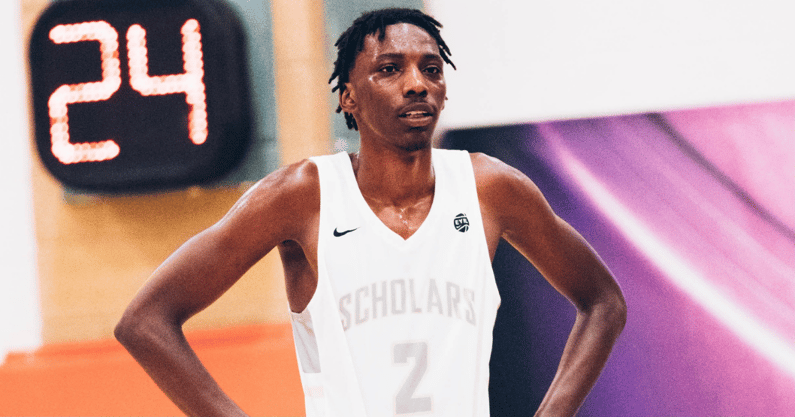 Aaron Bradshaw isn't the first name you think of when discussing Camden High School (NJ); that would be his five-star teammate DJ Wagner, the No. 1 player in the class of 2023 and a top Kentucky target.
But Bradshaw is establishing himself in his own right on the national recruiting scene. The 7-foot-1, 210-pound junior at Camden is considered a four-star recruit and the No. 20 overall prospect in his class, per the On3 Consensus ratings. By way of scouting Wagner over the years, Kentucky has spotted Bradshaw as a potential frontcourt option.
Wildcat assistant coach Orlando Antigua is the main contact from UK right now for Bradshaw. Head coach John Calipari took a trip back in the fall to watch Camden play in person and Antigua saw him play last week. Bradshaw doesn't currently hold an offer from Kentucky but told KSR over the weekend that he hears from Antigua and would like to make a trip to Lexington, although no date has been set at this moment.
"His message has been keep working hard, keep doing what you're doing because he's been watching me and my growth," Bradshaw told KSR of what Antigua tells him.
On top of Kentucky, Bradshaw said he's hearing from LSU, UConn, and DePaul the most right now. He's already been on a campus visit to LSU, which he called his "dream school" growing up. Bradshaw says that he's often compared to former LSU Tiger and current Minnesota Timberwolves center Naz Reid. He previously took a visit to Oklahoma State, as well.
Bradshaw and his Camden squad were in Springfield, MA the last few days to participate in the annual HoopHall Classic, where several of the country's top prep schools converge for four days of high-level high school hoops.
Camden played twice, once on Saturday and again on Monday, heading back to New Jersey with a 1-1 finish. The Panthers were upset 66-48 in the opener against Calvary Christian Academy before responding with vigor two days later, beating a very good Milton High School squad 63-55.
With the loss to Calvary, Camden saw a 44-game winning streak succeeded by back-to-back losses.
"We talked yesterday actually," Bradshaw told KSR after beating Milton. "We came as a team and we had a real big talk, and we was talking about how we need to come back together because as these past games, as you all have seen, we've been slacking, not doing what we're supposed to be doing. We just came back together.
"We got punched in the mouth twice. We got punked twice and we didn't like that. Where we're from we don't like that. Those two losses hurt so we just had to get this one."
In his first outing of the Classic, Bradshaw posted 10 points, six rebounds, five blocks, three steals, and two zero turnovers on 4-6 shooting, including a 2-2 mark from the free-throw line, in 30 minutes. Two days later against Milton, he finished with two points, four rebounds, one block, and three steals on 1-7 shooting. Bradshaw only played 25 minutes in that outing, as he dealt with foul issues before eventually fouling out, but his team did earn the win.
Bradshaw shows a ton of upside in his longterm potential. His frame is already imposing and he can easily add more muscle. He has a knack for blocking shots and has impressive athleticism for someone already as big as him. Bradshaw says he's working on his shooting touch more and more to enhance his versatility. He already possesses a soft touch around the rim and from about 10-feet out. If he has a chance to dunk it, he's going up strong.
Kentucky isn't looking at many frontcourt options from the class of 2023 right now, so Bradshaw is definitely one to keep an eye on. He and four-star 7-footer Isaiah Miranda appear to have the Wildcats' attention the most right now.