Aaron Bradshaw leaning toward college as Kentucky emerges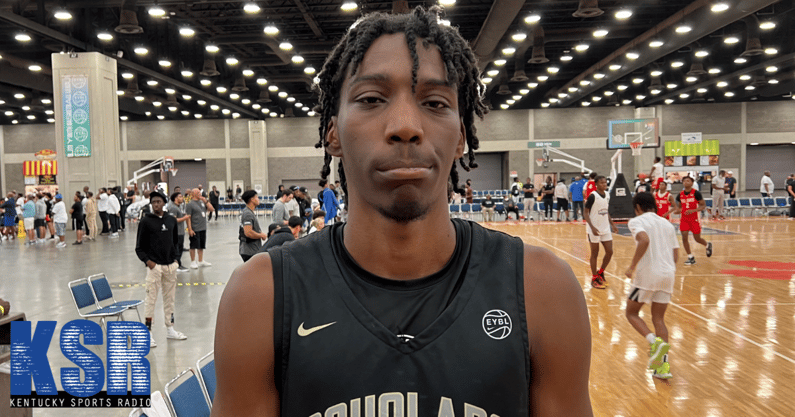 The NBA G-League Ignite is interested in 2023 five-star center Aaron Bradshaw, but the Kentucky recruiting target is favoring the college route. Talks are ongoing and he's not ruling out that path, but at the end of the day, the 7-foot-1 center would like to work toward a degree.
Where do things stand with the G-League?
"I'm leaning more toward college, I want to get my diploma. I'd really like to do that," Bradshaw said at the 2022 NBPA Top 100 Camp in Orlando, Florida on Wednesday. "The G League is nice for certain people, but it's different in certain situations. In my situation, I'd rather go to college. That's just what I'm wanting to do, so that's what I'm mainly leaning toward. It's still up in the air though. I'm still learning, still exploring my options.
"… It's kind of an iffy type of situation. It sounds good, but I don't really know about that option yet."
Among colleges, Kentucky and Louisville have separated themselves from the pack. Bradshaw says he has a visit to UCLA coming "soon," but the Wildcats and Cardinals are widely seen as the top contenders to land the five-star center.
Kentucky vs. Louisville among colleges
Of those two, Kentucky has emerged as the heavy favorite in recent days, with five expert picks coming in favor of the Wildcats across On3, 247Sports and Rivals this week alone. There is speculation that a commitment is imminent, though Bradshaw's mother told KSR on Wednesday that "they are just rumors" and stressed her son's recruitment was still open.
Bradshaw did his best to push back on the pro-Kentucky chatter, as well, specifically when discussing his interest in the Louisville basketball program. He took an official visit to the school earlier this month, with the Cardinals laying out an impressive pitch led by head coach Kenny Payne.
"Kenny Payne talked to me about the real world," said Bradshaw. "He spoke about that with me, how the real world was going to be with college, without college. With basketball, without basketball. He really stuck that in my head. Instead of worrying about, 'Oh, we have a nice campus' or whatever, no, he's talking about life. That's something I really appreciated. Campus was really nice and the players were cool. It was just a great environment."
He raved about the Wildcats, as well, but went out of his way to praise both official visits he took the second week of July. His trip to Lexington was great, but so was the trip to Louisville that immediately followed. Careful with his words, Bradshaw refused to show his hand.
"The Kentucky pitch is to keep working and keep getting better, not just on the court, but off the court too," Bradshaw told KSR. "In class, in school and just being a good person. It's like, between Louisville and Kentucky, I can't — it's just too good. Both trips were great."
What about DJ Wagner?
Then there's the DJ Wagner factor, with Bradshaw teaming up with the five-star guard in high school with Camden and grassroots with the NJ Scholars. Both players are favoring Kentucky and Louisville and are interested in teaming up together.
That doesn't mean, though, that the two players are a package deal. Bradshaw is comfortable choosing his own path, even if that means suiting up at different schools.
"(We've talked about teaming up) numerous times, yes," said Bradshaw. "We definitely would like to, but at the end of the day, I'm my own person and he's his own person. Wherever we play, we're going to be great regardless. With or without each other, we're going to be good."
Looking to play in the NBA
Things are moving fast in his recruitment, but until he's ready to announce his final decision, he's trying to prove why he's ranked No. 17 overall and No. 2 at the center position in the 2023 On3 Consensus. He did that on day one of the NBPA Top 100 Camp, finishing with eight points, nine rebounds, four assists, one block and one steal in game one, followed by 11 points, six rebounds, one block and one steal in game two.
"I come into this type of camp wanting to win, wanting to get better," said Bradshaw. "There are a lot of great people that have been here such as Karl-Anthony Towns, all different types of NBA players. They all went here. I want to get to where they're at right now."
Any idea where Towns went to school?
Led by John Calipari, the Kentucky coaching staff was in attendance for each of Bradshaw's games on day one of camp. They're expected to be courtside the rest of the week, front and center to see who the program hopes is its next commitment in the class of 2023.