Abby Steiner is a finalist for The Bowerman Award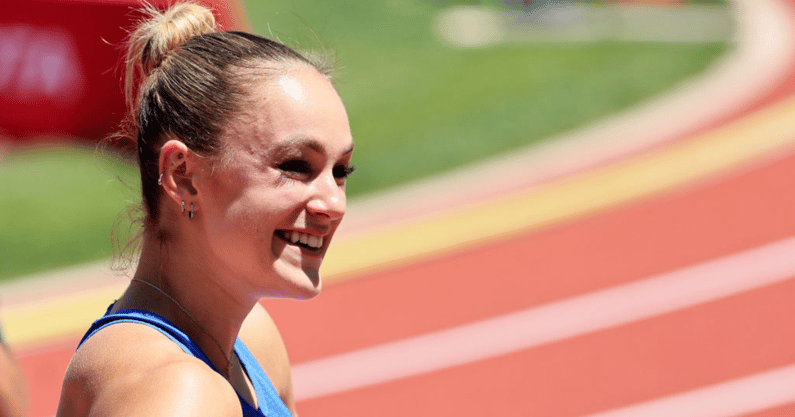 The Summer of Steiner continues. Fresh off winning the national 200-meter title at the USATF Outdoor Championships yesterday, Steiner has another big honor to add to the list. Today, she was named a finalist for The Bowerman, the most prestigious award in collegiate track and field. Joining Steiner in the final three are Florida's Anna Hall and California's Camryn Rodgers.  
The winner will be determined by a combination of popular vote and a diverse group of media, statisticians, administrators, and past winners selected by The Bowerman and the United States Track and Field and Cross Country Coaches Association (USTFCCCA). Voting (thebowerman.org/vote) opens to the public tomorrow at 4 p.m. ET and closes Thursday at 2 p.m.
"Oh my gosh," Steiner said when asked about The Bowerman Award a few weeks ago. "I would love to go and at least be a top-three finalist and go to that ceremony. I think that's something that every person who runs track dreams about. That would be amazing, just to be there and hopefully bring all the people that have helped me along the way to celebrate that. I would love to go."
Yesterday, Steiner ran a personal best of 21.77 seconds to claim the US 200m title and secure a spot at the World Championships in July. She also won the NCAA title in the 200m earlier this month in a time of 21.80, a new collegiate record. Even though her 21.77 was a personal best and the 17th fastest in world history, it won't count towards the Bowerman, which only considers performances during the collegiate season.
The Bowerman does consider indoor and outdoor seasons; Steiner dominated both. She also holds the American and collegiate record in the indoor 200m (22.09). Here's her complete list of accomplishments in the 2021-22 track and field season:
U.S. 200m Champion 
200m American & collegiate indoor record holder (22.09)  
200m outdoor collegiate record holder (21.80) 
Member of collegiate record outdoor 4x400m relay (3:21.93)  
NCAA outdoor 200m and 4x400m titles 
NCAA and SEC 200m title (indoors)  
NCAA silver and SEC bronze in the 60m  
NCAA bronze in 100m (11.08) 
NCAA 4x400m relay bronze (indoors) 
Seventh fastest 100m runner in collegiate history  
SEC Indoor T&F Women's Runner of the Year  
SEC Indoor & Outdoor Scholar-Athlete of the Year  
USTFCCCA Women's Track Athlete of the Year (indoor and outdoor) 
USTFCCCA Southeast Region Women's Indoor & Outdoor Runner of the Year   
Four-time SEC Women's Runner of the Week  
Five-time USTFCCCA Athlete of the Week  
Seven-time school record holder (60m, 100m, indoor 200m, outdoor 200m, 300m, indoor 4x400m, outdoor 4x400m)  
Honda Sports Award Winner for Track and Field 
Eight Bowerman Watchlist appearances, semifinalist, finalist 
Last week, Steiner won the Honda Sport Award for track and field and was named National Women's Track of the Year Athlete of the Year (indoor and outdoor seasons). She's on such a hot streak right now that even Magic Johnson is taking notice:
Go Abby Go.