Abby Steiner headlines record-breaking trip for Kentucky at SEC Championships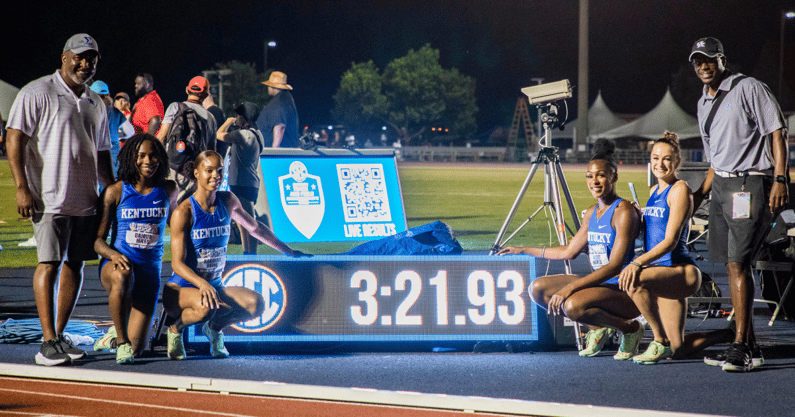 Abby Steiner continues to make some serious noise in the college track world.
On Saturday during the final day of the 2022 SEC Outdoor Championships, the Kentucky track and field program's women's 4×400-meter relay team — powered by Steiner, Karimah Davis, Dajour Miles, and Alexis Holmes — broke the collegiate record with a time of 3:21.93, taking home a gold medal in the process.
Texas A&M made a push at the very last second, but Holmes was too far ahead and lunged at the end to secure the win. Steiner ran a 48.772 third leg that gave UK and Holmes a sizable lead into the final leg.
"The biggest thing for me was just to take it out hard," Holmes said post-race. "Try to get as much space between me and the other runners as I could. And then just coming across the last turn, just bring it home, run strong, lift the knees and do the best I could." 
Overall, the women's side finished the entire competition in fourth place with a total of 85 points. It was the program's best finish since 2019 and a seven-spot improvement from a season ago. 85 points were also the most since they registered 99 back in 2015.
"I told these ladies before this relay that I was gonna run my heart out for them," Steiner said. "We really wanted this win. Collegiate record is just a bonus on top of that." 
Masai Russell earned bronze in both the women's 100m hurdles and 400m hurdles. She repeated as SEC 400m bronze medalist with a time of 55.44. Her 100H time was 12.78w (+2.1). She also earned a SEC bronze in the 60H indoors earlier this year. 
Additionally, Steiner claimed 4×4 gold and silvers in the 4×1, 100m, and 200m for the meet. Holmes earned 4×4 gold and a 400m bronze and Russell claimed the two bronzes.
The men's team wasn't as successful as a whole, finishing eighth with 47 points, but did see some individual success.
Keaton Daniel repeated as the gold medal winner in men's pole vault, clearing a season-best 18'2.5"/5.55m to earn 10 points. Fellow Wildcat Matt Peare took home bronze in the same event.
Over at the 4×400 relay, a team of Dwight St. Hillaire, Lance Lang, Kennedy Lightner, and Brian Faust became the first group of Wildcats to break the three-minute mark and beat the previous school record by more than two seconds at 2:59.93. They earned a silver medal as a result.
Saturday was the final day of the SEC Outdoor Championships. Next up is the NCAA East Regionals in Bloomington, IN which runs from May 25-28.
Below is more information on how the weekend played out for Kentucky, courtesy of UK Athletics.
---
Day Three
Senior Josh Sobota earned fourth place and five points (188'2″/57.37m) in the men's discus, to go along with the five he scored with a fourth place in the shot put earlier in the meet. 
 
Jenna Schwinghamer broke the women's 800m school record with a time of 2:03.18 en route to a fifth-place finish and four points. Jenna Gearing placed seventh to score two points in a PB 2:03.81, which is third fastest in school history and all the more impressive considering she also qualified for the final of the 1,500m earlier in the day. 
 
Tori Herman earned two points in the women's 1,500m with a time of 4:16.11. Gearing just missed a scoring place, finishing ninth. 
 
Molly Leppelmeier scored two points in the women's discus with a personal best for seventh place, 169'2"/51.56m that improved her No. 9 mark on the UK all-time list. 
 
Lance Lang scored two points in the men's 200m with a seventh-place time of 20.59. 
 
Siobhan Szerencsits earned seventh place in the women's pole vault, clearing 13'7.25"/4.15m 
Day Two
Bockrath stole the show for Kentucky on a rainy day two, earning a silver medal in the women's 3,000m steeplechase in school record time (9:52.48). It was also below Ole Miss's facility record, an eight second personal best and the 14th fastest in the NCAA this season. 
 
UKTF had eight finals qualifiers on day two, bringing Kentucky's finals count to 16 for all races with both a preliminary and finals rounds. 
 
The UK throwers had another impressive day with both Leppelmeier and Sobota placing fourth in the shot put. 
 
Leppelmeier's throw was a personal best by over a foot and moved her up to second all-time for UK in the event outdoors. 
 
Sobota's shot put was among his top five throws of his career and only a couple inches short of his season best from the Joe May Invitational. 
 
Abby Steiner led the Wildcats' sprinters on day two with the top qualifying time of the 100m prelims (11.25). 
 
Tori Herman ran the third fastest time in the 1,500m prelim (4:17.92) and the fastest in her heat, automatically qualifying for Saturday's final alongside teammate Jenna Gearing who also automatically qualified with a third-place finish in their heat (4:18.42), the ninth fastest time overall. 
 
In the women's 100m hurdles, Masai Russell ran the fourth fastest time (12.96) to secure a lane in Saturday's final. 
 
Dwight St. Hillaire and Brian Faust both qualified for the 400m final with the fifth (45.96) and eighth (46.03) fastest times among the field in prelims. Faust's time was season best and St. Hillaire was his heat's winner. 
 
Alexis Holmes, the reigning SEC 400m champion, also earned a spot in the 400m final, running 51.92 for the sixth fastest mark. 
 
The last Wildcat to qualify for finals on day two was Rodney Heath, running 10.39 in the 100m, which was the seventh fastest time of the field. 
Day One
Jade Gates was the star of day one for UKTF, earning silver in the hammer throw with a school record mark of 219'11"/67.05m. The previous school record, which also belonged to Gates, was 219'1"/ from the Kentucky Invitational. 
The senior from St. Louis is now ranked 14th in the NCAA this season and will make the trip to NCAA regionals in Bloomington in two weeks' time. 
Steiner took the second fastest time in the 200m prelims with a time of 22.38Q, running under the then-facility record of 22.41, and will compete in Saturday's final. 
Russell took the third fastest time in the 400m hurdles prelim (56.32Q) and second fastest in her heat. She will return to the event final on Saturday after earning bronze at last year's SEC Outdoor Championships. 
Reigning SEC indoor 200m gold medalist Lance Lang ran the fourth fastest time in the 200m prelims (20.55) and won his heat to automatically qualify for Saturday's final. He will be joined by teammate Jacob Smith, who ran a personal best 20.65 for the final qualifying spot. 
Three Wildcats are set to compete in 800m finals on Saturday after running impressive times in prelims. Jenna Schwinghamer was the sixth fastest qualifier with a time of 2:04.93, Gearing was seventh (2:05.03) and Deanna Martin was the final qualifier in ninth (2:05.56). 
Kenroy Williams will run to the 400m hurdles final for the second year in a row, automatically qualifying with a second-place finish in his heat (50.59). Williams finished fifth in the event last year. 
Junior Michael Browning made it to finals in the hammer throw and finished ninth (197'9"/60.28m), tying his personal best.