Adou Thiero -- future 6-10 guard?-- looking to combine potential and immediate production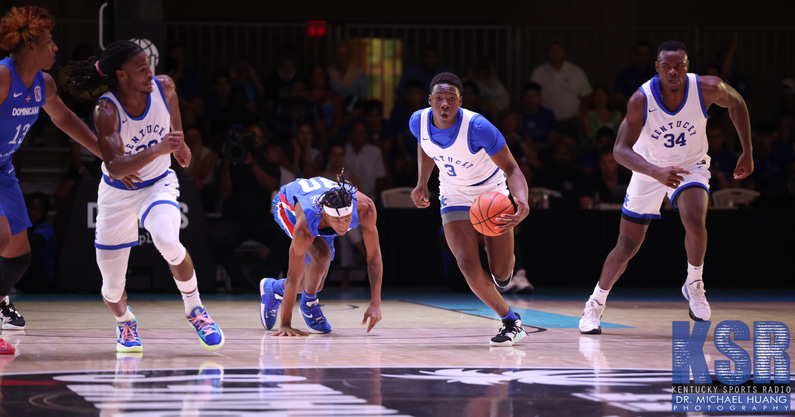 Of all the plug-and-play, instant-impact pieces on this Kentucky basketball roster, freshman guard Adou Thiero certainly wouldn't come to mind first. He may not even come to mind second, third, fourth or fifth — and we could probably keep going.
Coming in ranked as a three-star in the 2022 On3 Consensus, Thiero has been seen as a long-term project piece, a player still developing physically — he's on a pitch count in the Bahamas due to growing pains — and figuring out who and what exactly he is as a basketball player.
Here's what we do know, however. In his unofficial debut as a Wildcat, the 6-foot-6 (and growing) guard finished with seven points on 3-4 shooting and 1-1 from three to go with three assists, three blocks, two steals and one rebound in 10 minutes. The last scholarship player off the bench in the rotation, Thiero immediately entered the game and impacted winning — as much as you can in a 52-point victory.
Nine seconds after entering the game, he jumped the passing lane for a scoop-and-score dunk on the other end. He followed it up with back-to-back swats at the rim a minute later, followed by a catch-and-shoot 3-pointer later that barely touched the net midway through the second half. Shortly after that, another block at the rim, followed by a steal-and-slam within 20 seconds of each other.
Immediate production.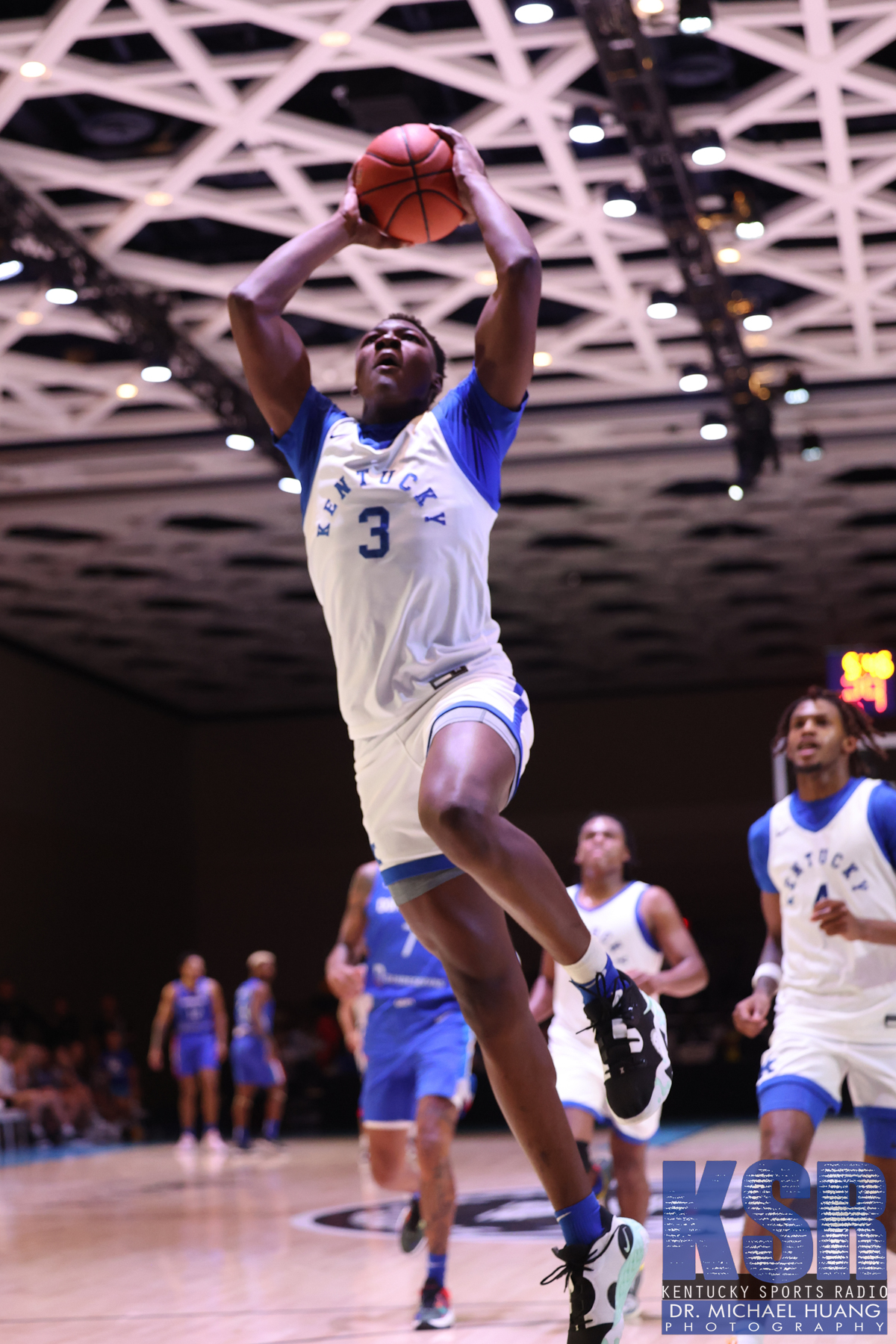 "He just does what he is supposed to do, in the right positions, right plays," acting coach Orlando Antigua told KSR following Kentucky's blowout win over the Dominican Republic National Select Team. "He made plays, anticipating, getting steals, getting blocks, using his athleticism and his quickness. He just did a lot of really good things, a lot of good things."
"I think I did pretty good," Thiero told KSR. "It was just fun to go out there and play with the guys and everything, play an actual game, because practice was getting a little bit boring."
The confidence was there after the game, but it certainly wasn't in the hours leading up to it. Thiero actually looked to his veteran teammates for advice on how to handle the spotlight and kill the nerves, namely Oscar Tshiebwe and Daimion Collins.
Their message? Relax and take a deep breath. Just play.
"Adou came in my room, he was like, 'Oscar, man. I'm very nervous. I don't know what to do. What can I do?,'" Tshiebwe told KSR. "I said, 'Don't worry about doing good. If you worry about doing good too much, that's when you mess up. The only thing you should worry about and have on your mind is going out there and playing as hard as you can. Hard work will always bring something good. If you play hard, you're going to come out in the end and say, 'Oscar you were right.'
"He came out at the end and said, 'Oscar you were right.' I loved that."
"We were on the sidelines and he was talking about how he was ready to get in, but he was nervous," Collins added. "We told him when he gets in, 'Just play basketball, play your game.' You see he did that."
It was a long day of nerves, all for nothing.
"The whole day, the beginning of the day to on the bench before I got in, I was nervous the whole time," Thiero told KSR. "I kept looking at the time. It got to 5 o'clock, that's when I started to get really nervous. 5:30, we came down here, I'm in the locker room playing music trying to act like I'm calm. I'm not calm at all. We go out there and we shoot a little bit, which was fine. Then tip-off, we're sitting on the bench, time gets closer to when I'm supposed to get in, and I was like, 'Ooh, what am I gonna do? Am I gonna play good or bad?
"Then Daimion, Oscar, CJ, everyone is just telling me to go out there and play my game. 'Be confident in yourself, play hard and the game will come to you.' That's exactly what happened."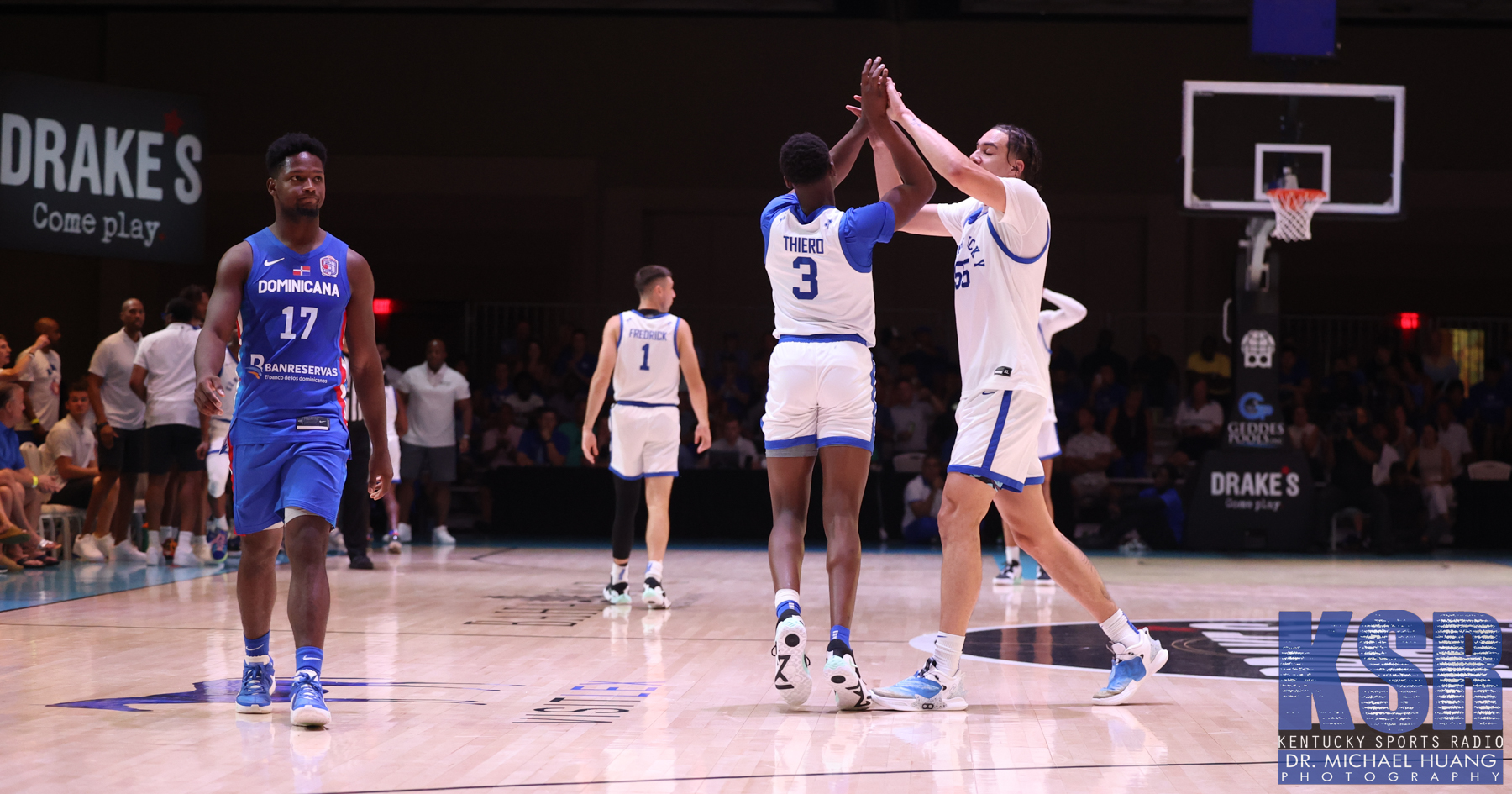 It wasn't a perfect performance, obviously. And that's to be expected. While he had the defensive highlights, he also had his fair share of mistakes on that end of the floor. He gave up baskets, missed assignments and was late on rotations. Thiero allowed 31.1 points per 40 minutes, worst on the team by a country mile. It happens.
"When your family calls and asks, 'Why didn't you play more?'" Cal joked during his post-game film session with the team. "You say, 'Shoot, if I had played 40 minutes, I would've given up 31 points.'"
Growing pains both physically and in terms of on-court development. The potential, though, is clear.
"His potential is off the charts," fellow freshman Chris Livingston told KSR. "He can hit the open shot, he's super long, just a good kid, great teammate. And he's still growing. I think I saw when he first signed, he was like 6-3. Now he's like 6-5, about to be 6-6. Like, I'm 6-7, he's catching up to me. It's a testimony to his upside and the potential he has. He played really well, and I feel like he showed a lot of fans why they should be excited about him being on the team also."
It's a process with Thiero, and he understands that. Throughout that process, though, he wants to make an impact however he can.
"It was when I signed. That's basically when I knew I wanted to come in and be a contributor," he said. "I don't want to be someone who just supports the team from the bench. I want to get in and support the team on the floor. … Cal told me when I was coming here that defense was key. If I want to get on the floor, I have to play really good defense. That's what I'm putting my mind to. The scoring will come."
The biggest hurdle in his development is just how much growing he has left to do. What position will he play? What can he be as a player? None of that will be known until his growth plates close up — which could be a while, if you ask Thiero's doctors.
He was told as a kid 6-foot-10 was a real possibility. And then in a recent check-up prior to arriving on campus, the Kentucky freshman — who believes he's roughly 6-6 right now — doctors said that remains on the table.
"I still have three to five inches left in me," he told KSR.
That's three to five more inches of growing pains, something Thiero has been struggling with for a while now. He gets nagging pain every once in a while, but it's tolerable. Certainly fine enough to play through.
"I've been playing with it for a while now, so I'm just adjusting with it," Thiero said. "Some movements hurt a little bit, but it's nothing I can't play through. I have to just get used to it until I'm done growing."
When will that be?
"Only the man upstairs knows when that will be," he added.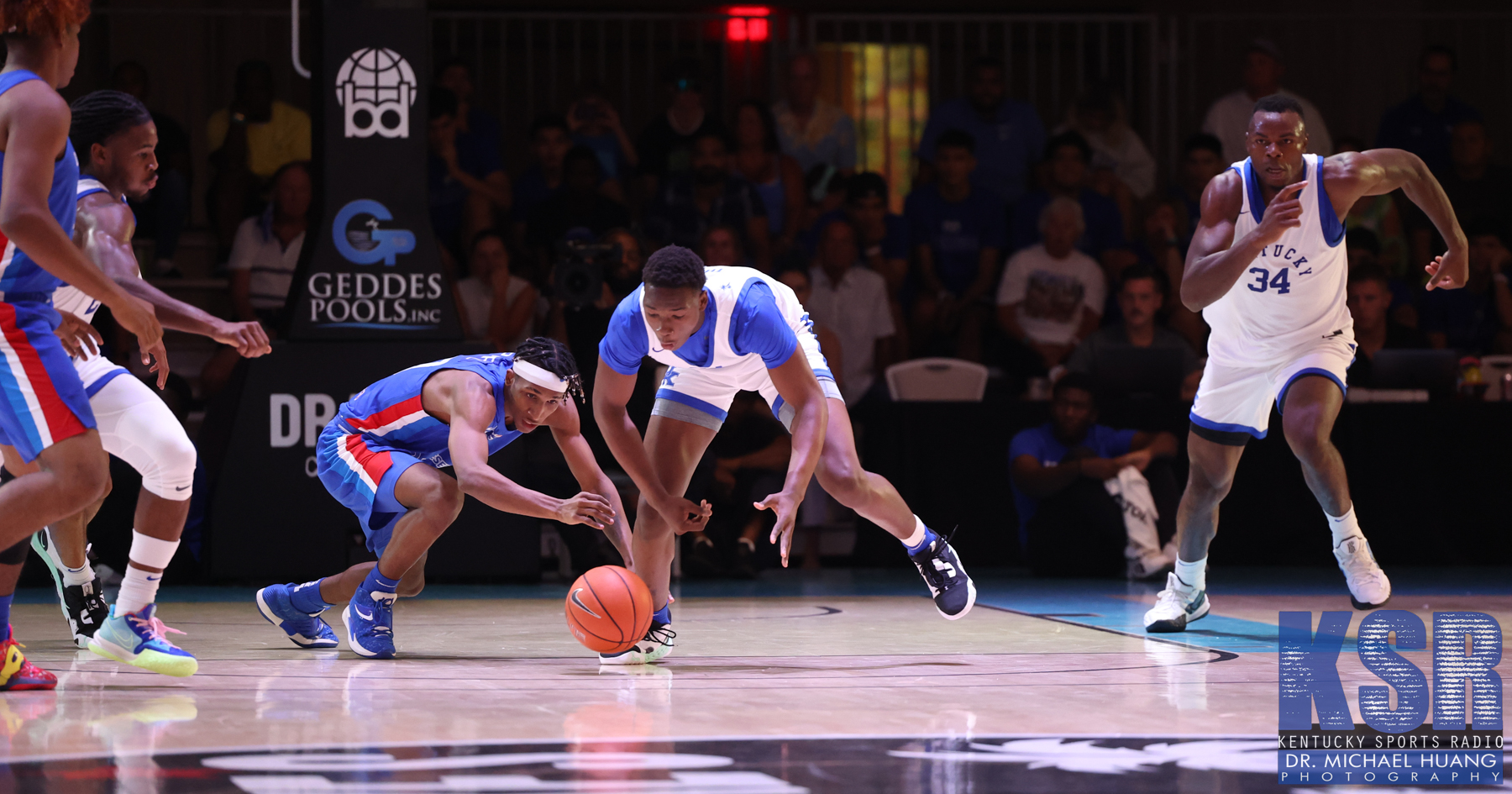 So what does that look like? We've seen it before with Anthony Davis, but he was a "finished" product by the time he arrived in Lexington as a 6-foot-10 big with guard skills. But this? John Calipari's never had this.
"He's growing right now. I swear to you, I'll look at him and say, 'He's getting bigger,'" Calipari said Thursday. "He was 5-8 at my basketball camp in 8th grade, 9th grade. Dad would bring him down and he would always say, 'I want to play for you.' And I'm looking at him, 5-8, like yeah, OK kid. Then I went and watched him and he's 6-5 and like, wow. … He's big, he may end up being 6-8 or 6-9.
"His mom is big, dad is big, his sister is big — she was bigger than him for years, he was so mad. Every kid is on their own path. He's one of those, he's on a different path."
Thiero doesn't know his path quite yet, that's to be determined. Should he sprout up a few more inches, he hopes to become a long, versatile, do-it-all unicorn. Maybe something like, oh, I don't know, Kevin Durant?
"Something like KD," he told KSR. "I watch a lot of KD and Kyrie and try to add some of their things to my game. But I want to be myself while having some of their moves in my game."
Ambitious? Maybe — OK, probably. His unique combination of size and skill, though, has the entire Kentucky basketball program giddy for his future.
"I don't know, I don't know if we have (had someone like Thiero)," Antigua said. "He's growing, he's a tough kid, he's physical, he's smart. … He's a kid that has earned the right to be at Kentucky. He's got a great basketball tradition and family, and he's a kid who grew up wanting to be at Kentucky. He's living out his dream."
"I think he can bring a lot to the table," Collins added. "He can score the basketball, play defense, you know? He's long and can get in the passing lane, steal balls, dunk, stuff like that. He's going to bring a lot to the table."
"I sound like a broken record how much I talk about how long we are (as a team), but he just brings another aspect of length on the defensive side of the ball," Livingston told KSR. "You can put him a lot of places on defense. He's going to be in the passing lanes, he's going to run, get out and throw down some dunks, things like that.
"He's going to bring a lot of good things to us defensively. Offensively, he can knock down an open shot, really good at driving, and he's really athletic, so he can finish around the rim well. I'm really excited about him."
The future is bright for the freshman guard, but maybe the now could be, too?