Adou Thiero has a statement week on the Big Blue Bahamas Tour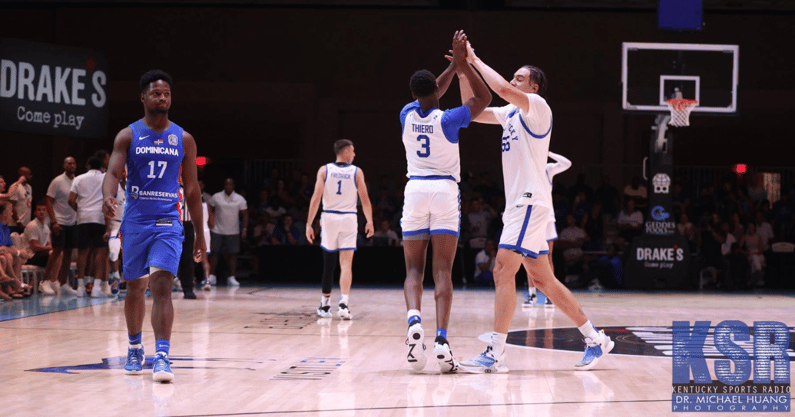 If Adou Thiero is a project, we're giving him an A+.
All in a week's work
Despite being labeled a work in progress, Thiero had a spectacular showing this week on Kentucky's Big Blue Bahamas Tour. In 60 minutes played, Thiero recorded 32 points, 10 rebounds, nine assists, nine steals and seven blocks. Moreover, Thiero was efficient, shooting 13-20 (65%) from the field and 4-7 (57.1%) from beyond the arc.
Thiero's impressive week didn't go unnoticed. The 6-foot-6 freshman received endless praise from his teammates over the past few days.
"He's been working hard. He's been, defensively, very disruptive. He goes after every rebound," Kentucky senior Jacob Toppin said of Thiero. "He's a really good hustle player for us and he can knock down shots."
Toppin wasn't the only veteran 'Cat who noticed Thiero's promising play, either.
"He's been playing great. In practice, we always knew he was going to play with tremendous energy and play with a lot of spark on defense," Former Iowa transfer CJ Fredrick added. "He's made a statement here. He's just been playing great basketball."
Adou Thiero's limitless potential
Thiero's breakout performances are even more impressive when you consider the coaches limited his minutes this week due to growing pains. Yes, you read that correctly. Although Thiero is a freshman in college, he believes he's not done growing.
Recruited as a 6-foot-3 guard, Thiero is now a 6-foot-6 wing. Before the season's over, the Pennsylvania native may be a 6-foot-10 forward. As exciting as this information is, it's equally troublesome for the present. Thiero's rapid growth has led to consistent growing pains, occasionally preventing him from practicing with the team.
Nonetheless, when Thiero was given a chance in an actual game, he made the most of it.
"The way he was able to adapt happened here," Starting point guard Sahvir Wheeler said. "Just being able to have that in-game experience is helping him tremendously. He's getting better every game, getting more confident every game. He's versatile."
Practice makes perfect
Thiero was a bit more humble about his thrilling week.
"I think I did pretty good," Thiero told KSR. "It was just fun to go out there and play with the guys and everything, play an actual game because practice was getting a little bit boring."
Practice may bore Thiero, but it leads to an entertaining show for Kentucky fans. If Thiero continues to grow, he could be one of the program's main attractions sooner rather than later.