Adou Thiero's time is coming: "He's the next in line."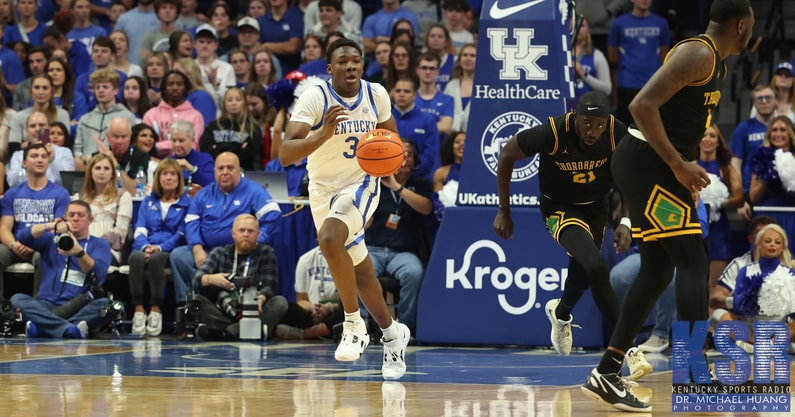 Kentucky freshman guard Adou Thiero was the surprise of the offseason, first emerging in the Bahamas as a potential day-one contributor in his first unofficial appearances as a Wildcat. Playing an all-out, carefree brand of basketball, the 6-foot-6 newcomer fought on both ends of the floor en route to 6.3 points, 3.0 rebounds, 1.8 assists, 1.8 steals and 1.3 blocks in 14.3 minutes per contest.
Thiero followed it up with a breakout performance in Kentucky's Blue-White Game in Pikeville, finishing with 21 points, 12 rebounds, six assists, and three steals in 30 minutes, nearly willing his shorthanded Blue squad — one that included three walk-ons — to victory as the lead guard.
His production didn't stop during exhibition play, putting up five points and two rebounds in 12 minutes vs. Missouri Western, then seven points and five rebounds in 18 minutes vs. Kentucky State. That continued in limited playing time to open the regular season, going for four points and five rebounds in 14 minutes vs. Howard, six points and four rebounds in nine minutes vs. South Carolina State and five points and two blocks in 12 minutes vs. North Florida.
He's not perfect, finding himself out of position on occasion defensively and getting a bit too ahead of himself at times offensively. For better and sometimes worse, Thiero plays with a reckless spirit that can get him in trouble. It happens, especially for a freshman looking to find his footing in college.
But it's refreshing. The kid just wants to play and contribute. And with Kentucky struggling the way it is currently, specifically on offense, why not try something new? He clearly plays with heart, and the Wildcats haven't shown much of that as of late. Maybe Thiero could be the change of pace UK needs?
John Calipari doesn't disagree. In fact, the Kentucky head coach says the freshman guard is going to get his shot sooner rather than later.
"There's no question he could (help) and he's the only guy that hasn't had his chance," Calipari said during his call-in radio show Monday evening. "So now he's the next in line to go play."
Why the sudden change? Well, Kentucky is struggling, for one. Beyond that, though, Thiero continues to improve in practice after a slow start to open the season behind closed doors. Oddly enough, he's been better in games than he has in practice. Now, his work in the Joe Craft Center is starting to catch up and his moment has arrived.
"Here's what I like about him: physically, he's not afraid. I tell him, and the team kind of laughs, he's better in the games than he is in practice. Now, he's getting better in practice, which shows you that he's gonna go in the game and perform."
Calipari compares Thiero's situation to that of fellow freshman Chris Livingston, who just had his breakthrough moment vs. UCLA in the CBS Sports Classic, leading the team with 14 points. He had to wait his turn before his time came, and he took advantage of the opportunity.
Now, it's Thiero's turn — and he's exactly what the Wildcats are missing.
"My guess is he'll do exactly what Chris did," Calipari said. "Chris had to wait his turn, Adou is waiting his turn. But he's the next in line. Talented, strong, aggressive, not afraid. He's exactly what we are missing. So he's the next in line, he'll be getting in."
It's an opportunity Thiero is excited to take advantage of.
"It just makes me want to work even harder to practice to go and work harder, be physical, get rebounds, hit open shots. Just try and do whatever I can to get on the floor," Thiero said Monday. "… It means doing the little things, diving on the floor, taking charges, hitting open shots, doing all the right things."