Adrian Griffin prioritizing Kentucky as one of his top schools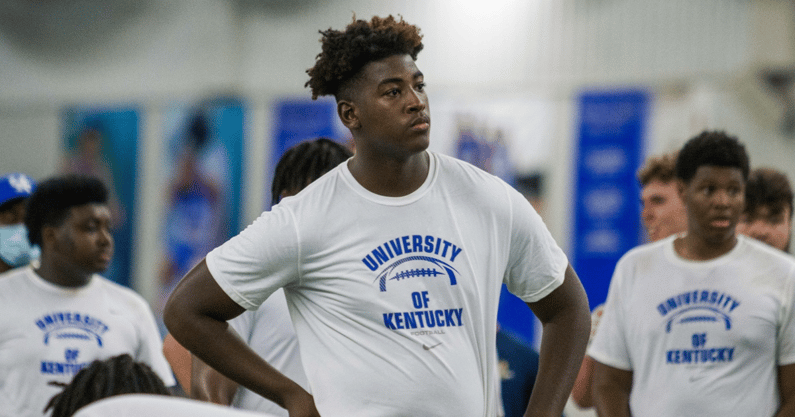 Adrian "Big Snacks" Griffin has been on Kentucky's radar since the middle of the summer.
A budding class of 2023 defensive lineman out of Fairfield Preparatory School (AL), the 6-foot-4, 260-pound Griffin is beginning to see his recruitment expand. He was at Louisville this past weekend for a visit and recently picked up a scholarship offer from West Virginia on Jan. 19.
Troy head coach Jon Sumrall, who was previously UK's inside linebackers coach and Griffin's lead recruiter for the 'Cats, has continued that relationship over to the Trojans' program. Maryland and Mississippi State are also involved with the high school junior while Tennessee and UAB have offered, as well.
All that being said, Kentucky is still standing out as a top priority for Griffin.
"I like Louisville a lot, going up there and taking my visit," Griffin told KSR on Wednesday. "Kentucky still is a priority at the top right now. They're still a priority, Kentucky is still up there."
With Sumrall now at Troy, Kentucky's offensive line coach, Eric Wolford, has taken over the recruitment for Griffin. The two sides are "talking all the time" about topics such as on-field techniques, recruiting, and how Griffin could help the program moving forward.
"(He's) been telling me that I'm a guy who can really come there and help (the) program out a lot," Griffin said of his conversations with Wolford.
Wolford has taken over as one of Kentucky's top recruiters in light of the moves by former defensive backs coach Steve Clinkscale to Michigan and Sumrall to Troy. He seemingly hasn't missed a step, though, and Griffin appears quite interested in what Wolford brings to the table.
Wolford has some help in his recruiting pitch, too. Class of 2022 UK commit Ja'Kobi Albert is a teammate of Griffin's at Fairfield Prep. Albert is a 4-star ATH who flipped from Auburn to Kentucky on National Signing Day. Griffin says that he and Albert "talk a lot" about the two potentially joining forces in Lexington.
Griffin has already been on UK's campus, taking a camp visit over the summer where he unexpectedly picked up an offer from the Wildcats. He later returned during the season to watch Kentucky take on Tennessee at Kroger Field. If those visits weren't enough, Griffin told KSR he intends on coming back in both the spring and summer.
A final decision was initially expected to come back in the summer, but Griffin has decided to let his recruitment play out a bit longer as he still has a whole year of high school football left to be played. As of now, there is no timetable for when a choice might come in. But Kentucky has to feel good about its chances.
In fact, Griffin's "Big Snacks" nickname was actually gifted to him by UK head coach Mark Stoops.
"I was in Kentucky head coach's (Mark Stoops) office, he had a snack bar. First thing I did was I ain't even shake his hand, I went straight to the snack bar and helped myself and got a whole bunch of snacks. Now he calls me Big Snacks and I just took that and ran with it," Griffin explained with a laugh.
As for the million-dollar question regarding what Griffin took from the snack bar? He went with some modern-day classics.
"It was some Doritos and Reese's Pieces."
If Griffin ultimately picks Kentucky, the coaching staff will gladly give him all the Doritos and Reese's Pieces his heart desires.