Kentucky defense must find permanent home for Alex Afari Jr.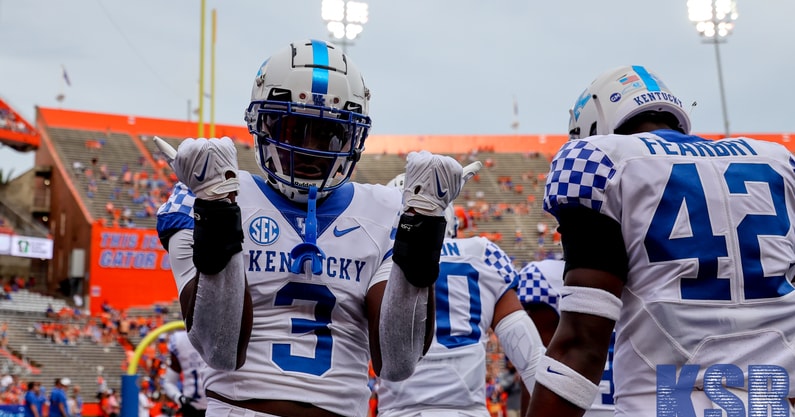 Kentucky finished a disappointing 7-6 in 2022, but there was hope for the future flashed during the campaign. Most notably, the class of 2022 showed promise with multiple true freshman contributors emerging. Barion Brown, Dane Key, and Deone Walker all look well on their way to stardom in Lexington.
However, there is one integral young player most are forgetting about as spring football approaches. Alex Afari Jr. (6-2, 203, So.) is a key part of the future on defense for the Wildcats.
The West Chester (Ohio) Lakota West product was a top-250 recruit who Kentucky held off Cincinnati for in the class of 2022. A summer enrollee, it did not take long for Afari to make a big splash in Lexington.
At Kentucky's media day before last season, head coach Mark Stoops gushed about the new Wildcat and his potential to play outside cornerback.
"Alex Afari is a guy that we're really high on too with great size. He's versatile," Stoops told the media. "Just seeing some things early in him that I really like. So we really feel like we're getting the length that we're looking for there."
The only problem is that Afari did not play cornerback in 2022.
As a true freshman, Afari was a hybrid player that was plugged into Kentucky's nickel role. The rookie played in 13 games logging three starts and 266 defensive snaps. Afari finished the season with 21 tackles, three tackles for loss, one sack, and four pressures in just 16 pass-rush reps according to PFF data.
Essentially playing Kentucky's off-ball Sam linebacker position, Afari was able to be an effective box player as he was big enough to take on some blocks and athletic enough to provide some pop as a pass rusher and value as a zone defender in space.
In the offseason, the Wildcats went into the transfer portal to add JQ Hardaway (Cincinnati) and Jantzen Dunn (Ohio State). With Andru Phillips expected to move to outside cornerback, the two new additions will battle for a starting spot. Meanwhile, the Wildcats must replace Jordan Wright at Sam and only have four true outside linebackers returning.
Afari may have already found his permanent home.
In 2021, Kentucky went to a hybrid 3-3-5 base defense with Davonte Robinson serving as starting Sam linebacker and being replaced by nickel Vito Tisdale in obvious passing situations. With Tisdale returning to the field this season, we could see something similar in 2022.
Alex Afari Jr. gives Kentucky a good blend of skills to use at the off-ball Sam position as a second level player lined up into the strongside of the offensive formation. The young player also has a frame to grow into. Adding 10-15 pounds will give him some added strength to bring as an edge setter in run fits. Kentucky needs this talented young player on the field.
Expect some more medium looks for Brad White's defense with Afari becoming a full-time starter sooner rather than later.