All Seven's Thursday Night News and Views
[caption id="attachment_177208" align="alignnone" width="600"]
Photo by UK Athletics
[/caption] "If you've decided to put your name in the draft, why don't you stand up?" John Calipari turned to Willie Cauley-Stein, Andrew Harrison, Trey Lyles, Dakari Johnson, Devin Booker, Karl Towns, and Aaron Harrison and smiled. The seven players looked at each other for a beat, wondering for the umpteenth time if their coach was serious. For a brief second, the hopes of the BBN soared. "Really?" Cal exclaimed in disbelief, and like their chairs were on fire, the boys sprang to their feet as a unit, grinning at their coach. It was a moment almost two decades in the making, a dream realized through endless hours in the gym, sacrifices by their parents, and one, long historic season. Though the end wasn't what they wanted, there was no hiding the pure joy in each player's face. "Growing up as a kid, you always wait for this moment," Dakari said. "It's been my dream since I was 7 years old," Trey said. "I would shoot in the driveway or mimic game-winning shots at the park and it's just crazy to think about the fact that it's happening now." "It's surreal," Karl said. "You never think of this moment; you dream of this moment when you're young, when you're playing on the court and you just think about these moments, like the one today — like hopefully I could be in the same league as the greats like Michael Jordan, Hakeem Olajuwon and Sam Bowie." (Of course Karl mentioned Sam Bowie. Ugh, I'm going to miss him.) If
all seven
players are drafted (and I expect they will be), it will be the most from any school, breaking the record set by the six Cats who went out in 2012. Since John Wall, DeMarcus Cousins, Patrick Patterson, Eric Bledsoe, and Daniel Orton did it five years ago,
is the annual handoff to the NBA any easier for fans?
In some ways, I guess it is. After six years of watching these kids go through this program and learning about the process, I feel as though I understand and appreciate the jump to the NBA more. The guys aren't turning their backs on the program, they're going after their dreams; however, the pang of losing them still hurts and having them all announce at once is both heartening and heartbreaking, like ripping away a really pretty bandaid. It doesn't help that all this is happening a mere five days after the shattering end of the season in Indianapolis. The empty void that I have just come to accept welled up a bit with sadness today, but it's time to shake it away, be happy, and move on. But before we do that, let's go over it all one more time, starting with the announcement if you haven't seen it:
Dakari said he was the only one who wavered
When the players were asked if any of them were on the fence 24 hours ago, only Dakari Johnson asked for the mic. "I kind of was. Me and my family sat down with Coach Cal yesterday and had a meeting. Last night, I just prayed about it and really thought about it hard," Dakari said. "God told me it's my time." Dakari is currently 38th in most mock drafts.
Andrew thinks he's the best point guard in the draft
"I think I'm the best point guard, the best all-around point guard," Andrew told reporters. "We only lost one game this year. Tyler came and we shared minutes, and that's different than any other team in the country. I think I just have to prove myself. I'll be fine." It hasn't always been easy for Andrew at Kentucky, but in the end, he says these have been the best years of his life. "This was the best experience of my life playing basketball here at the University of Kentucky, and I'm so thankful for them for having me here these past two years." Ditto, Andrew.
Please stop worrying about the twins separating
I can already tell the Twins will be asked this question a million times over the next two months and even I'm already sick of it. "How will the twins handle separating?!?!" "We are prepared for that," Andrew said. "We are not even together all of the time here, so it's not that bad. We'll be alright." "I wouldn't say it's scary," Aaron said when asked. "I think we're excited to break apart and live our own lives. Of course I'll miss him a little bit, but I don't think it will affect us." Really, stop worrying. They'll be just fine. [caption id="attachment_177216" align="alignnone" width="500"]
Photo by UK Athletics
[/caption]
Even John Calipari admitted he got emotional
Cal posted the following message on social media with the pic above:
"I met with the players in the back before they announced their decisions today and I started to get emotional. They're starting on the next phase of their lives. I had to kind of turn and walk out because it's like they're my own sons. When they leave, they're gone. It's like they're leaving the nest. But I'm so proud of them."
We all are.
What about Alex?
John Calipari said that the goal before the season was to have eight guys drafted. Because of Alex's injury, they're just short of that right now. So, is Alex coming back or not? "Alex is going to go home and meet with his family. We have done some research for him. It's unfortunate. It's a tough deal because he would be sitting here too. (If) Alex comes back, he will graduate in three years. He will have his college degree and he has an opportunity to do the things he wants to do and reach his dreams too." That seems a little more open-ended than I expected it to be. Willie says he knows what Alex is going through with his decision right now. "It could go both ways. He can think about it like how I thought about it which is, if I come back I am doing something that has never been done. I am trying to make my name and I feel like I did that. If I'm coming back it's for a purpose, and to be better than what everyone thought I was going to be. If he is going to come back that has got to be the motive. I came back and took this year like it was my rookie year." I mean, he has to come back, right? Meanwhile... https://twitter.com/MrsTylerKSR/status/586239897025048576
Kentucky is now the favorite for Stephen Zimmerman and Thon Maker
...according to Jerry Meyer. The people most anxious to hear the players' decisions today? Recruits. There are plenty of elite uncommitted prospects still on the board, and Meyer says that he believes Zimmerman and Maker will likely pick the Cats, and Jaylen Brown, Brandon Ingram, Malik Newman, and Cheick Diallo are "all possible." Meyer is so confident in Kentucky's chances he thinks Calipari will bring in so many recruits he'll use the platoon system again next season. Wow. On that note...
The Nike Hoop Summit is Saturday
All week, reports have trickled down from Portland: Skal Labissiere is soaring, Tai Wynyard is struggling. We'll have more on the site tomorrow as we get closer to Saturday's game at 3 p.m. ET. You can watch it on ESPN2, and you should. You might be watching more than three future Cats when all is said and done.
Sam Malone's new t-shirt is hilarious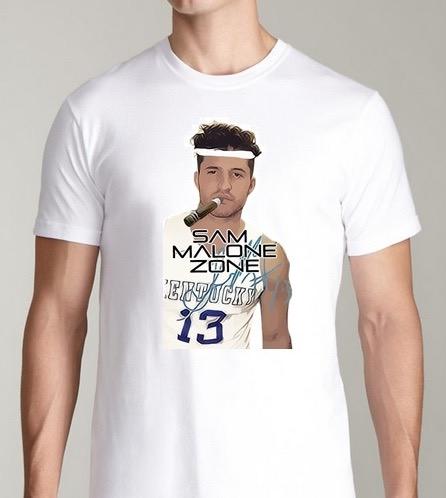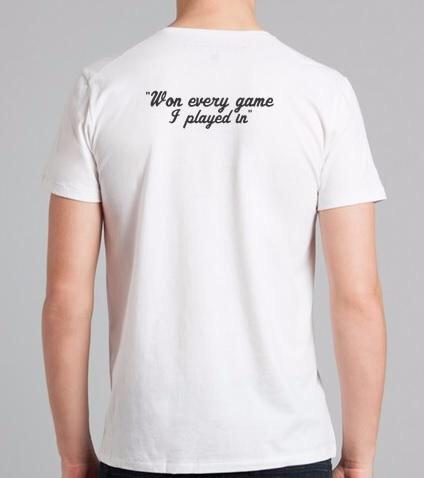 Malone and Tod Lanter were on the show this morning and Sam teased the reveal of his new t-shirt, which is now available for sale
here
, but I didn't realize it would be
this
cool. I'm definitely going to need one of those. And a headband.
KSR will be at Keeneland in the morning
Matt and Ryan will do the show live from Keeneland to get you ready for a fun day at the track and the first weekend without UK basketball or football since September. Normally, that would be really, really depressing, but right now, I think I need it. See you then.