America's Most Expensive Home's Friday News and Views
Looking to buy a new home? Got about $190 million to spend? Oh boy, I have just the place for you... Copper Beech Farm in Greenwich, Connecticut, named for the large copper beech trees populating the property, is
on the market for the first time in over a century
. The 50-acre property includes two offshore islands, a private beach and a 13,500-square foot Victorian mansion home. The main house, seen in the photo, includes 12 bedrooms, seven full baths and two half baths, a wood-paneled library, other cool stuff with fancy words and a kitchen with something Forbes.com calls a dumb waiter. As someone who was called a "dumb waiter" several times throughout college, I find it odd that a house as extravagant as Copper Beech Farm would proudly boast having one inside. I wonder if it shows up 15 minutes late every morning and steals french fries and bacon strips out of the window, too. Outside the main structure, you will find two conjoined heptagonal pools, whatever that means, and other outdoor amenities that rich people enjoy to show off once a year and not use. There is a grass tennis court, an apple orchard, multiple greenhouses -- because everyone needs more than one greenhouse -- and a viewing pergola, which to my understanding is the uppity word for gazebo. Not to mention, it's just a short segway ride away from the WWE headquarters. Built in 1896, Copper Beech Farm now
holds the title of "America's Most Expensive Home" and can be yours for just under $200-million
. If you purchase it, I'd like to go ahead and ask to be your dumb waiter. My only request is that I get an apple a day and an occasional 15-minute break in the viewing pergola.
 Well, well, well, you're back for another edition of the News and Views. I guess we'll start with biggest news of the week and that is the likelihood Nerlens Noel ends up in Cleveland this summer. DraftExpress.com, that site ran by the guy who hates Kentucky fans, released its updated mock draft Thursday and
Nerlens is projected to go No. 1 overall
. Draft Express has had Nerlens at the top of its mock drafts for months now so it isn't shocking to see him up there in the first updated mock draft since the selection order was announced. Coming in at No. 30 is Archie Goodwin to the Phoenix Suns.
Draft Express believes Archie will hear his named called with the final pick in the first round
. NBADraft.net, on the other hand, predicts Archie falling to the second round to Detroit with the 38th pick. But NBADraft.net also projects Ben McLemore going first to Cleveland. Dion Waiters much?
 If you didn't get a chance to read Mrs. Tyler's
A Look At What Coaches Do The Best With Elite 5 Star Recruits
 Thursday afternoon, I highly recommend you do it now. She put a lot of work into the post and it shows. Her discovery: Calipari is the best at getting players ready for the NBA.
 Also from the In Case You Missed It cabinet,
Matthew Mitchell was brilliant on the radio show Thursday morning
. Coach Mitchell brought the heat for two full hours with tales of Nick Saban blowing him off, wanting his wife to give birth at Big Blue Madness, Hall & Oates and so much more. Check out the podcast
here
.
 Julius Mays
worked out at the Brooklyn Nets' NBA combine on Thursday
and he was surprised with a visit from John Calipari. Cal flew up to the BK to watch Julius in the league-wide combine: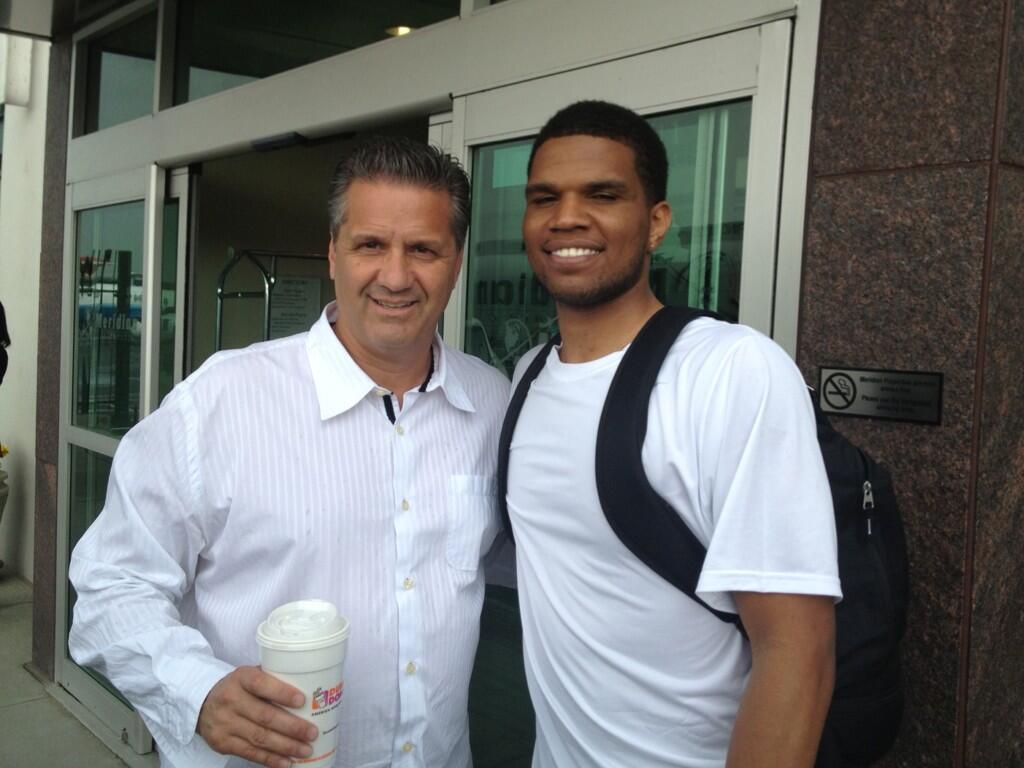 Following Mays' workout, Coach Cal tweeted, "Just got done watching Julius Mays at the Nets' combine. 
Julius played really well – and he played point guard! Julius had 18 points and six assists in just two 12-minute quarters
. He played so well that people are probably wondering why I didn't play him at point guard. Couldn't be more proud of Julius." It's very unlikely that Mays ends up on an NBA roster next season but it's good to hear he played well when up against other NBA prospects in front of personnel from all of the league's teams. I think we can file this one under "Kentucky Effect."
 Anthony Davis
received an invite to attend Team USA mini-camp in Las Vegas in late July
. Coach K, who announced he'll return to the team, invited Davis back after seeing the way he made the most of his opportunity on last year's Olympic team. Coach K plans to focus on developing the best talent into the best team, something he says he hasn't had time to do in the past. Whatever that means.
 The Cincinnati Bearcats baseball team raised the bar on postgame interview photo-bombing:
 A bit of sad news from UK athletics:
UK Men's Tennis was bounced from the NCAA Tournament on Thursday
. Our man Anthony Rossi fell in singles play to some guy from Cal Poly and the dynamic duo of Tom Jomby/Kevin Lai saw their seasons come to an end in a doubles loss to Georgia State. Rossi finishes his career with 106 wins, tied for 12th all-time, but everyone else from our third favorite UK team is returning for another season.
 Friday is a big day for Kentucky Sports Radio as Matt and I will be
deep in the heart of Floyd County to meet Charles Ramsey at Eric C. Conn's law office
. It could be the most absurd thing we've ever done (that's saying something) and you won't want to miss it. Charles will be on the show with us from 11:15 to 11:45 before the unveiling of the Charles Ramsey statue. What is life right now?