An Early Look At The Cats and Dogs
[caption id="" align="alignnone" width="850"]
Matt Bush | USA Today Sports
[/caption] Miss State quarterback Nick Fitzgerald presents clear and present danger to the Kentucky defense. Fitzgerald is a pure dual-threat who has taken over the reins from NFL sensation Dak Prescott. The Dogs O goes fast with a preference to snap the football every 13-15 seconds. Fitzgerald also has the luxury of throwing to All SEC WR Fred Ross. The strength of the Bulldog defense lies within its ability to stop the run through line of scrimmage disruption and features a top five SEC tackler in MLB Richie Brown. Listed above are all factors that concern as we close in on a pivotal game for both Kentucky and Mississippi State. Let's dive deeper shall we?
OFFENSE
Scheme: Spread
-Coach Dan Mullen said in recent press conference that starters RG Deion Calhoun and RB Brandon Holloway may miss the UK game due to injury. -Other than Fred Ross (6'2 205) Miss State receivers do not possess threatening height. But the MSU WR corps is physical in stature and delivers strong yards after catch: Donald Gray (5'10 204), Keith Mixon (5'8 175), Malik Dear (5'9 220). -Starting RB Brandon Holloway will likely miss Saturday's game. Reserves Ashton Shumpert (6'2 218) and Aeris Williams' (6'1 217) carries have greatly increased as of late. In MSU's most recent game against BYU, Shumpert carried the football 6 times for 16 yards as Williams led the team in rushing with 21 carries for 86. -
QB Nick Fitzgerald is the team's leading rusher with 80 carries, 431 yards, 4 TD's, and 7.8 yards per carry.
Fitzgerald's 80 carries compared to the Bulldog's second leading rusher's 45 (Holloway) is all you need to know when dissecting Miss State's game plan. Mullen will rely heavily on his quarterback. Fitzgerald is completing 55% of his passes and has thrown 8 touchdown passes. He averages 166 pass yards per game.
As Nick Fitzgerald goes, so will the Mississippi State Bulldogs
. -Fitzgerald averaged
2.6 yards per carry or 31.5 rush yards per game in losses against South Alabama, LSU, Auburn, and BYU.
After 6 games he is averaging 71 rush yards per game and 5.41 yards per carry. -Dan Mullen's offense likes to go fast.
Tempo
could hurt Kentucky if Mullen catches a UK jumbo package on the field and doesn't allow for substitution due to pace. -WR Fred Ross is one of the better receivers in all of college football. Fitzgerald connected with Ross in short to intermediate hook zones along the middle of the football field when the Dogs needed a 1
st
down against BYU. This is troubling for the Cats as its zone pass defense has been exposed as a weakness throughout the 2016 season. -SEC's 10
th
ranked total offense with a 401 yards per game average.
Dogs rush for 190 yards per; good enough for 6th in the league.
DEFENSE
[caption id="" align="alignnone" width="750"]
Matt Bush | USA Today Sports
[/caption]
Scheme: Multiple, 3-4
-MSU defense is built for the SEC West. It's large up-front in the 3-4:
DE Cory Thomas: 6'5 313
NT Nelson Adams: 6'3 310
DE AJ Jefferson: 6'3 290
-MLB Richie Brown ranks 5
th
in the SEC with 51 total tackles, 8.5 tackles per game. Brown is a veteran and crafty defender. -DE AJ Jefferson is the Bulldog's disruptive line-of-scrimmage run stopper and designated pass rusher:
3 QB sacks,
10 TFL, 26 total tackles.
-
Miss State has accumulated 40 tackles for loss.
-The Dog D is powerful in construction and built to sustain a barrage of north/south SEC West rushing attempts from the likes of Alabama, LSU, Arkansas, and so forth. It has shown a propensity to wear down as the game runs late into the fourth quarter. A double overtime loss a week ago may also be a factor in Saturday's game. -
SEC's 6th ranked total defense.
As indicated before, its strength lies within its ability to stop the run as
the Dogs are allowing just 136 rush yards per game.
Pass defense is a different story as it is giving up 225 yards per game. -Much like Vanderbilt's Oren Burks, MSU plays a "STAR" defender in J.T. Gray. The "Star" is a hybrid Safety/Linebacker position. Gray has accounted for 38 total tackles and 3.5 TFL's. Highly active and at times disrupting football player.
COACHING
[caption id="" align="alignnone" width="630"]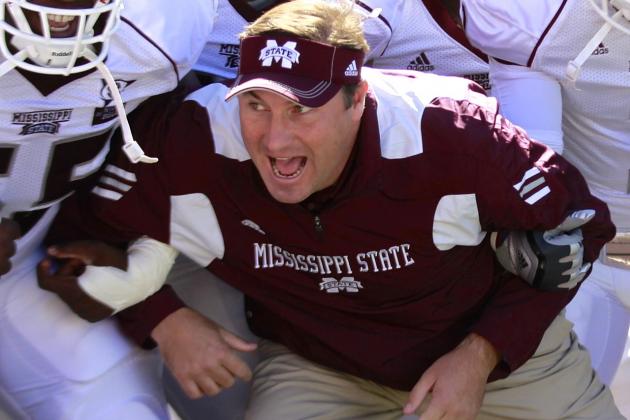 AP
[/caption] -
Dan Mullen threw the kitchen sink at BYU a week ago in a losing effort. Mullen will most likely do the same against Kentucky as he sits at 2-4.
Miss State will mirror UK as both are desperately seeking a win to please grumbling fans and to continue hope for a bowl bid
. Saturday has the potential to be a wild Lexington night.
-The Bulldog's proverbial backs are against the bowl eligibility wall. A loss vs. Kentucky would all but cripple its chances for postseason football. -Mark Stoops has his defense and team playing at a much higher level. A disappointing 0-2 start painted the Cats into a corner. Using a weekly and common description of a 2016 Kentucky football game; Mark Stoops enters
yet another must win scenario.
HOW UK BEATS MISSISSIPPI STATE
-
Limit, confuse, unsettle, or slow QB Nick Fitzgerald.
Fitzgerald accounts for nearly 60% of all of MSU's offensive production. At 6'5, 240-pounds, he's at his best when running north/south. He also has a strong inclination to stare down WR Fred Ross prior to delivering the football. Fitzgerald has thrown 4 INT' to go along with 8 TD passes. -UK must account for Fred Ross in all certain passing situations. -
The Cats cannot error in tackle for loss or quarterback sack opportunities.
It must take Fitzgerald to the ground which is no easy task. -Mark Stoops has improved his defense to be in the right place at the right time doing the right things.
However, finishing defensive plays will be paramount against a dynamic quarterback like Nick Fitzgerald.
-Mark Stoops will be in a substitution dilemma. Mullen's offense goes fast; Stoops likes to defensively alternate based on situation.
This chess game will be interesting to watch.
-The Cats have to sustain their offensive identity for 60 minutes: Run, pound, and run the football more with Boom Williams, JoJo Kemp, and Benny Snell. -Stephen Johnson's ability to execute the Run/Pass/Option will need to be on full display. MSU ranks high in the SEC's tackles for loss category but has struggled against the RPO. TFL's (tackles for loss) will likely happen early. Eddie Gran will need to stick to his three headed RB monster and continue to pound away. -TE CJ Conrad will be a factor. Big defensive line plus overly eager linebackers are the perfect formula for passes to the TE. -Stephen Johnson must hit on a couple down-field shots. MSU defense prefers to load the box with 7-9 defenders in order to challenge the run. UK's play action passing game must be on point in order to have a chance to win the football game.
Miss State is a 3-point favorite. Much more to come on this matchup.