Analytics Project Crucial Final Seven-Game Stretch for Kentucky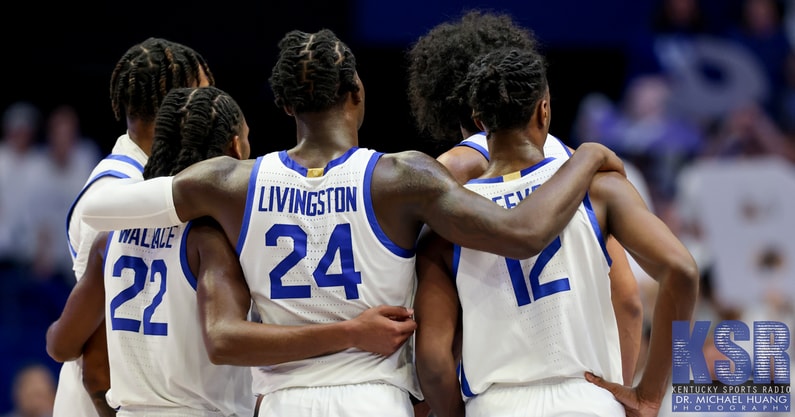 The Kentucky basketball team is sitting directly on the bubble following John Calipari's second-worst loss at Rupp Arena. The Wildcats are 16-8 overall, tied for fourth in the SEC with Auburn at 7-4 in league play. A few more noteworthy items on Kentucky's NCAA Tournament resume:
NET ranking: 41
KenPom: 41
BPI: 22
Quad 1 Record: 1-7, with four games remaining
Quad 2 Record: 6-0, w/ 2 games remaining
Quad 3 Record: 3-0, w/ 1 game remaining
Quad 4 Record: 6-1
To make sure the Cats are dancing on Selection Sunday, the formula is quite simple: just win, baby. That's much easier said than done. Last night they strayed from that formula at great cost. According to Torvik, Kentucky had about a 75% chance of making the NCAA Tournament prior to tip-off. After the loss to Arkansas the Cats have just a 54.7% chance of making the field of 68.
There is no magic number in the regular season for the Wildcats to guarantee an at-large bid, although 21-10 feels like a safe bet. Any less and the BBN is sweating on Selection Sunday. Let's take a closer look at the final seven games of the season to see how the numbers believe the action will unfold for Kentucky.
at Georgia
Torvik: UK -2; Winning Percentage 58%
KenPom: UK -5; Winning Percentage 65%
The Wildcats won handedly in the first meeting at Rupp Arena. It was Oscar Tshiebwe's 37-point, 24-rebound performance that propelled Kentucky to an 85-71 win. The Wildcats must find other alternatives to generate offense at Stegeman Coliseum in a must-win game this Saturday
at Mississippi State
Torvik: UK +3; Winning Percentage 37%
KenPom: UK +3; Winning Percentage 40%
John Calipari said he kept Oscar Tshiebwe in the game in the second half because "it was a bigger picture for Oscar than just this game." This might be the game Calipari was referring to. Tolu Smith is second in the SEC in career double-doubles, trailing only Oscar, and is currently averaging 14.9 points and 8.4 rebounds per game. If Tshiebwe doesn't shake out of his funk, it could be a long night at The Hump.
Tennessee
Torvik: UK +6.5; Winning Percentage 24%
KenPom: UK +4; Winning Percentage 34%
Kentucky has not swept Tennessee in a single season since 2012. In big home games vs. Kansas and Arkansas the Wildcats were decisively beaten. A win here could ensure an at-large bid, but that feels like a long shot right now.
at Florida
Torvik: +4.5; Winning Percentage 31%
KenPom: UK +4; Winning Percentage 37%
Kentucky led by as much as 12 in the second half but could never completely pull away from the Gators at home, despite shooting better than 45% from the field and three-point land. The Cats also knocked down 11-of-13 free throws. They'll need a similar shooting night to neutralize the offensive output by Colin Castleton.
Auburn
Torvik: UK -.5; Winning Percentage 52%
KenPom: UK -1; Winning Percentage 55%
A toss-up game on paper, this is a must-win at home on the penultimate Saturday of the regular season. The way Auburn has played this year, this should be another game between bubble teams. Kentucky can't let an Auburn team shooting 29% from three get hot at Rupp Arena.
Vanderbilt
Torvik: UK -8.5; Winning Percentage 79%
KenPom: UK -9; Winning Percentage 80%
Kentucky played its best game of the year in Nashville by shooting 56.4% from the field to pull away from Vandy in the second half. This time Liam Robbins will be back in the lineup for the scrappy Commodores, posing another lengthy problem in the interior for Kentucky in a must-win game.
at Arkansas
Torvik: UK +7.5; Winning Percentage 23%
KenPom: UK +5; Winning Percentage 30%
Similar to the Tennessee game, it's difficult to imagine a scenario where Kentucky goes on the road to knock off the Razorbacks. Maybe revenge provides extra motivation for the Wildcats in the season finale, but Bud Walton will be rocking as Arkansas seeks its fourth straight win over Kentucky.
If you believe upsets over Tennessee and at Arkansas are unlikely, that means the Cats will have to win the rest of their games at home and pull off upsets of at Miss. State and Florida for the BBN to feel comfortable on Selection Sunday.