Andrew "Beef" Johnston's Monday Morning Wakeup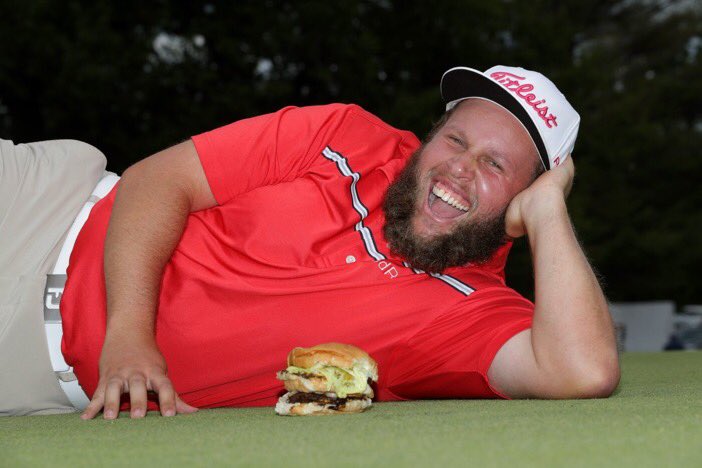 When people look back on the 2016 British Open, they'll likely remember the incredible duel between Phil Mickelson and Henrik Stenson, and rightly so. Yesterday's final round was one for the ages, with Mickelson and Stenson turning in some of the most exciting golf the sport has seen in years; between the performances of Mickelson, Stenson, and UK alum JB Holmes, I couldn't tear myself away from the television Sunday morning. However, I'd like to nominate another hero of the weekend:
27-year-old Englishman Andrew "Beef" Johnston
. It takes quite a character to earn the nickname "Beef," and over the weekend, Johnston charmed the world, striding down the fairways with the confidence of Tiger Woods, the body of John Daly, and the beard of James Harden. Beef (nicknamed so because
his head resembles "a big bit of beef"
) entered the final round in fourth place at five under, and, even though he quickly slid out contention, finishing in eighth place at three under, you could argue he had more fun than anyone on the course. Beef gave the crowd thumbs up and high fives, encouraged their "BEEEEEEEEEF" chants, and, after it was over, told the media he couldn't wait to have a beer. What else would you expect from the man who has
a wedge emblazoned with cuts of beef
and, after winning the Spanish Open, said he couldn't wait to go get hammered with his buddies? https://youtu.be/n6V82b520Ro Congrats, Henrik; well done, Phil; and thanks for making us proud, JB...but, Beef, today, we salute you. Honestly, I've been struggling to get back into golf since Tiger's fall, but you might be the man to pull me back in. On this side of the pond, we've got an interesting and busy week coming up. Here's what you can expect today...
UK's non-conference schedule should be released
According to the great Larry Vaught
, Dewayne Peevy told fans at the Ohio UK Convention that UK's non-conference basketball schedule will be released today. Here are the games we already know of:
October 30: Kentucky vs. Clarion, Rupp Arena (Exhibition)
November 6: Kentucky vs. Asbury, Rupp Arena (Exhibition)
November 15: Kentucky vs. Michigan State, Madison Square Garden, New York City
November 28: Kentucky vs. Arizona State, Atlantis, Bahamas
December 3: Kentucky vs. UCLA, Rupp Arena
December 11: Kentucky vs. Hofstra, Barclays, New York City
December 17: Kentucky vs. North Carolina, T-Mobile Arena, Las Vegas
December 21: Kentucky vs. Louisville, Yum! Center, Louisville
January 28: Kentucky vs. Kansas, Rupp Arena
We also know Kentucky will play Valparaiso and Duquesne, dates to be determined. Fret not, planners, we'll know for sure later today.
Team USA Training Camp begins
The Rio Olympics are only a few weeks away, and today, Team USA is assembling in Sin City for Training Camp. With both Anthony Davis and John Wall tending to injuries in the offseason, DeMarcus Cousins is the BBN's lone representative on the national team, but Willie Cauley-Stein, Devin Booker, Julius Randle, and the rest of the Select Team will help Team USA prepare to take on the world. Practices will take place each day from 3-5 p.m. ET, culminating in Friday's scrimmage vs. Argentina at 8 p.m. With DeMarcus, Devin, Willie, and Julius all in Vegas along with a hoard of reporters, news will surely trickle out. Stay tuned...
The UK Football Women's Clinic is Saturday
I'll be there, along with emcee Christi Thomas and Jen Maggard, Freddie Maggard's better half. I'll write about this later this week, but, after last season's humiliating losses to Vandy and Louisville, I'm entering this season with a "Show Me" mentality, so Saturday's clinic will be interesting to say the least. Want to come along? There are still spots available, so
click here
to sign up.
This UK-themed pool is awesome
The dog days of summer are upon us, which means the only way it's tolerable to be outside is if you're in a body of water. Shoutout to UK fan Bill Kirby, who showed off his UK-themed pool on Facebook over the weekend. It truly is a refreshing work of art. Let us know when we can come over for a cookout.
I saw the new Ghostbusters and was not impressed
The only other appropriate thing to do when the weather is so hot is go see a movie, so my husband and I saw the new "Ghostbusters" yesterday. Sadly, I was not impressed. Don't get me wrong, I fully support the "all the women who independent" girl power theme of the reboot, but even the thrill of seeing four women suited up in the iconic garb wasn't enough to save the movie, which just fell flat. Its only saving grace was Kate McKinnon, whose bizarre and fantastic turn as the odd Jillian Holtzmann is genius. Chris Hemsworth was pretty funny, too, I guess. It's been years and years since I've seen the original, so it's not like my loyalty to it prevented me from liking the new version; I just didn't think it was funny. Feel free to disagree with me in the comments.
Happy birthday, Bam Adebayo!
The lovable freshman monster celebrates his 19th birthday today. He'll celebrate with a batch of Ellen's brownies, but let's celebrate with his latest mixtape, which had people talking on the site yesterday: https://youtu.be/Bv2VCtzgHvE
KSR is at the Republican National Convention
Matt, Ryan, and Drew arrived in Cleveland yesterday and are ready to entertain you. Tune in for chaos, hilarity, and Ryan Lemond being scared out of his mind.