Andru Phillips is playing 'winning' football for Kentucky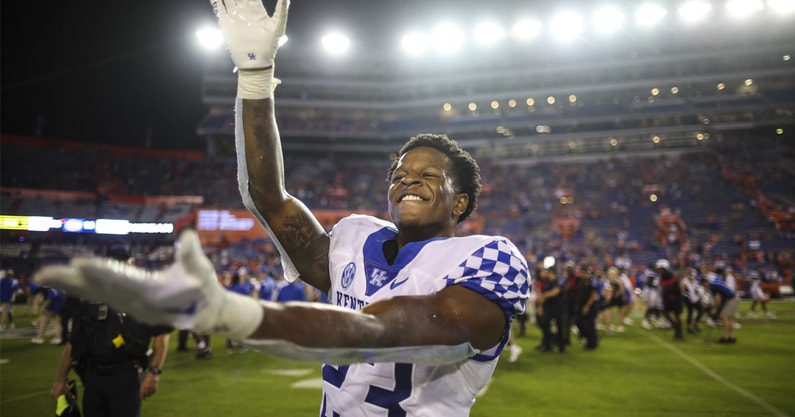 The secondary was a huge question mark for Kentucky entering the 2022 season. Transfer additions were added to help bolster the position, but development was needed with the personnel on the roster.
Carrington Valentine has improved at cornerback, and Jordan Lovett has become a quality starter at free safety as a redshirt freshman. Quietly, Andru Phillips was another young player that needed to make a jump.
The redshirt sophomore out of Mauldin (S.C.) High has become Kentucky's top slot cornerback and is playing some good football for defensive coordinator Brad White.
"I think he's a guy who's playing well right now for us. He's playing at a winning level, and a guy that's going to be a big part of this defense and how we structure going forward," White said about Phillips on Wednesday. "It was good to get him out there some more."
Phillips has played double-digit snaps in every game this season having slid inside to nickel once Keidron Smith took over the starting field cornerback position in Week 2. In that time, Phillips has only missed one tackle and has given up just three grabs on eight targets. The defensive back is giving the Cats more speed and has been solid in coverage to this point.
Now the biggest challenge of the season awaits this Kentucky defense. The Cats are getting ready to face Josh Heupel's extreme tempo spread offense at Tennessee that leads the SEC in scoring (47.7), yards per attempt (11.0), and red zone scoring percentage (100%). The Vols are dynamite and lead all of college football in 30-plus yard completions (20).
The Cats will find themselves in nickel and dime packages a lot and that means Andru Phillips will be on the field a lot at Neyland Stadium. Kentucky will need to young cornerback to continue to develop and make some play in isolation situations. The coaching staff seems confident in Kentucky's fifth defensive back in coverage situations.
"Really looking to see him take his game to another level, and I think he can," White said.