Andy Katz's Thursday News and Views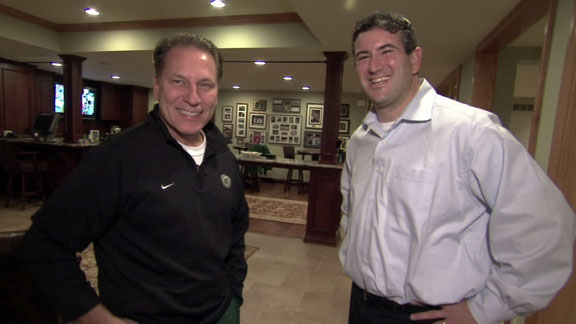 One of the stranger parts of the last two years has been getting to know the people that I used to watch on television. Most have personalities similar to what you would imagine and generally speaking, I have found all of them to be friendlier than I would have expected. This is especially the case for
the person who seemed to do the most to avoid KSR early on, Andy Katz.
Back in the old days, we came across Katz's number and tried to get him to do radio and podcasts with us for some time. He usually didnt do the radio and twice said yes to podcasts, only to have to cancel. Thus we joked on here that we hated Andy Katz and the "Katz stiffs KSR" comments probably hit triple digits during early podcast years. But last year I got to speak to Andy at a UK home game (when he got in between an argument between me and another media person at a UK home game) and he said he read the site and was a fan...even mentioning BTI by name...which tells you something. He promised me then and has repeated since, that he will do the KSR podcast asap, and I have told him I will hold him to it. Well its not the podcast, but he has agreed to come on Kentucky Sports Radio tomorrow at 10 am on 1080 AM WKJK. He will be a guest in the second hour and we are podcasting (for the first time) the show after its over. So listen live if you can or check out the site later...Katz has a lot of making up to do...and I will ask him about Forde. To some notes: --- Some late news from the basketball world is that
Deandre Daniels and UK now look apart again
. UK and Daniels were still in talks as late as yesterday to potentially try and make him part of the 2010 class. A source tells me that the plan was for Daniels to visit UK's campus on Wednesday to discuss the possibility of coming and being part of this class. However for whatever reason, he did not make the trip and late tonight, he told Zagsblog.com that he is headed to prep school. I am not sure why Daniels didnt make the trip, but that decision likely ends his involvement with UK in 2010...at least for now. --- The longest term big news of the day comes from football, where
Kentucky got another bigtime commitment in Zach West of Lexington Christian.
Zack is the #59 ranked OL in America, which is huge for a school like Kentucky to pull in. He picked the Cats over offers from Penn State and Tennessee, schools that Joker Phillips has said should be the goal to beat in recruiting. His commitment showcases the second time in a week that an OL recruit has picked UK over the Vols and is an example of the great recruiting being done by new Coach Summers. We will find out what happens on the field in ten days, but off the field, Joker is making strides in recruiting that cant help but please UK footballers. --- I saw
Joker speak at the kickoff luncheon today
in Louisville. Joker was very good with the crowd, telling jokes and expressing his deep admiration for the position he is now occupying. He gave very little in the way of news except to say that he thinks the Offensive Line will be the most improved position on the field for UK this season. Considering that many thought it could be a weakness, I found the statement to be very interesting and a reflection of Joker's view that a physical offensive line is a key to success. --- He also told a funny story about a guy who asked for his autograph at a game two years ago during halftime. He told the man that if he came up to him after the game, he would give him one. The guy then said to Joker, "maybe if you would sign, some of those screens would work more." Bubble screen jokes you gotta love. ---
Sorry to see Tolly Ho
leave its old location on campus. Moving down the street will be ok, but the old place was tradition. Although I hear that Hugh Jass Burgers is now rocking, showing that people move on....especially new BFFs, Drew Franklin and Randall Cobb. --- On the basketball side,
Bowling Green's Chane Behanan got a scholarship offer from John Calipari
, an interesting development for the Class of 2011. No one has risen from nowhere faster than Behanan and he has made himself into a top prospect this summer. The only thing he didnt have was an offer from Calipari. Now he has that and it will be interesting to see if he makes a decision sooner, rather than later. And oh yeah, he visited Louisville today...but who cares about that. --- Lots of folks are
mad at Turkey
about not releasing info on the Enes Kanter situation. We are trying to figure out a good Enes Kanter-related Turkey boycott...if you can think of one, let us know. --- If you didnt hear
Mark Krebs and his impersonations on the radio today
, I wish you had. He did Sarah Palin, Deandre Liggins and Chris from "Family Guy" so dead on, that I was amazed. He did a bit with Palin interviewing Liggins that was classic. In fact, Krebs was so good, that is how I convinced the station to get podcasting going. A great guest, who will be on again soon. --- I cant get over
the Braves blowing a 10-1 lead tonight
. This is the kind of game that turns a playoff run in the wrong direction....and I still hate baseball. --- Finally, there is nothing more boring than hearing people talk about their fantasy football league...but a guy in my league (12 teams) drafted two RBs with his first two picks...nothing odd about that really. But then it became clear, that both were from the same team...the Carolina Panthers. Is the strategy horrendous (my opinion) or somehow insanely brilliant? It has to be the former, if for no other reason than it allows for good jokes for years to come. We will have more all day....and if you need a smile, remember this...Louisville's "Five Core Values". More later...