Announcing the TyTy Washington Foundation: A New Not-For-Profit Organization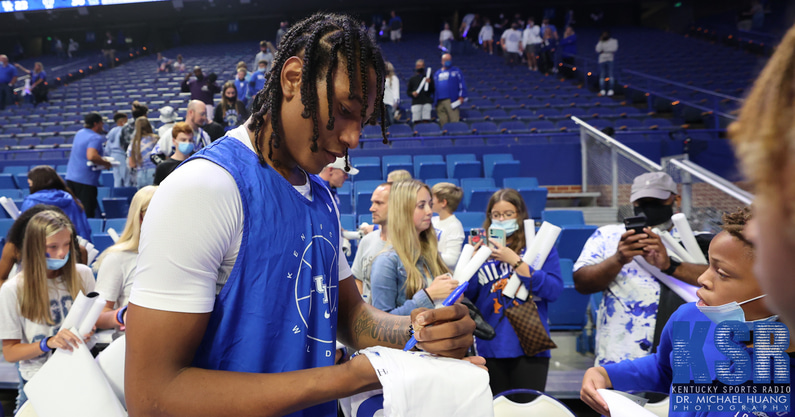 (Phoenix, AZ) – TyTy Washington is ready for the basketball season to begin. His work in the community of Lexington, KY and his home state of Arizona is already producing positive results. The family is proud to announce the TyTy Washington Foundation has received official recognition by the IRS as a tax-exempt 501 (c) (3) public charity.
"My family and I have always given back to our community the best we could," said TyTy Washington. "Utilizing the NIL partnerships we've formed allows us to give back, while still in school." 
In August, TyTy posted to his Twitter account, "Playing on the biggest stage presents the biggest opportunities and NIL is no different. Going forward, we are asking that any business opportunity presented to our team includes a plan for a 10% donation to charity. We want to leave an impact with BBN that extends off the court."
He took the time to inspire kids in his hometown in Phoenix by hosting the TyTy Washington Back-to-School Backpack Giveaway at the Battleground basketball facility in Tempe, AZ.  The event was sponsored by NIL partner, T.R.A.P. House clothing.  Backpacks and school supplies were handed out to kids ages 3 to 17 to help jumpstart their 21-22 school year.
Most recently, working with new NIL Partner, Airborne Athletics, TyTy has donated a Dr. Dish shooting machine to Frederick Douglass High School in Lexington, KY.  He also sponsored Carl Hayden Boys Basketball Team with Nike shoes/slides as well as the Girls team at AZ Compass High School with Nike shoes.  TyTy will also sponsor the end-of-season trophies for the Az Wildcats 7U Youth Football Team.
Over the holidays, the TyTy Washington Foundation will provide gift cards for single mothers in need, student-athletes with a 4.0 or better GPA and nominated Teachers at select high schools in AZ and KY. 
"As the NIL space continues to be defined, we believe TyTy will set the standard for others to follow." said his NIL Agent, Kevin Bradbury of REP1 Sports.  "We will continue to work to define each opportunity to ensure it makes a difference in people's lives off the basketball court."