Another sweep acquired: Kentucky VB wins 3-0 before season finale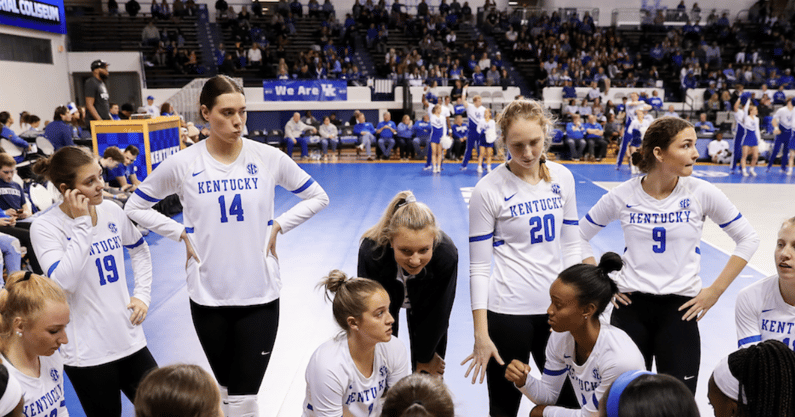 All went well inside of Memorial Coliseum for the No. 16 Kentucky Wildcats on Friday afternoon. A sweep of South Carolina put the Wildcats back atop the SEC standings. Certainly, all of this is subject to change considering No. 12 Florida will also be in action later tonight.
Kentucky's back-to-back sweeps see them heading into their last match of the year with a 19-7 (14-3) record on the year. It'll be a race to 15 conference wins between the 'Cats and the Gators for who gets to claim the SEC crown.
The Gamecocks stood no chance of pulling off an upset in Lexington, as Kentucky handled business quickly and professionally.
Capable of great things
There was no sweating the opening set for the blue and white faithful because Kentucky came out of the gates on a mission. Erin Lamb got on the board early with a kill to put the 'Cats up 10-6. Adanna Rollins and Azhani Tealer grabbed the consecutive kills and Kentucky was cruising early. It seemed like there were no distractions for Tealer, who announced she was coming back for a fifth year earlier today.
Reagan Rutherford finished the first with three kills including one left-handed blast that had UK up 19-11. As South Carolina's first set hopes began to diminish, Bella Bell introduced herself to the match in a massive way. Bell snagged her second kill of the set and followed it up by stuffing the visitors at the net to win the set 25-17.
Work of art
The Wildcats started the second set off a bit slow after their domination in the opener. South Carolina took a 9-4 lead which forced Coach Craig Skinner to burn a timeout. Let me tell you, whatever was said in that huddle, write it down, frame it, and hang it in a museum.
About two and a half minutes later, Kentucky had won five consecutive point to tie the frame at nine apiece thanks to Eleanor Beavin's ace, however this was just the beginning. The 'Cats won seven straight points after Beavin's ace before South Carolina finally got on the board. Leading 16-10, UK would stomp on the gas to put the Gamecocks away.
With a set point on its hands, Kentucky won the second set in unbelievable fashion. A heroic effort by Riah Walker and Beavin kept the 'Cats alive in what would be the final point of the second set. If you were counting at home, it was a 21-3 Kentucky run to close the set after Skinner called that first timeout. Heroics.
Your move, Florida
The third set introduced a couple role players that helped Kentucky complete the sweep. Kelly Franxman entered the match late, and her impact would be noted. Franxman picked up two kills and one block in the closing stages of the match, including the match-winning kill.
Now the inevitable question shows itself… What's next?
Florida has a weekend series at Ole Miss which has yet to begin. Kentucky only has one more match at home versus South Carolina again.
If Florida loses any of its two matches and Kentucky wins on Saturday afternoon, the Wildcats are the outright SEC champions. If Florida wins out and Kentucky wins on Saturday, they will share the conference crown. Sharing is caring, I suppose.
Worst case scenario is Kentucky loses on Saturday and Florida sweeps its series in Oxford. No jinxes here, please! The Gators get underway tonight at 7:30 p.m and tomorrow at 5 p.m. with both matches airing on SEC Network+.
The 'Cats wrap up their season tomorrow at 1 p.m. also on SEC Network+. Multiple TV's, multiple thanksgiving leftovers, and unlimited volleyball should be on everyone's agenda.