Antonio Reeves is the spark-plug scoring piece Kentucky needed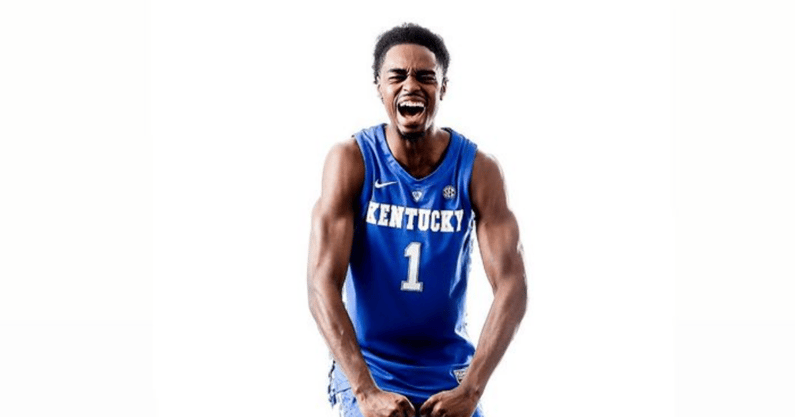 After leading Illinois State in scoring as a junior with 20.1 points per game on 46.9% from the field and 39.0% from three, Antonio Reeves looked for a bigger and brighter opportunity at his next stop. He led the Missouri Valley Conference in scoring and finished top 20 in all of Division I, but the 6-foot-6 guard wanted to prove he could thrive at a high-major program.
Luckily for Reeves, Kentucky was replacing TyTy Washington, Kellan Grady and Davion Mintz, and perimeter scoring was at the top of the school's priority list going into the offseason. It was a clear match for both sides.
Through two months, it's been a partnership that has worked out exceptionally well for both sides.
For Reeves, he's playing for a national title contender, battling other talented players every day in practice.
"Just wanted to, first, try to win a national championship," Reeves said back in June regarding his decision to transfer to Kentucky. "Surround myself with really good players and just grind every day in practice and make myself better."
For Kentucky, it's getting a standout three-level scorer capable of playing multiple positions and defending at a high level, says associate head coach Orlando Antigua.
"Antonio is such a great player, and he's got so many layers to his game," he said Thursday. "He's not just a scorer, that's what his team needed him to do at Illinois State. He's a guy who's got great size that can play the one, two, three. He can handle the ball, pass the ball, and he's a better defender than he's been asked to be. We'll continue to ask him to be a better defender that way. He's a three-level scorer who has great feel. I'm excited to see him go up against some better competition."
The skill, shooting and pure scoring is all there. They're demanding the defensive effort, something he's proven he can bring on a consistent basis. Now, it's about stepping up as a vocal leader.
"One of the things you know about him is he's a competitor. He competes and gets after it," said Antigua. "We're continuing to challenge him to be a little more vocal. That's part of his personality, he's just a little more quiet. He's a guy who leads by example, goes out and competes, does what he does. For one of our guards, he just needs to be a little more vocal. We're going to keep challenging him on that."
Kentucky needed a scoring spark out of the transfer portal this offseason and found it in Antonio Reeves.