Antonio Reeves tapped into Illinois State days with performance against Ole Miss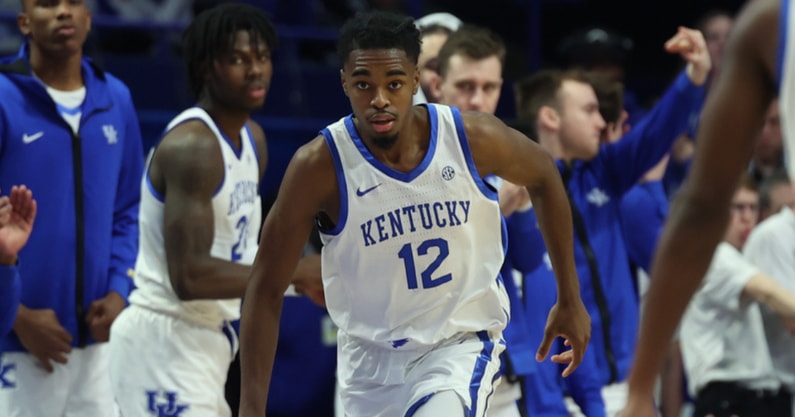 Antonio Reeves had scored at least 27 points in a college game seven times before Tuesday night, but none came against a Power 5 opponent. As the clock shifted over to Wednesday morning, he checked that achievement off the list and bumped his number up to eight.
After spending three seasons at Illinois State, Reeves decided to transfer to Kentucky for his senior year. As a junior in 2021-22, he averaged 20.1 points per game on a shooting split of 46.9/39.0/81.8, establishing himself as one of the top-tier scorers in the portal this past offseason. Reeves didn't come to Kentucky with the mindset that he would have to average 20 points per game, but over the last few weeks, he's traveled back in time, tapping back into those days not long ago when he was an All-Conference member at Illinois State.
During Kentucky's 75-66 win over the Ole Miss Rebels on the road, Reeves had his best outing as a Wildcat, pouring in a season-high 27 points on 8-12 shooting, including a 6-7 clip from beyond the arc and a perfect 5-5 from the charity stripe in 27 minutes of action.
Coming into Tuesday night, Reeves averaged 15.9 points over his last seven contests for UK on high efficiency while playing over 27 minutes. But a sudden injury to starting point Cason Wallace roughly an hour before tipoff against the Rebels meant Reeves would have even more on his plate.
So he went out there and played as if he was a junior at Illinois State once again.
"It did, it definitely did," Reeves said postgame. "Coming off ballscreens a lot and getting to my pull-up game, floater game. It just felt like the Illinois State days. I just felt comfortable out there.
"Everything was just going in for me."
Reeves' scoring came in critical spurts for the 'Cats. From the 12:53 mark of the first half to the 9:47 mark, he drilled three shots from deep that helped Kentucky overcome an early deficit and take the lead. He popped off again at the beginning of the second half, dropping 11 more points from the 16:58 mark to the 13:24 mark.
That's 20 points in under seven minutes of game time. Four of his final seven points came via free throws down the stretch of the second half. His three-pointer with 6:08 left in regulation gave Kentucky a 12-point lead and the 'Cats never looked back from there.
"He did a pretty good job. He rebounded some balls too. But what he does is he can get baskets," Kentucky head coach John Calipari said after the win. "Now defend and do all that stuff."
Reeves is playing at such a high and consistent level that it begs the question of why he still isn't part of the starting lineup. He's only started five of 21 games this season and is averaging under 25 minutes per outing, fifth-most on the team.
"I don't think it matters. What's the difference?" Calipari said regarding whether or not Reeves should start. "If you're gonna play 30 minutes starting or not starting."
Sure, Reeves is closing games, and that's the most important part, but it could potentially do Kentucky some good if he was inserted into the first five in place of Chris Livingston or CJ Fredrick. Reeves has only hit the 30-minute threshold three times this season. The 'Cats have shown a tendency this year to start games off slow, which happened again on Tuesday night. UK trailed 15-10 before Reeves checked in. Five minutes later, his team led Ole Miss 21-17.
During SEC play, in particular, Reeves has stepped his game up to another level. His confidence is growing and he's looking more comfortable with each passing game.
According to KenPom, Reeves ranks among the top 10 players during SEC matchups in the following categories: offensive rating (10th; 117.9), percentage of possessions used (10th; 26.3), percentage of shots taken (4th; 29.9), effective field goal percentage (6th; 59.3), true shooting percentage (5th; 63.1), free-throw percentage (9th; 88.5), and three-point percentage (9th; 42.0).
That's over a nine-game stretch, too — more than enough of a sample size at this point in the season to conclude he's Kentucky's best scoring option.
Just like he was at Illinois State.