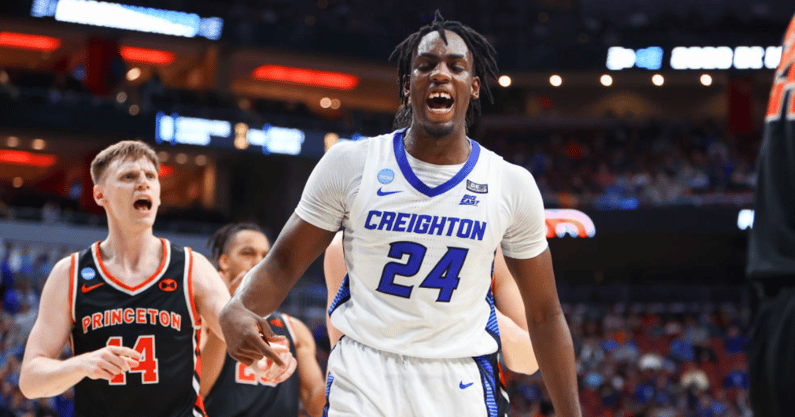 Wednesday is NBA Draft decision day. College basketball players must make their plans for the 2023-24 season known before the clock strikes midnight. Creighton wing Arthur Kaluma is returning to college basketball and immediately becomes one of the top available free agents.
ESPN's Jeff Borzello is reporting that Kaluma — who entered the transfer portal earlier this month — is receiving recruiting interest from Alabama, Kentucky, Texas, and Texas Tech. Could John Calipari finally land the big transfer target that has alluded the program all offseason?
Now it's time to do some digging and find out some more information on Kaluma who started 67 games during his two-year stint at Creighton under Greg McDermott that included six NCAA Tournament games.
Top-50 recruit
Arthur Kaluma was a top 50 recruit in the On3 class of 2021 rankings and immediately became the highest-ranked recruit of the Greg McDermott era at Creighton. The prospect spent his prep years at Universal Academy in the Dallas suburbs and Dream City Christian High School in Arizona.
During the recruiting process, Kaluma received interest from numerous power conference schools. Arizona, Arizona State, Arkansas, Kansas, Oklahoma, Syracuse, Texas A&M, and USC were all involved in this recruitment. Kaluma would decide to commit to Creighton where he earned immediate playing time as a true freshman.
The summer before his freshman season at Creighton, Kaluma played for the Uganda national team in the 2023 FIBA World Cup African Qualifiers and averaged 22.5 points per game over two contests.
Positional versatility
As a true freshman at Creighton, Kaluma started 30 of 31 games while averaging 10.4 points on .444/.265/.671 shooting splits. The four-star prospect played 26.8 minutes per game putting up 5.4 rebounds, 2.5 turnovers, and 1.3 assists per game. Most of that production came from the wing as a three in Creighton's lineup with Ryan Hawkins getting most of the minutes at the four. The highlight of Kaluma's freshman campaign occurred when he scored 24 points on 19 field goal attempts in a second-round tournament loss to eventual national champion Kansas.
In the offseason, Creighton added South Dakota State transfer Baylor Scheierman to the roster, and that allowed Kaluma to shift into the four-spot on a more full-time basis. Kaluma saw an uptick in production. The big wing averaged 11.8 points, 6.0 rebounds, 1.6 assists, and 2.1 turnovers in 29.4 minutes per game on .423/.311/.736 shooting splits as a four. In December, Kaluma scored a career-high 27 points against BYU.
At his next stop, Kaluma can be a big wing or a small ball four that can contribute solid rebounding numbers with good two-point shooting (51.8% on 390 career attempts) that can produce from the mid-range.
Poor 3-point shooting
The turnover numbers immediately stand out when looking at Arthur Kaluma. The secondary usage player has a high turnover rate when asked to play the three. However, the three-point shooting might be a bigger issue.
After two seasons in the Big East, Kaluma is shooting just 29.1 percent from three on 3.4 attempts per game. The 6-foot-7 forward shot just 5 of 20 (25%) from three in six postseason games in the Big East Tournament and NCAA Tournament in March. If a new offense is going to ask Kaluma to produce a high amount of three-point shooting volume, they will likely end up disappointed with the results.
However, an offense that allows Kaluma to play the four and doesn't need a lot of three-point attempts from this spot could be a good fit for the transfer.
Arthur Kaluma could be a tweener at Kentucky
John Calipari wants to play a traditional two big lineup. Everyone knows that. The projection for 2023-24 is that Aaron Bradshaw will play the four, and Ugonna Onyenso will play the five to provide an upgrade in rim protection. There does not seem to be a clear spot for Arthur Kaluma.
Justin Edwards should be the No. 1 wing option at the three for UK. If the Wildcats were willing to play Bradshaw some more at the five, Kaluma could be a good fit at the four. If the junior with two years of eligibility remaining was willing to accept a bench role, there would be a clear path to playing time as Kentucky's sixth man.
As of now, it's hard to envision Kaluma starting for Kentucky. That could put the Wildcats at a disadvantage in this recruitment.
Discuss This Article
Comments have moved.
Join the conversation and talk about this article and all things Kentucky Sports in the new KSR Message Board.
KSBoard