Asheville, North Carolina's Thursday News and Views
Asheville, North Carolina. Holy hippies. We knew we were in unfamiliar territory when a man passed us in downtown Asheville on a tall bicycle, dressed as a nun. He was one of the many wackos we encountered on the first stretch of downtown on our way to dinner. Keep in mind, it was a Tuesday night at about 7:30 p.m., and
the streets were paved with people who looked like they smelled like urine
. It's like the Occupy Wall Street movement packed up its pot, sweat-stained bandanas, and drum sets, and headed south to The Tar Heel State for the 2013 summer season. Hippies everywhere. EVERYWHERE. Who knew??? After stopping at a local wings restaurant -- a great idea before we survive on Hooters in Augusta for three days -- we stumbled into
one of the most bizarre scenes
I've ever seen in my entire life. Right in the middle of town, in the heart of Western North Carolina's largest city, there were fifty or so people hula-hooping without a care in the world. I'm not certain they were high, but they were high. All of them. High. Each person (or fairy, whatever they were) was in their own little world, rhythmically hula-hooping to folk music like no one was watching. It's like they were all in a trance, unbathed marionette puppets controlled by some supernatural being that probably lives in the woods or the back of a Volkswagen Type 2 van parked outside Whole Foods. It was surreal.
Once we were back on the road and miles away from the fantasyland that is Asheville, North Carolina, I hit the Twitter machine to see what the hell was really going on -- and if it really
was
going on, and not some post-wing hallucination we all shared. It turns out, hula-hooping is a common thing in downtown Asheville; the city recently received a 
2013 Hoopie Award for Outstanding Hula-Hooping Community
. Asheville and Brighton, England shared the award in the first ever tie atop the hooping community voting, decided by a panel of 50 hoopers randomly selected by drawing names from a hat. (That's real life, too; I can't make that up.) So if you're ever passing through North Carolina and get the urge to swing those hips in a tolerant, liberal setting with relaxed laws and social norms, I recommend downtown Asheville. And tell the nun on the tall bike we sent you, if you go. How about some News and Views from a wild Wednesday evening in Augusta? Shall we?
 The big news on Wednesday came from the
Rupp Arena renovation press conference in Lexington
, where John Calipari, Mitch Barnhart and Eli Capilouto were notably absent. Mayor Jim Gray, Governor Steve Beshear and members of the Lexington Center Corporation held the presser to announce the progress of the project and the hirings of its architectural firms. Gray opened things up by saying the ultimate goal is to "free Rupp Arena and reinvent it" into a "remarkable iconic building" with modern amenities. Some of those amenities include a new scoreboard above center court, expanded concourse space, new chairback seats in the lower bowl, and a hospitality level with premium suite seating.
 Now, the big question is, where will the funding come from? These things don't build themselves, ya know. The group announced that an announcement on funding will likely come in a couple months, but they did toss out an idea on Wednesday that is receiving mixed reviews. That idea is to possibly, maybe
sell the naming rights to Rupp Arena
. Don't yell at me, I'm just the messenger. Mayor Gray made it very clear that the Rupp Arena name is here to stay, but it may include the name of a business if naming rights are sold. Brent Rice from the Lexington Center Board said, "There's significant value to have a company associate their name with Rupp Arena." If KSR can get in the funding mix, possible options include: -- It's just Rupp Arena -- Kentucky Department of Fish and Rupp Arena -- UK Fans Of The Day Want Rupp Arena -- Guy On The Corner Of Rupp Arena Submit your own in the comments section.
 While Matt, Tomlin and I are
listening to an ungodly amount of Conway Twitty
pretending to be recruiting experts at the Peach Jam,
John Calipari was in Philadelphia Wednesday night
to watch Emmanuel Mudiay, Rashad Vaughn, and Josh Perkins.
(via ZagsBlog)
After Mudiay's game, he told Adam Zagoria that he
plans to cut his list down to five at the end of the month
and the remaining schools will be where he takes his five official visits. That's great news for Kentucky, considering Mudiay already announced he will attend Big Blue Madness in October.
 Speaking of Big Blue Madness, Friday, 
October 18th is the official date
. Ticket distribution will be Saturday, October 5th at 7:00 a.m. and fans will be allowed to start camping outside Memorial on October 2nd. Tickets will also be available online for non-campers, but those people will be miss out on a great time with some of Big Blue Nation's proudest citizens.
 Is ANYONE surprised that
Marshall Henderson is suspended
from the Ole Miss basketball team? The university said it was due to a violation of team rules; Gary Parrish said it's related to a failed drug test. In related news, the sky is blue and Louisville sucks.
 How are we supposed to get nachos and Nerds ropes with 
Anthony Davis guarding the concession stand at the Peach Jam?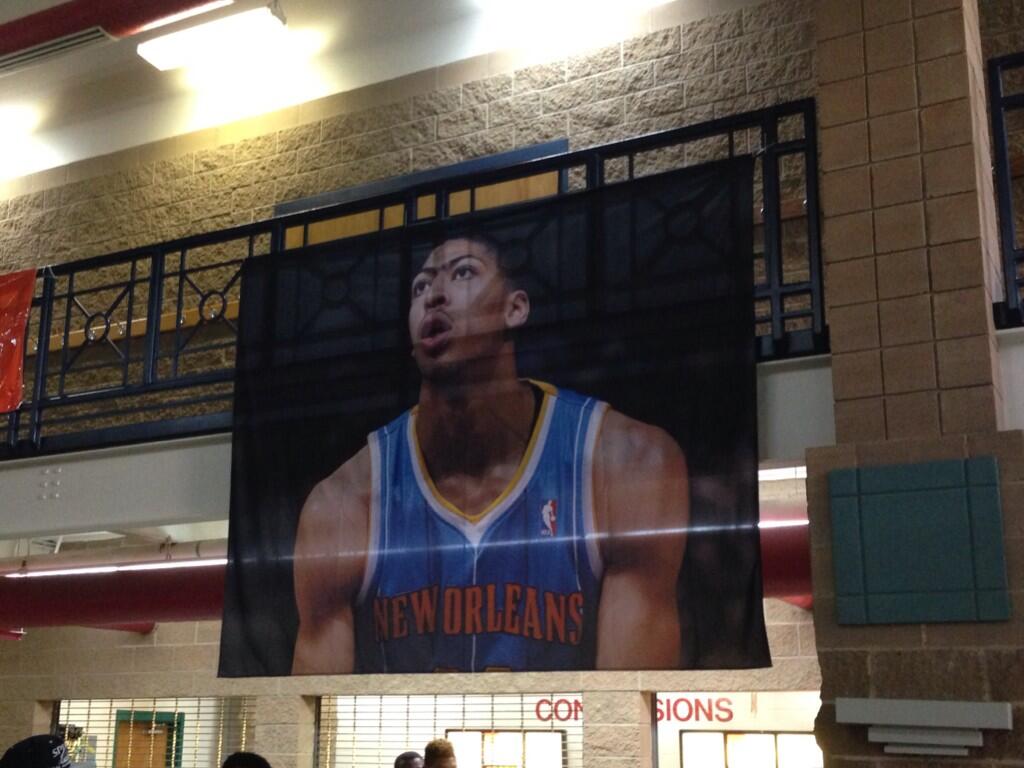 I sent that photo to his father, who told me, "He is blocking everyone in line." Oh yeah, #KentuckyEffect
 Has Nerlens Noel picked a jersey number for the next level? According to Pablo Torres on
Around The Horn
,
he has. Torres said
Nerlens plans to wear No. 5 in Philadelphia next season for each of the five teams that passed on him in the draft
. Cody Zeller will wear No. 29, a tribute to every NBA team still laughing at the Charlotte Bobcats.
 Ryan Lemond will host Kentucky Sports Radio radio Thursday morning with
Matt checking in via cell phone
. The original plan was for Matt and I to broadcast live from courtside at the Peach Jam, but after testing the connection Wednesday night, it's just not working out the way we'd like. But you can still expect lots of good stories and descriptions of the scene from Matt. Be sure to tune in. Go Cats, everybody.