Assessing where every Kentucky Bat 'Cat was selected in 2022 MLB Draft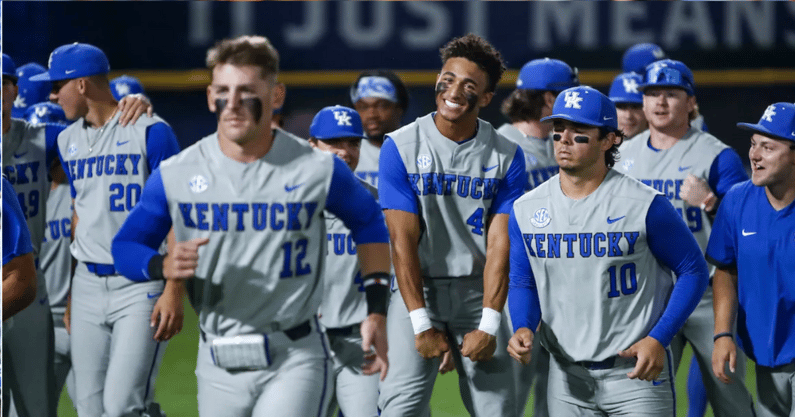 Now that the 2022 MLB Draft has concluded and a total of six Kentucky Wildcats were selected, let's take a totally reasonable, unbiased look at the situations they're heading into. That is, if they all sign their pro contracts.
Ritter highlights four 'Cats in first 10 rounds
Ryan Ritter: 4th Round, Pick 116
To absolutely no shock, the highlight of the 2022 MLB draft for Kentucky was the selection of Ryan Ritter. The JUCO transfer from a few years ago blossomed as the shortstop for the Wildcats, seeing the potential of him becoming a first-round pick heading into this past season.
Ritter was selected by the Colorado Rockies in the fourth round though, which is still nothing to scoff at. The scenery is a perfect fit for the Chicago native. Baseballs act more like tennis balls out in Denver; Ritter has the perfect blend of gold glove caliber defense with evident pop in his bat that is still developing. It's a fantastic spot for the type of player Ritter is.
While that may be the case, he wasn't drafted into an ideal situation if he wants to stay at shortstop in the long term. The Rockies have two emerging shortstops in their farm system already who seem to be real players. The first being Ezequiel Tovar, a 20-year-old who signed in 2017. A plus defender as well, Tovar is hitting over .300 in AA and looks to be on a fast track to the big leagues. Colorado also has 19-year-old Adael Amador who has impressed since coming over to the states.
Given Ritter's age and experience already, there's a decent chance we see all of them fight it out for playing time in both the minors and potentially the big league.
Tyler Guilfoil: 8th Round, Pick 253
The meteoric rise of Tyler Guilfoil at Kentucky ends up with an eighth-round selection by the Houston Astros. Returning to his hometown after spending most of his collegiate career at Lipscomb, Guilfoil had a historic season that ended up with him receiving multiple 1st team All-American nods.
The Lafayette High School product pitched to a 1.59 ERA in 21 games in his lone season with the Wildcats, forcing him to become a draftable figure. It appears as if the Astros got something special here.
Seeing what he did to the SEC competition all season, there's reason to believe that Guilfoil won't have to spend more than a year or two in the minors. Obviously, trying to reach the majors as a pitcher isn't quite as difficult compared to a position player. There are too many spots to really be blocked. If you're good enough, you'll make it. It seems like Guilfoil is going to make it very soon.
Sean Harney: 8th Round, Pick 254
If the Tampa Bay Rays had their eyes set out on Guilfoil, they got their next best Kentucky pitcher at least. One pick after the star closer was taken, the Rays went and picked up the Wildcats closer from last season: Sean Harney.
And to be honest, we totally should've seen this coming. The team that essentially normalized using relievers as starters picked up a pitcher known for doing both. The ultimate switch army knife in college on the mound, Harney put up an impressive 2.62 ERA in just over 65 innings pitched this past year, which included five starts.
It's really a perfect fit for the Massachusetts native. Maybe the Rays see him as this analytical darling and expect him to move through the farm system sooner rather than later. Either way, it's definitely a preferable spot for Harney.
Chase Estep: 9th Round, Pick 269
The pride of Kentucky is set to head up to the Big Apple. Estep's selection by the Mets is certainly an interesting one. The Corbin native continued his progression this past season with undoubtedly his best season at UK. Estep slashed .302/.416/.560 in a breakout campaign in 2022. While it's still an intriguing selection and definitely a plausible move for the third basemen, I'm not quite sure he's heading to the best location for him.
To start, New York already has two of the top third base prospects in the league. Yes, they're currently being waived as trade bait, but they're still there. Mark Vientos is almost certainly heading to the DH role but Bret Baty is on track to becoming the long-term third base option in Queens.
We saw Estep play some second base while a Wildcat but that's not a great spot either. The Mets have a logjam at short in the farm where they're going to have to move some people over to second. It's going to be a crowded infield for years to come.
Estep has shown the ability and progression over the last few years that we really shouldn't count out his ability to improve. Then again though, he still has the possibility to bet on himself and go one more year with Kentucky to try and improve his stock, but it seems like he's focused on a pro career now.
A couple more arms finish off the draft
Cole Stupp: 12th Round, Pick 357
Speaking of interesting selections, we find our way to the curious case of Cole Stupp. Despite being shut down for surgery after only six starts this past year, the Georgia native was still picked up by the Detroit Tigers.
Stupp has had an inconsistent ride so as a Wildcat. Showing high-level potential constantly, his ERA has never reflected the type of pitcher he can become. None more so than the 6.31 number he put up in 2022.
We'll be honest, we have no idea what Stupp is going to decide to do. He could take the money and guarantee at least some professional contract in an organization still rebuilding. Or, he could very easily come back to Kentucky and vastly improve his draft stock with a consistent year. We'll just wait and see what happens with this one.
Daniel Harper: 17th Round, Pick 512
Rounding out the draft class was the man who seemingly donned a Kentucky jersey for a decade. In his fifth and final year with the Wildcats, Harper undoubtedly had his best. He ran up a 2.72 ERA in 26 appearances in 2022.
Simply put, Harper going to the Phillies can mean one of two things. Either he got drafted to a perfect spot for him to go through the minors and attempt to break into the league eventually. Why is it a perfect spot? Well…
The Phillies have been perpetually inept for seemingly forever out of the bullpen. Who knows whether it's just a run of bad luck, or there's some actual voodoo curse going on in Philadelphia. If it's the latter, Harper may be in trouble.