At Bible Mini Golf, Water Hazard Turns Into Wine Hazard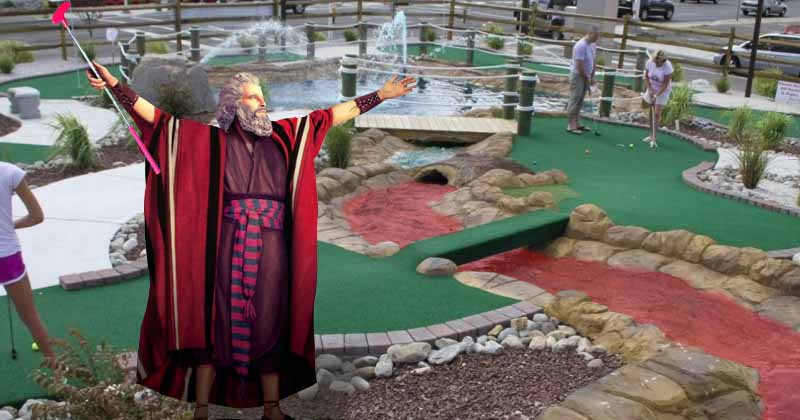 Editor's Note: The following was previously published on The New Circle Circular, Lexington's #1 source of Fake News You Can't Count On.
Officials were notified of some unusual activity near the water hazard on the seventh hole at the Lexington Ice Center's Biblical Mini Golf last night, officials went to check the hazard and, merlot and behold, the water hazard had somehow turned into a wine hazard. The wine transformation was the second phenomenon to take place at the course in a matter of minutes after Aunt Bethel drained a miracle putt on the 6th hole. Customers were skeptical that an actual miracle had taken place. Many initially thought it was just a "Big Red" leak from the concession stand (home of the corndog that tastes like mana from Heaven), others didn't quite realize which miracle they were seeing as they stood in front of the hazard, raising their arms attempting to part the red wine sea. All doubts were put to rest when Uncle Terry scooped out some of the wine into his thermos. After taking a big swig he proclaimed, "this wine is subpar, and at a golf course, that means it's great!" By the end of the night a sizable crowd had gathered to see the miracle. The Ice Center's 'House Chaplain' and guy that does the skate rentals, John DeBaptiste, blessed the miracle and the crowd before feeding everyone in attendance with only a #2 Combo Meal from Long John Silver's. It wasn't much of a miracle though as most had already eaten and the rest saw the bag and knew it was from Long John Silvers.
To keep up with The New Circle Circular, like the Facebook page or follow Harold Leeder's Twitter Account.