Attention to detail is key for Kentucky MBB heading into exhibition games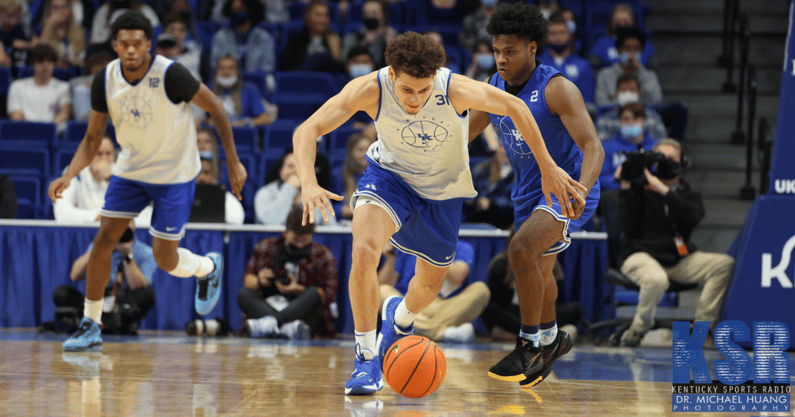 Kentucky should handily beat Kentucky Wesleyan when the two vastly different programs match up against each other this Friday night at Rupp Arena.
It'll be one of two exhibition games on the 2021-22 schedule for Kentucky Men's Basketball, and it will be an important one at that as a date with the Duke Blue Devils in gorgeous Madison Square Garden will take place in under two weeks' time. Miles College will cap the second of two exhibitions on Nov. 5.
The Panthers of Kentucky Wesleyan, located in Owensboro right along the Kentucky-Indiana border, will be the first test for UK that isn't against themselves in a practice setting. Kentucky head coach John Calipari can potentially go 12 players deep, and two exhibition games will be a perfect opportunity to see who's more ready than the others early on. Calipari will toy with his rotations and schemes throughout the duration of both games.
For the players, Friday will be about getting a feel for playing with all of their teammates–ironing out any issues that weren't on display, or maybe never popped up, in practice. Kentucky's talent is lightyears ahead of what Kentucky Wesleyan will trot out in a couple of days. This will (hopefully) be more of a learning experience than actual competitive basketball for the 'Cats.
Which is why it's important to stick to the basics and not overcomplicate anything. Kentucky Wesleyan will come out swinging and the 'Cats will need to respond appropriately, but not by jumping out of their comfort zone.
There won't be any need to get fancy or overthink the two exhibition opponents. Instead, it'll be about figuring out what minor problems need adjusting while playing within the system put in place.
"I'd say the attention to detail and overall excitement has probably ramped up a bit," Kentucky guard Kellan Grady said on Wednesday. "As we get closer and closer to the first exhibition, the first official game, I think it's important to be even more detailed. Just live up to that standard of Kentucky basketball."
A graduate transfer from Davidson, Grady understands the importance of exhibition games and the purpose they can serve.
Common fans might view exhibitions as a dull affair ending in blowout scores, but players and coaches understand the importance they can have. Rupp Arena wasn't built in a day, and neither will this team's national title chances.
Remember, Kentucky didn't even play an exhibition game last season before finishing 9-16. While the situation last season is nothing compared to that of this year, an extra game or two early in the season (especially ones that don't technically count) is never a bad thing.
There is always something that can be taught from live-action basketball, such as where and when to be on the floor.
"Intensity has been picking up in practice," Kentucky forward Bryce Hopkins said on Wednesday. "Coach Cal has been getting on us a lot in practice, just trying to make us stay focused so when the game comes around we're gonna know our spots and where to be on the court."
There will be a lot of role-learning in the two exhibition games, especially for Grady and Hopkins, who were not with the team a season ago. They are just two pieces of a much bigger puzzle that Calipari will spend most of the season trying to solve.