Avery Williamson wants a piece of Teddy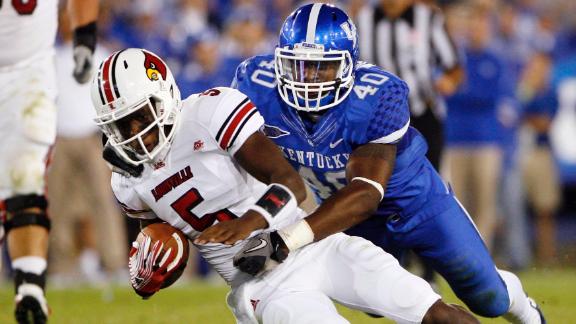 Teddy Bridgewater is one of the two or three best quarterbacks Kentucky will face all season -- along with Georgia's Aaron Murray and Tyler Wilson at Arkansas -- and Avery Williamson can't wait to put his pads on him. Kentucky's middle linebacker, a first-time starter, wants to send an early message to the Cardinals, specifically Teddy.
"Ooo, I'd love to hit Teddy,"
Williamson told Adam Lefkoe earlier today.
"Gotta take that shot. Let him know how physical it's going to be."
Senior defensive end Collins Ukwu expects Williamson to have a breakout season. He said on Friday that he's "shocked" by how quickly Williamson has developed. I guess we'll see for ourselves on Sunday. Keep an eye on the guy looking to knock Bridgewater's head off. He's #40.