Kevin Richardson, Brian Littrell of Backstreet Boys are ready for Saturday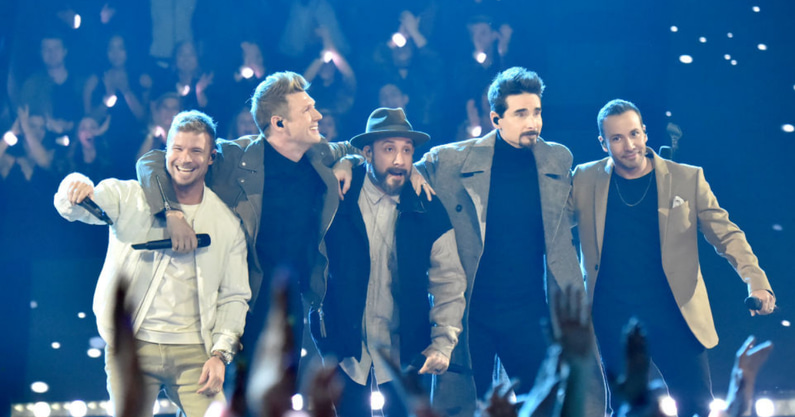 Kentucky travels to Georgia on Saturday, and it appears to be the biggest game of the season in the Southeastern Conference. SEC Network's Paul Finebaum has already begun previewing the monstrous matchup.
On Tuesday, the radio talk show host brought on two guests with extensive Kentucky backgrounds.
Backstreet Boys members Brian Littrell and Kevin Richardson joined Finebaum on Tuesday afternoon to help preview the matchup with the No. 11 Wildcats and No. 1 Bulldogs. However, one member was trying to play both sides.
"It's not really a long story other than my wife is from Marietta, Georgia, and I married into a Bulldog family," Littrell told Finebaum about sporting both teams while on camera. "Happy wife, happy life makes for a good, solid home front but I have to say — make it clear just saw everybody knows — if I were to make a prediction about the game using my heart, I gotta go with the Cats this weekend. But if I'm going to do statistics-wise, use my brain, I gotta go with the Dawgs.
Richardson was not in the same boat, but the 50-year-old wanted to set the record straight for the listeners. Littrell is a Kentucky fan first.
"So he bleeds blue, and when Georgia is not playing Kentucky he'll root for Georgia," said Richardson. "But when they are playing Kentucky, he's rooting for Kentucky. All the way, all day."
To go along with the game, the Backstreet Boys promoted their upcoming International Global Tour that is set to launch next summer. The group has close to 60 shows booked and will be at multiple stops in the United States. After the summer, the five-man group will move over to Europe for the fall.
To prepare, the Backstreet Boys are focusing on cardio and getting back into singing shape after spending a lot of time at home due to the COVID-19 pandemic. The group is excited to get back on the road to see their fans, but right now all the focus is on Saturday.
Richardson has loved what he's seen from Mark Stoops' ninth team in Lexington.
"It's been a dream season for me," said the Estill County High School alum. "As a long-time Kentucky football fan, this is one of the best that I've seen in my lifetime and I'm excited. We got a big, tall task ahead of us heading down between the hedges in Athens but I think we got a real, real, real good shot, Paul.
There is confidence growing for the matchup in the Big Blue Nation with Richardson and the Backstreet Boys on board. Kentucky is currently a 23-point underdog that is dealing with some injuries, but the 2021 Kentucky team feels like a special group.
"I'd feel a lot better if we hadn't lost two great starting d-tackles in the last two weeks — McCall and Oxendine. Studs. Stoops has recruited well, we've got a lot of talent, a lot of young, inexperienced talent on the d-line," said Richardson. "Our defense has been playing great all year. We're going to need the youngsters to step up on the d-line. I feel good about our offensive line — they're big, they're strong, they're experienced, they're tough. We've pretty much been able to run the ball on anybody and now we have the vertical threat passing game. Our quarterback is tough."
Richardson knows ball recognizing that games are won and lost at the line of scrimmage in the SEC. Due to this, Kentucky has a chance in any game the Wildcats will play this season. Even against the No. 1 team.
"I think we've got a great shot," said Richardson.