Bailey Zappe is posting historical passing numbers for WKU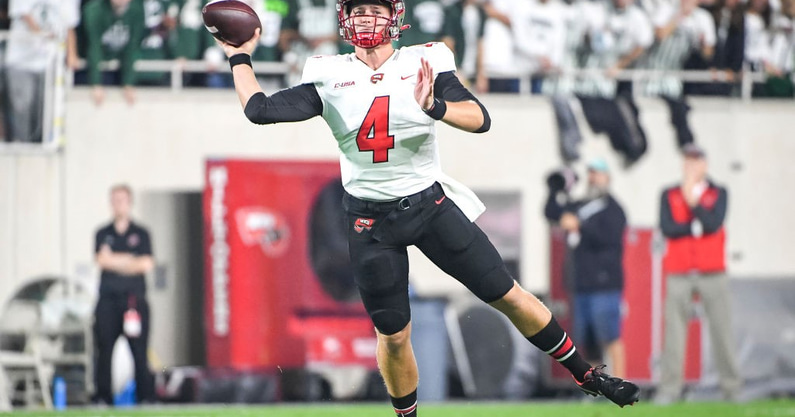 For his third season, WKU head coach Tyson Helton took a big risk. The former offensive coordinator at Tennessee decided to go all-in on a branch of the Kliff Kingsbury Air Raid tree by plucking the FCS Houston Baptist offensive meeting rooms. Offensive coordinator Zach Kittley, quarterback Bailey Zappe, and wide receiver Jerreth Sterns all made the move to Bowling Green.
The gamble paid off.
The Tops rank No. 2 in scoring offense (43.1) and No. 3 in yards per play (7.08). WKU is doing it all behind a pass-heavy offense that is throwing the ball over 68 percent of the time. Only Mike Leach's Mississippi State offense throws the ball more.
The Air Raid attack has made Bailey Zappe a household name in college football.
Historical numbers
Following a close loss to UTSA in the C-USA Championship on Friday night, WKU sits at 8-5 following 13 games. The Tops won seven in a row to clinch a division title before the defeat. During the season, Bailey Zappe has delivered over and over.
The redshirt senior transfer leads the country in passing yards (5,545) as Zappe is throwing for 426.5 yards per game on 49.5 attempts per night. His 56 touchdown passes are the most since Joe Burrow reached 60 in 2019.
The 6-foot-1 gunslinger from Texas is on a record pace.
With one game left, Zappe could rewrite the college football record books.
Heisman buzz deserved for Bailey Zappe
Over the next week, there will be a lot of Heisman Trophy talk. In a year where the clear best team has the best defense this sport has seen in years, people are not sure who should bring home the most popular individual award in sports.
The quarterbacks, as a whole, appear to be down and this year's draft class really leaves you wanting more at the most important position in football. However, Zappe is putting up some historical numbers and doing it with efficiency.
The veteran quarterback owns a strong passing success rate of 54.2 percent despite throwing the ball around 200 times every four games. He's avoided negative plays with a 2.29 percent sack rate and nearly half of his attempts have gone for a first down or touchdown.
The WKU quarterback deserves some Heisman looks.
Zach Kittley will be a hot name on the carousel
Brian Kelly at LSU, Lincoln Riley at USC, and jobs opening everywhere we turn. The coaching carousel has been wild to this point and we haven't even gotten to the part where assistants are beginning to be plucked.
Don't be surprised to see Zach Kittley become a popular name as the 30-year-old is about to become a very rich man.
The former basketball player at Abilene Christian transferred to Texas Tech in 2011 and became a student assistant coach under Kliff Kingsbury. There Kittley learned a version of the Air Raid offense and has now put together one of the best offenses in college football. Many programs will be interested in his services.
Auburn, Miami, Notre Dame, and Oregon are some major schools that need a new play-caller. Meanwhile, Texas Tech needs one as well after Sonny Cumbie accepted the head coaching position at Louisiana Tech.
Kittley is a future star and a name you will need to know moving forward.
WKU is setting records thanks to a gamble. Bailey Zappe is the star and Zach Kittley could be a household name in college football for a long time.