KSR Today: Barion Brown announces on Thanksgiving Eve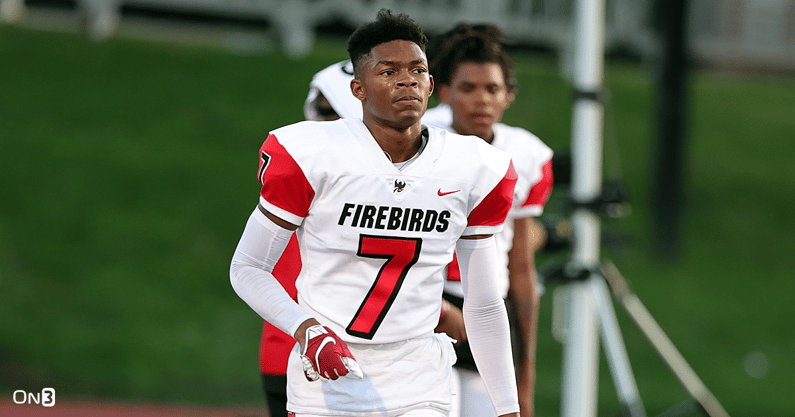 Good morning, friends. It's Thanksgiving Eve, which means it's over the river and through the woods to grandmother's house we go for some of us, and for others, the final moments of peace before the chaos. Unlike years past, we don't have a Kentucky Basketball game to watch the night before Thanksgiving, but there is still plenty to talk about; in fact, the football team could land its highest-ranked wide receiver prospect ever. Let's start there.
Five-Star WR Barion Brown Announces Decision
The story of the day is Barion Brown. The five-star wide receiver from Nashville Pearl-Cohn will announce his decision at some point today. He is the No. 51 prospect in the 2022 class according to the On3 Consensus, a complete and equally weighted industry-generated average that utilizes all four major recruiting media companies. On3's own rankings peg Brown as a five-star prospect and the No. 23 overall player in the country. He's down to Kentucky, Alabama, and TCU, although the Cats have been considered the leader for at least the past month.
If he picks Kentucky, Brown will be the highest-ranked wide receiver commit in program history and the latest addition to an impressive class of playmakers. The Cats will also add Dane Key, Destin Wade, Brandon White, and Syracuse transfer Taj Harris to the mix. Clearly, Liam Coen's offense is translating well on the recruiting trail. Two weeks ago, On3 Director of Recruiting Chad Simmons wrote that Kentucky's improvement in the passing game is one reason why momentum in Brown's recruitment shifted from Alabama.
"Kentucky has surged to the top for different reasons. The Crimson Tide has pulled back, Kentucky has made him a priority, and on Brown's side, he likes the opportunity he has to be an instant impact player in Lexington."
Come on down. We don't have any details on Brown's announcement other than it's happening sometime today in some shape or form, so stay tuned to KSR for some Wah-ne-nah-nah.
UPDATE: According to Brown's Instagram story, he will announce at 3 p.m. CT/4 p.m. ET.
We'll continue to get you ready for the Governor's Cup
One day closer to Thanksgiving also means one day closer to Saturday's game vs. Louisville. Last night, we heard from Mark Stoops, Liam Coen, AND Brad White, and all three said Kentucky turned in its best practice of the year on Tuesday.
"Our level of practice, the way we practiced today, the energy, the enthusiasm that we had today at practice was hands down the best we've had all year," Coen said. "You just felt the energy, the juice. There was no negativity or anything like that about Louisville. You just felt the change."
"We've been getting better and better," Stoops said on his radio show. "I really like our approach. Will [Levis] was ripping it, throwing the ball around. Looking good. Good start. Guys were focused. It was a good practice."
"We had high energy on the defensive side of the ball," Josh Paschal said. "We were locked in, we were having fun, we were flying around and that's what you love to see, especially late in the season, going against your rival in your last regular-season game."
You can see all of the videos from practice on the KSR YouTube channel.
I'm still laughing at Josh Paschal's new ad
Speaking of Paschal, he dropped the best NIL ad we've seen yet from a Kentucky player yesterday. In a spot for Steckler Pediatric Dentistry, Paschal plays the "Defender of Decay," scaring children into practicing good oral hygiene. The video is a must-see, as is this clip KSR found on the cutting room floor. 
We'll hear from Orlando Antigua, Oscar Tshiebwe, Daimion Collins & Bryce Hopkins
The basketball team takes the floor on Friday vs. North Florida. This morning, Orlando Antigua, Oscar Tshiebwe, Daimion Collins, and Bryce Hopkins will all meet with reporters to preview the game and, probably answer a few turkey-related questions. Jack Pilgrim will be our boots on the ground at Memorial Coliseum, so check the site later for details.
Last night on his radio show, John Calipari said he hopes to have his team back at full strength soon. Davion Mintz missed Monday's game with an illness, while Jacob Toppin (shoulder) and Lance Ware (ankle) are still considered day-to-day.
"Not having Davion showed. Hopefully, we get Jacob and Lance back, so we have a full team," Calipari said. "It's been hard when you've got eight scholarship players. You're worried about foul trouble too, now. Hopefully, we'll have a full team here in the next week or so."
Feast Week Continues
Even if you're working today, odds are the afternoon will slow to a crawl. Thankfully, there is plenty of college basketball on television to entertain you, including Billy Gillespie's Tarleton taking on No. 20 Michigan in Ann Arbor. Here's the schedule:
12:00 PM (ESPN): Loyola Chicago vs. Michigan (Battle 4 Atlantis)
1:30 PM (ESPN2): No. 12 Houston vs. Oregon (Maui Invitational)
2:30 PM (ESPN): No. 22 UConn vs. No. 19 Auburn (Battle 4 Atlantis)
6:00 PM (FS1): No. 21 Seton Hall vs. Cal (Fort Myers Tip-Off)
7:00 PM (BTN): Tarleton Fighting Billy Gillispies at No. 20 Michigan
7:00 PM (ESPNU): No. 25 Xavier vs. Iowa State
7:30 PM (ESPN2): No. 6 Balyor vs. Arizona State (Battle 4 Atlantis)
8:30 PM (LHN): Cal Baptist vs. No. 8 Texas (Abe Lemons Classic)
8:30 PM (FS1): Ohio State vs. No. 23 Florida (Fort Myers Tip-Off)
9:00 PM (ACCN): Vanderbilt at Pittsburgh
9:30 PM (ESPN2): No. 9 Memphis vs. Virginia Tech (NIT Season Tip-Off)
11:30 PM (ESPN2): Texas A&M vs. Notre Dame (Maui Invitational)
If you missed it last night, Dick Vitale returned to the airwaves for the first time since being diagnosed with lymphoma to call No. 1 Gonzaga's win over No. 2 UCLA. Vitale is still undergoing chemotherapy treatments but seeing him back in action was awesome, baby.
Last (live) radio show of the week
The KSR radio crew gets Thursday and Friday off (don't worry, the KSR website crew will still be here, toiling away). Between Brown's announcement, the Governor's Cup, Friday's basketball game, and lingering concerns about Stoops' future in Lexington, there's a lot going on, so don't miss it.