Barion Brown Dismisses Transfer Portal Rumors, Rodriguez and Levis Contemplate Future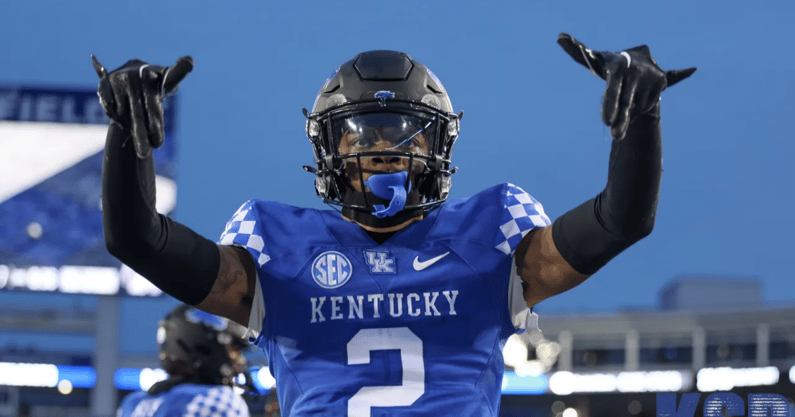 Winning the Governor's Cup was priority No. 1. Kentucky needed to end an underwhelming season with a win over its rival. Moving forward, two questions lingered throughout the BBN:
Will there be a new offensive coordinator next season?
Can Kentucky prevent its talented young players from entering the portal?
We do not know the answer to the former. As for the latter, at least one talented young player was eager to dismiss rumors of his potential departure. Barion Brown was asked after the 26-13 victory over Louisville about his future in Lexington.
"I don't know who started that rumor, but I'm BBN for life. So can y'all stop the rumors, please?" Brown later added, "I don't know where the rumors came from."
In his first ever appearance in the Governor's Cup, he appeared to enjoy the rivalry. Brown threw Ls Down throughout most of the Cat Walk, he continued throughout pregame warm-ups and even did it one the field before one punt return when the Kroger Field camera zoomed in on the returner. The freshman caught four passes for 44 yards and a touchdown in the win over Louisville.
He wasn't the only freshman providing reassurance to the BBN after the win. Deone Walker shared a similar message on social media.
Levis, Rodriguez Unsure of Kentucky Bowl Game
Most of the long term focus of Kentucky fans is on the freshmen. In the immediate future, Kentucky's two most talented offensive weapons have to make a decision: Will they play in the bowl game?
Mark Stoops has cultivated a culture around Kentucky the stresses the significance surrounding bowl games. Starting with Josh Allen, opt-outs have largely not been a problem for the Wildcats during postseason play. That's why it sounds like Chris Rodriguez may give it a go one more time.
"I haven't really thought about it yet," he said after the game. "But I'm here with my brothers. I'm gonna ride with 'em."
The Kentucky running back set a new school record with his 20th 100-yard rushing game. He tallied 120 rushing yards on 24 carries, putting him 230 yards away from catching Benny Snell as the school's all-time rusher. The record will not play a role in his decision.
"It is what it is. I'm just here for the team," said Rodriguez. If it comes to me, it comes to me. It is what it is."
The equation is much more complicated for Will Levis. He's a projected first round pick that's spent most of the season battling injuries. Getting healthy for NFL Draft prep is imperative.
"I'm going to talk to Stoops on Monday, probably my family too," Levis said. "I don't have a timeline, probably within a week I'd say. I don't really know."
In all likelihood, we've seen Levis in a Kentucky jersey for the final time. It's been a wild ride, one that ended with a win.