Meet the Rookies: WR Barion Brown is a Playmaking Machine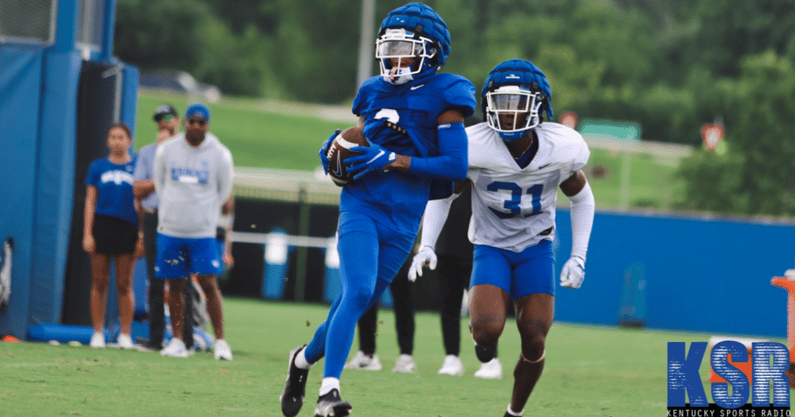 Mark Stoops wanted speed. He got that and much more with Barion Brown.
The highly-touted talent from Nashville, Tn. is one of the highest-ranked skill players to ever sign with the University of Kentucky. The true freshman was the No. 87 player overall and the No. 14 wide receiver in the On3 Consensus, a complete and equally weighted industry-generated average that utilizes all four major recruiting media companies.
Barion Brown is ready to show the Big Blue Nation that he is worth the hype. "I can do it all," he said. "Whatever they need me to do will be done."
Barion Brown: Track Star
Throughout his career at Pearl-Cohn High School, Barion Brown dominated in track and field. In addition to his Mr. Football accolades, Brown won back-to-back state titles in the 100 and 200-meters. His speed on the track rivals Jordan Anthony, who won the 200-meters at the U20 National Championships this summer.
KSR asked Brown who's the fastest freshman on the team. "No comment. I want to race though."
Typically adjusting to the size and speed of college football is a challenge. That's not necessarily the case when you move as well as Barion Brown. However, one thing has sped up since he upgraded to SEC football: the velocity of his quarterback's arm.
"It's a blessing knowing you have a quarterback that good that can get you the ball," Brown said of Will Levis. "He throws it fast though, so you gotta be ready for it. Much love to that guy."
Minor Adjustments to College Football
Of course, there are a few other adjustments to college life. The 6 am summer workouts and 7 am fall camp practices force one to wake up quickly. Rich Scangarello's pro-style playbook also presents some challenges.
"You gotta learn the plays. The plays might be tough but you gotta learn them if you're trying to get on the field. Be accountable and do the things that you need to do."
Kentucky's offensive coordinator is making a concerted effort to find ways to get the ball in the hands of Barion Brown. In the first practice he turned heads by burning an opponent. He also made an impressive catch in one-on-ones during Saturday's open practice. Even though he is making head-turning plays, Brown believes the best is yet to come.
"I hold myself higher. I feel like I did okay, not the best. It wasn't great, so we're still working day to day to get better."
The Barion Brown show is coming to Kroger Field this fall. Prepare accordingly.