Barion Brown tabbed SEC Special Teams Player of the Week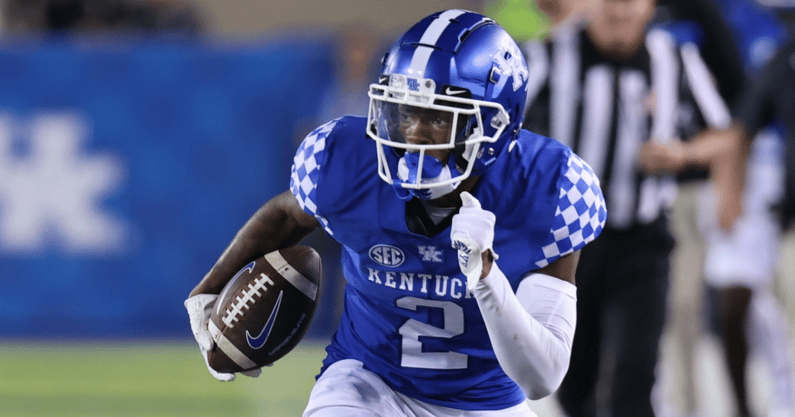 It only took one game for Barion Brown to earn SEC Player of the Week honors. The Kentucky freshman was named Special Teams Player of the Week by the league for his performance in the season-opener vs. Miami (OH).
A former Top 100 prospect from Nashville, Barion Brown lived up to the hype in his true freshman debut. He returned the second opening kickoff 100 yards for a touchdown, giving the Wildcats enough momentum to blow away the Miami Redhawks. It was the first kickoff return touchdown by a Wildcat since 2009. Once Brown learned that stat earlier in the week, he knew he was taking one back for a score.
"We were talking about that Monday. As soon as he said that to me, I looked at my wide receivers coach and we just started laughing," Brown said after the game.
A reporter asked if he expected to return one so soon. "Yeah. I knew I was going to do it."
In addition to his special teams score, Barion Brown caught three passes for 45 yards in his Kentucky debut.
SEC Players of the Week – Sept. 5
Offensive: Anthony Richardson, QB, Florida
Defensive: Christopher Smith, S, Georgia; Bumper Pool, LB, Arkansas
Special Teams: Barion Brown, KOR, Kentucky
Freshman: Jayden McGowan, WR, Vanderbilt
Offensive Line: Darrian Dalcourt, C, Alabama; LaQuinston Sharp, OL, Mississippi State
Defensive Line: Brenton Cox, DL, Florida; Jordan Domineck, DL, Arkansas