Barleycorn's Friday Top 10: Kentucky wins the NBA Draft (again)
A message from our friends at Barleycorn's…
Looking for a place to hang out with other UK fans? Take your family and friends to Barleycorn's!
Barleycorn's has over 30 beers on tap, jumbo wings with 10 delicious sauces, sandwiches, salads, and our famous handcrafted burgers!
Barleycorn's has three locations in Northern Kentucky — Cold Spring, Lakeside Park, and Florence — and is open seven days a week! For hours and information, follow them on Facebook or visit Barleycorns.com.
Get over here!
---
I think you guys know where we'll start today's rundown…
1. The NBA Draft was another UK infomercial
Last night was another huge success for Kentucky Basketball, which saw three players drafted in the lottery:
5. De'Aaron Fox, Sacramento Kings
11. Malik Monk, Charlotte Hornets
14. Bam Adebayo, Miami Heat
See all three picks below:
Malik Monk is a Charlotte Hornet pic.twitter.com/ygcS1ol9mk

– Tyler Thompson (@MrsTylerKSR) June 23, 2017
Bam Adebayo to the Miami Heat! pic.twitter.com/rMuzHSEQWG

– Tyler Thompson (@MrsTylerKSR) June 23, 2017
2. Some staggering stats
In the eight years John Calipari has been at Kentucky…
31 players have been drafted
24 in the first round
17 in the lottery
The most impressive stat of all: All 21 one-and-done players that have come through the program have been drafted in the first round. That's insane.
3. John Calipari was one proud papa
As Calipari does, he went from table to table, hugging each player as they heard their name called. When he arrived at the ESPN set, he had lipstick from one of the player's mothers on his cheek, which he wore proudly as a symbol of his program's success and his role as dream facilitator.
"These families, to live it with them, it's just amazing," Cal said. "But it's hard. You don't know then they're getting picked. You have an idea, but stuff happens. And they slip sometimes. When those guys in that green room are done, I'm out. I am out. I don't care who else gets picked, I really don't. Just my guys."
3. Cal did his thing and turned the appearance into a recruiting pitch
"They're talking about one-and-done, it's not broken! It isn't broken. My kids finished the term, they're on lifetime scholarships — can I recruit a little bit?" Cal joked. "These kids have a genius. Just like a pianist, just like someone with a cello, you look and you say, they're a prodigy. These kids are prodigies. Again, I think, when they come with us — here's my comment. I'm on them, they look at me, and I say, what are you going to do, transfer? You can't transfer, so listen to what I'm saying. Somebody will say, he coaches them hard, he gets them to share. Pat Riley gave me the greatest compliment. He said, 'Your guys come into this league and they're all good teammates.' Because they all have to share, they all have to give up something."
Listen to more of that recruiting pitch below:
4. Malik Monk had the best reaction to sliding to 11th
Calipari said the one thing that disappointed him was that he wanted Malik Monk in New York with the Knicks, but he knew he wouldn't fall past Charlotte at No. 11.
"I wanted Malik in New York because I thought he would light it up," Cal said. "But I knew he wasn't going to fall by — Michael [Jordan] wasn't — He plays like Michael. He wasn't going to let him go by him."
Malik had an even better response:
Malik Monk was asked if he was disappointed he fell to the 11th pick. Here's his response: https://t.co/a7Vn9NzAM5 pic.twitter.com/vqtaQ1nfOf

— Clayton Abernathy (@ClayKY1) June 23, 2017
That's one of many great soundbites from Malik this week. On Wednesday, he had some fun with a reporter who said she'd never tried catfish before:
Funniest thing you'll see on Twitter today pic.twitter.com/ITFXU7dhBb

— Steve Moss (@smosswkyt) June 22, 2017
Something tells me Malik will love Lake Norman.
5. Sacramento is excited about their new point guard
🦊! 🦊! 🦊! 🦊! 🦊! pic.twitter.com/4QXGX3V8e5

– Sacramento Kings (@SacramentoKings) June 23, 2017
Who can blame them? Fox is by far the most charismatic figure in this draft. Speaking of the Kings, they pulled in some big picks thanks to a swap with Portland. The Kings took Fox, North Carolina's Justin Jackson (15), Duke's Harry Giles (20), and Kansas' Frank Mason III (34). That's an impressive haul for a young, rebuilding team, and should pair well with Willie Cauley-Stein and Skal Labissiere. Let's hope the Kings don't screw it up like they usually do.
6. We'll keep an eye out for news on the remaining Cats
As expected, Isaiah Briscoe, Isaac Humphries, Derek Willis, and Dominique Hawkins went undrafted, but several will receive summer team invites. That news started breaking last night, so stay tuned. Derek's fiancee Keely shared a text he received from Karl Towns telling him to keep his head up:
https://twitter.com/keelypotts_/status/878104759193948160
Agreed, Keely.
7. Trey Lyles got traded
The Utah Jazz traded Lyles, the 13th pick in the 2015 Draft, to the Denver Nuggets in exchange for the 13th pick, Louisville's Donovan Mitchell, and the 24th pick, Tyler Lyndon. After a promising rookie season, Lyles stumbled in his sophomore year in the league, so here's hoping a fresh start in Denver will serve him well. It doesn't hurt that he'll play alongside one of the most talented young shooters in the league in fellow Cat Jamal Murray.
8. Markelle Fultz made his first goof as an NBA player
Fultz — or likely, whichever friend/agent was handling his phone — made his first blunder as the number one pick when he forgot to fill in some important details in this Instagram post: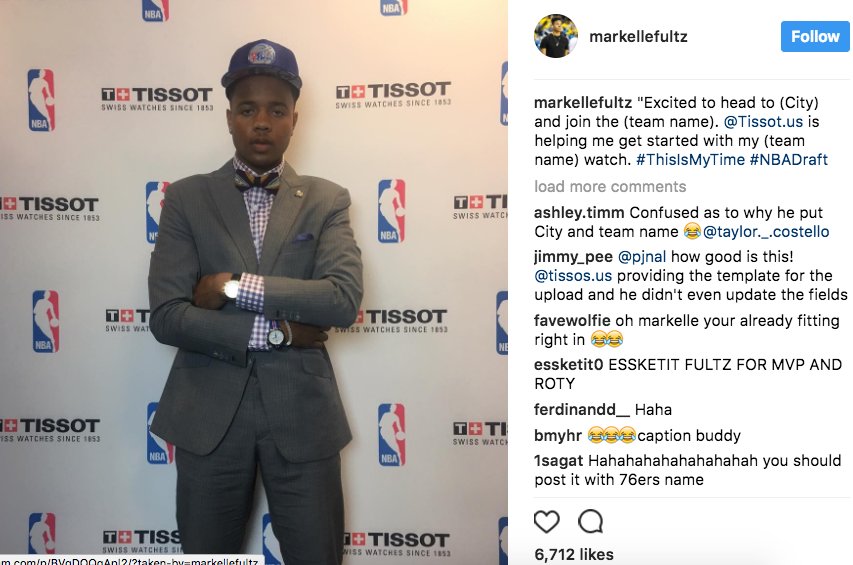 D'oh.
9. LaVar Ball was just as nuts as you thought he'd be
Lonzo went second to the Lakers, which meant the cameras were squarely on his dad for the first part of the night. LaVar did not disappoint, telling Jeff Goodman that Zeus and Jesus told him this would happen, and that Lonzo will lead the Lakers to the playoffs in his first season:
LaVar Ball back at it. 😂😭

– NBA SKITS (@NBA_Skits) June 22, 2017
LaVar Ball reacts to Lonzo being drafted to the Lakers. "I knew this was happenin'.' pic.twitter.com/8cxRLWf9Yy

– The Refresher (@_TheRefresher_) June 23, 2017
Fans booed LaVar out of the green room, and in response, he threw his Big Baller Hat into the crowd:
LaVar Ball is the world's best heel. One lucky fan is walking away with a Big Baller Brand hat. pic.twitter.com/GMhGbVTjfv

— Rodger Sherman (@rodger) June 23, 2017
LaVar may be a horrible person, but I'd be lying if I said he didn't entertain the hell out of me.
10. KSR is in Owensboro
Come on out to Don Moore Automotive to see the show, Matt's last before he leaves for vacation. Something tells me they'll talk about that Katina Powell interview, which we'll bring back to the top of the site in about thirty minutes.