Kentuckian competing in Nathan's Hot Dog Eating Contest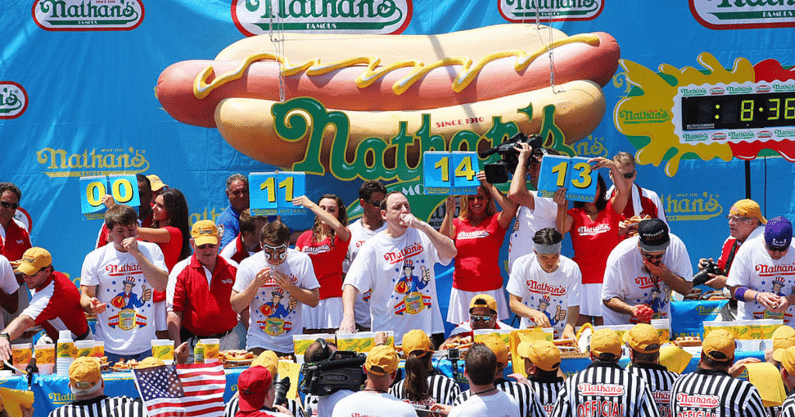 Today at noon, Joey Chestnut will chase his 15th Mustard Belt in the Nathan's Hot Dog Eating Contest. Among the 15 competitors trying to stop him will be Bowling Green's own Bartley Weaver. The Kentucky Wesleyan graduate turned state trooper, professional bodybuilder, and competitive eater is the first Kentuckian to compete at the annual event at Coney Island since it began in 1916 (if you don't count Chestnut, who was born in Fulton County, Ky. but lives in Indiana). Weaver was also featured on NBC's reality show The Titan Games with Dwayne "The Rock" Johnson and served as the "The Titan Man" mascot for the Tennessee Titans.
Weaver is 16th in the Major League Eating rankings. Recently, he's competed in the World Tamale Eating Championship, the World Bratwurst Eating Championship, and the World Pumpkin Pie Eating Championship. In 2019, he ate 23 hot dogs in 10 minutes in a Nathan's qualifying event, a far cry from the current world record, 76 dogs in 10 minutes, set by Chestnut last year. Beating Chestnut to take home the Mustard Belt is the obvious goal, but Weaver told WBKO in Bowling Green he's just happy to be invited.
"Going into this contest, I would like to break the top 10. I'm blessed with the opportunity just to be there being on stage, but I'm definitely going to try to beat a few people that are ranked ahead of me," he said.
Dunking the hot dog buns into water is one of Chestnut's tried and true strategies. Weaver has a slightly different method.
"I like to have as many different cups of Kool-Aid as possible," Weaver told WSMV in Nashville. "That way I can switch from berry to pineapple to orange to grape. I like to mix it up…You can't change the flavor of the hot dogs, but you can change the flavor of the bun."
Last night, Weaver shared a photo of his jersey for today's event, which will be shown live on ESPN News and ESPN3 at noon.
He's also been sharing his training videos and his departure for Coney Island, which would make Stone Cold proud.
Cheer Bartley on and follow the action on KSR's 10th annual Nathan's Hot Dog Eating Contest LIVE BLOG, which will start around 11:55 a.m. ET.