Basketball, football scheduling conundrum is in play for Kentucky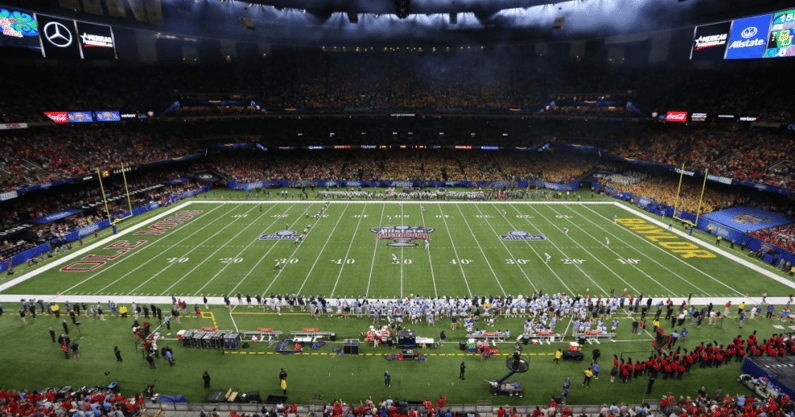 After a one year break, the Kentucky-Louisville basketball series is making a return in the 2022-23 season as John Calipari will host former staffer Kenny Payne and the Cardinals to Rupp Arena. Similar to some meetings in the past, this year's game will take place on New Year's Eve to get a long day of festivities started.
Playing a game on this day for Kentucky hoops is not a strange occurrence. Under Calipari, Kentucky has played on New Year's Eve four times and the Wildcats own a perfect 4-0 record in these matchups.
2010-11: Beat Louisville 78-63 (Noon, CBS)
2011-12: Beat Louisville 69-62 (Noon, CBS)
2017-18: Beat Georgia 66-61 (6:00, ESPN)
2021-22: Beat High Point 92-48 (Noon, SEC Network
However, Mark Stoops has built a legitimate top-25 football program in Lexington, and the Kentucky football team is often quite busy around those New Year's dates. After big 9-3 seasons in both 2018 and 2022, Kentucky avoided potential conflicts with basketball thanks to New Year's Day being the big bowl day in college football.
That will change in 2022.
Thanks to New Year's Day falling on Sunday, the NFL will take over that day, and college football will take a backseat. That will push typical New Year's Day bowl games — Tampa Bay Bowl, Cotton Bowl, Citrus Bowl, and the Rose Bowl — to Jan. 2. That would work out well for Kentucky as the Big Blue Nation takes a bowl trip, but what if the Wildcats level up on the gridiron in 2022?
With the return of quarterback Will Levis and a defense that is loaded with seniors, Kentucky should have a chance to do some special things. The program gets a nice draw — Ole Miss, Mississippi State — out of the SEC West and has eight home games on the slate. All eyes in the Bluegrass are on winning the SEC East, but a minor step forward would be 10 wins in the regular season. If that scenario played out, Kentucky would not be in the playoff, but would be in line for the top New Year's Six bowl.
That would mean a bucket list moment for the supporters of the program as Kentucky would be heading to the Sugar Bowl for the first time since the 1950 season under Bear Bryant. The Wildcats could get there in the year that Stoops breaks Bryant's program wins records. However, that game has been moved from its typical New Year's Day nightcap spot to New Year's Eve to lead into the playoff games.
Unfortunately, that game would kick off a noon ET. Recent history tells us the Kentucky basketball games on New Year's Eve should expect an early tip. The Big Blue Nation could find itself in quite the pickle if some things go well on the gridiron this season.